JohnsByrne is dedicated to making your packaging and printing needs business our first priority.
We truly live and breathe our clients' needs and put them above everything else to produce customized packaging and printing solutions tailored to them. When you work with us, you'll soon see that our entire production process is geared toward the development of cutting-edge solutions to meet the most complex packaging and print challenges.
The JohnsByrne Mission
For every printing or packaging project we process, our mission is to:
Find solutions to make our clients more profitable and successful
Relentlessly surpass customer expectations
Produce superior quality printing and packaging technologies
Develop long-lasting, loyal relationships with clients, vendors and fellow employees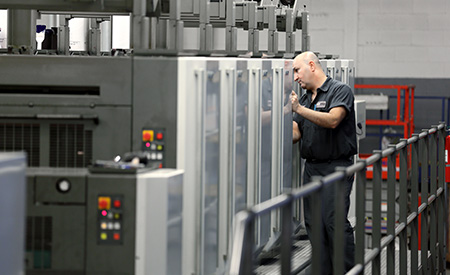 Our Values for Packaging Printing Services
As a full-service printing and packaging solutions provider, JohnsByrne goes the extra mile to make sure you are completely satisfied with our services. We're collaborative, creative and capable with the flexibility to adapt our technology and processes to your project needs. With our state-of-the-art, G7-certified printing equipment, we'll press the limits to bring your vision to life, all with the personalized care you know to expect from the JohnsByrne team.