Forest Stewardship Council® (FSC®) Certification is designed to create responsible practices that protect the world's forests.
JohnsByrne offers packaging made from paper based materials that are FSC® certified forest products. These packaging materials and substrates are created from forests specifically intended for use in production, eliminating illegal deforestation of undesignated land.
FSC® Products are Certified & Sustainable
The FSC® works with government legislation to protect forests in the U.S. and around the world. They create guidelines, which eliminate illegal logging practices and regulate worldwide standards in forest management. FSC® forests are specifically designated for creating wood and paper products. All controlled wood materials must be independently verified to ensure compliance with FSC® standards. Thanks to our FSC® certification, our custom packaging solutions ensure sustainability starting with the forest, continuing through structural design and printing, and ends when we provide our clients with innovative packaging for their product.
Materials that are unacceptable include:
Wood that is illegally harvested.
Wood harvested in forests that are deemed for conservation purposes.
Wood harvested from forests that are being converted for other uses.
Packaging for the Future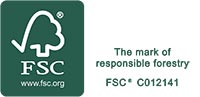 FSC® certified companies, such as JohnsByrne, follow these regulations to ensure that they are a part of a responsible chain of custody for paper products that come from FSC® certified sources. As a company we believe it is imperative to operate responsibly by offering our customers choices like paper from FSC® certified sources. Our belief in this is so strong that we undergo an annual audit conducted by an FSC®-accredited certification body who completes an extensive auditing process before awarding re-certification.
We Care About the Environment
When you order from us, you can rest easy knowing your packaging is coming from a source that has been certified by the FSC®. At JohnByrnes, we care about the environment. We want our customers to know it—and when you work with us, your customers will know it, too.