Since 2008, JohnsByrne has held the level of G7 Master Qualification with Colorspace compliance by demonstrating through production of print and/or proofing, the knowledge, skill, and best practices required to effectively operate the G7 methodology in a graphic communications production environment. Colorspace is the top tier of the G7 qualifications, showing maintenance of extremely tight tolerances throughout the whole color space. This qualification is the result of our consistent dedication to providing cutting-edge print, structural design and manufacturing technologies for our clients.
What is the G7 Master Qualification?
G7 is a well-renowned set of specifications for attaining gray balance. G7 is the foundation for accomplishing color consistency and visual similarity across all print processes. G7 is a universal method that makes sure brand integrity stays intact.
With the G7 methodology, we are able to:
Implement ISO printing standards and additional metrics
Ensure similar neutral appearance across multiple devices
Align all process, substrates and inks
Target gray balance and tonality
The Value of a G7 Master Qualification
Every print service provider knows that a color management system that is measurable, predictable, and uniform offers crucial business advantages. In order for printers to have success, they must turn orders around quickly and provide predictable and consistent results. The G7 is the only methodology and print validation program that crosses every print medium.
Benefits of Working with a G7 Certified Printer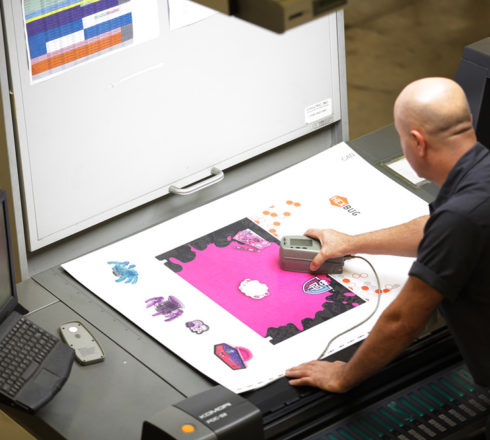 In order to be successful, there are a few factors brands need to consider. For one, keeping branding consistent is important to convey that your brand is trustworthy and high-quality. Color consistency plays a large role in this. Furthermore, brands must run efficient operations in order to reduce costs and turnaround times. Effective communication is also important, as it helps increase efforts in efficiency and consistency. The G7 methodology helps brands achieve these things, allowing brands to enjoy the other following benefits:
Consistency
Color is an important part of why people embrace (or reject) a brand. Accurate color consistency will create a favorable impression on consumers.
A good color and color quality will enhance consumers' experience with the product and add to the brand's public reputation.
Efficiency
Minimized need for on-site press checks, travel, and other visual approval methods and tasks
Decrease in waste and make ready time during press runs
Increased consistency in reprints
Communication
Thorough information exchange for purchasing and print buyers to evaluate supply chain performance
Clear expectations concerning acceptable work for supply chain partners
Overall increase in consistency, efficiency and savings
G7 Master Compliance Levels
The G7 Master Qualification Program consists of three levels, each showing the G7 Master capabilities by specified print condition. These three levels include:
G7 Grayscale
The G7 Grayscale level is the fundamental level of G7. Regardless of what printing technology is used, if the printer or press exceptionally prints the neutral tone ramp, then typically, all other colors will fall into line more easily.
G7 Targeted
The G7 Target level, the secondary level of G7, is achieved when G7 Grayscale is attained and the solid ink measurements for primaries and secondaries (CMY and RGB) and substrate color are within spec to one of the G7-based targeted color spaces.
G7 Colorspace
This is the third level of G7 compliance and is the most precise. G7 Colorspace includes all the requirements of the G7 Targeted level and G7 Grayscale level as well as the matching to an entire Reference Print Condition.
Learn More About Our G7 Capabilities
For more information about our G7 certifications and capabilities, please do not hesitate to contact one of our packaging and printing experts. We are happy to answer any questions you may have on how you can bring your printing projects to the next level.