As an innovative, and environment-conscious company, JohnsByrne is proud to be PEFC certified.
The PEFC's Chain of Custody Certification (CoC), awarded to only about 20,000 companies worldwide, represents international standards in manufacturing products made from raw materials of forests, and seeks to promote environmentally-friendly practices.
The PEFC CoC Standards
As vital as PEFC's certification of forests is for ensuring the sustainability of forests through responsible management, this represents only the beginning of a long road from raw materials, through manufacturing, and finally into the hands of consumers.
Chain of custody in a legal context provides documentation as to the exact sequence of all movements and disposition of evidence, so that it can be proven that it was not tampered with.
PEFC's chain of custody is a tracking mechanism that goes through a complete supply chain, from the forest to the final product, and offers qualified proof that any wood in the final product or product line began its life in a certified forest. Each company along the supply chain must have met the requirements and have chain of custody certification for an end product to qualify.
The Difference of a PEFC Certified Company
As a PEFC-certified, chain-of-custody company, JohnsByrne has proven its commitment to sustainability and proudly demonstrates this commitment by bearing the PEFC label on all packaging we produce.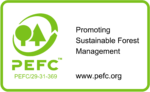 This is a visible sign that we are implementing and demonstrating ethical business behavior and it allows consumers to make responsible purchasing decisions, while revealing your company's commitment to sustainability to consumers who purchase your products.
Helping Brands Be More Sustainable
The PEFC certification is just the beginning of JohnsByrne's commitment to conserving our forests and following only the highest standards that the industry sets. From offering a variety of environmentally-friendly papers and substrates as well as inks, we can support brands in becoming more environmentally-friendly.