JohnsByrne specializes in sustainable printing and packaging solutions that transform recycled materials into extraordinary promotional experiences.
We formally recognize the importance of protecting the global ecosystem and reducing the consumption of natural resources, and we support sustainable packaging initiatives by encouraging responsible development of those resources in our environmental stewardship programs.
Developing Green, Sustainable Printing and Packaging
Our company is fully committed to conducting our ongoing operations in an environmentally responsible manner. We've taken to deliver on this promise through:
FSC® (Forestry Stewardship Council®) and PEFC (the Programme for the Endorsement of Forest Certification) certifications
Employing UV printing since 1996—a VOC-free alternative to conventional printing
Minimizing energy and water consumption through state-of-the-art printing technologies
Using foil replacement silver inks and coatings in lieu of foil stamping
Utilizing remote virtual proofing of press forms to minimize the need for overnight air freight
Further consolidating our operations to reduce energy consumption and increase throughput.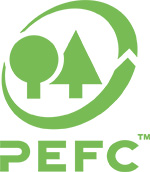 Reducing Waste Through Environmental Stewardship
JohnsByrne's environmental stewardship policy is intended to conserve natural resources. We actively engage in waste, water and energy minimization practices and we strongly support recycling programs. Our team is constantly striving to reduce the environmental impact of our operations to produce the "greenest," most sustainable packaging options. As we explore new technologies to deliver environmentally friendly print solutions, we will continue to deliver packaging in an eco-friendly manner. Ask about our FSC®-certified products or PEFC certified products.