JohnsByrne's robust and modern pressroom is built to press the limits.
Our wide range of G7-certified presses include our newest 15-unit press, Press384, which is uniquely configured to invite your imagination and push the envelope of what is possible on press. We combined our technology with decades of ingenuity, R&D, and passion to stand apart as industry trendsetters, thought leaders and problem solvers.
Visual and Tactile Effects to Decorate, Differentiate and Dazzle
National brands come to JohnsByrne for innovation, unparalleled quality and new printing techniques never attempted or successfully executed by other printing companies. Customers want fresh print ideas to fuel their brand and packaging innovations and they choose JohnsByrne because our ingenuity and passion shines through on every printing project we complete. Our available on-press decorations and techniques include:
Soft touch coating
Pearl coating
Grit/sand coating
Gold and silver sheen coating
Iriodin coating
Interference coating
Strike-through
Micro-debossing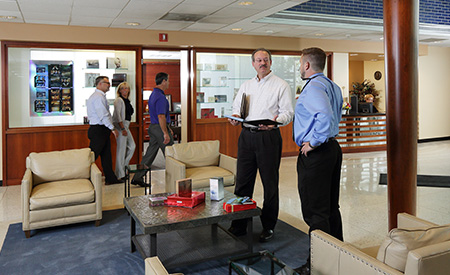 Press384-Built for Your Limitless Imagination
JohnsByrne invites you to celebrate our newest press, Press384. This one-of-a-kind press is uniquely designed and configured for JohnsByrne and with your needs in mind. Press384 is configured with an upfront coater, two coaters in the back, and an eighth ink unit. Coat, Print, Coat, Print, Coat, Dry—the possibilities for basic to experimental visual and tactile effects are endless. Press384 is built for your limitless imagination.
---
Other Pressroom Facts
Knowing we have a robust pressroom is only part of story. Did you know this about our Limitless Pressroom?
Our pressroom operates 24/7
All presses are G7 certified
Our presses are UV- and water-based equipped with UV and IR drying capabilities
Our SOP for color management exceeds the G7 tolerance on delta-E readings by 30 percent
Our coating units are equipped with a wide range of specially engraved anilox rollers to produce and experiment with coatings and loads to achieve different visual and tactile effects
We have extensive experience with printing on traditional to challenging substrates up to 40 pt., including:

Paper
Paperboard
Plastics
Canvas
Leather
Wood
Veneer