Related Success Stories: | Spirits | Folding Cartons | Promotional Packaging
Opportunity
Freixenet Mionetto USA is one of the largest sparkling wine companies with global success drawn from an equal blend of quality, passion, and innovation. Acting originally as separate entities, Freixenet and Mionetto have joined forces to provide a one-stop shop to meet industry and consumer needs.
In August 2022, our partners at Freixenet Mionetto called on JohnsByrne to manage the production of their holiday program; an advent calendar that would house 12 of their specialty crafted sparkling wines. The brand specified the need for quick turnaround and a cost-effective design that would allow for open flexibility in product placement.
Our Approach
As part of the JohnsByrne packaging development process, our structural engineers instituted an operational plan based off creative concepts our client provided. The first stage of development involved curating prototypes for each of the two desired concepts the brand was considering: a rectangular format or one that resembled a Christmas tree.
Product Development
After reviewing both options, our client ultimately decided on the Christmas tree format as the chosen creative. While the concept would pose more challenges than that of a standardized, rectangular structure, the tree format was viewed as more of an intricate structure and embodied the spirit of the holiday season.
Our team then moved further into development by improving the overall design to compress the size, ensure sustainability, and continue to support the project's creative integrity. JB also recommended an additional panel for the outer carton to serve as a protective layer to avoid potential tampering in the retail setting.
Assembly Expertise
As the advent calendar was designed to accommodate all 12 bottle options, JB provided our partners with an instruction sheet for ease of assembly. Images of each component were built into a sequential outline for assistance in bottle placement and quality assurance.
Our Solution
The final structure consisted of an SBS sheet being mounted to single-face white Kraft B Flute with an internal corrugate insert to support and hold 12 (187 ml.) bottles, securely.
Our collaboration with Freixenet Mionetto resulted in an impactful, unique packaging design that's expected to make the perfect gift this holiday season!
Let's Talk
Our packaging and print experts are ready to learn more about your brand and 'unpack' your needs. Contact us today to get the conversation started.
The calendar houses 12 specialty crafted sparkling wines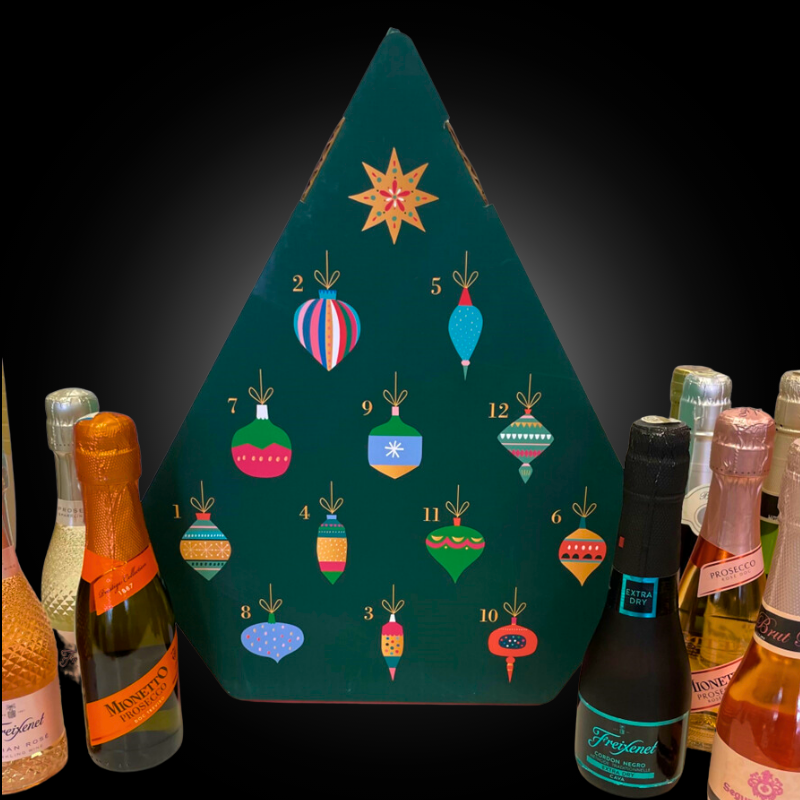 Due to the size and weight of the package, it was designed to be ergonomically carried by the handle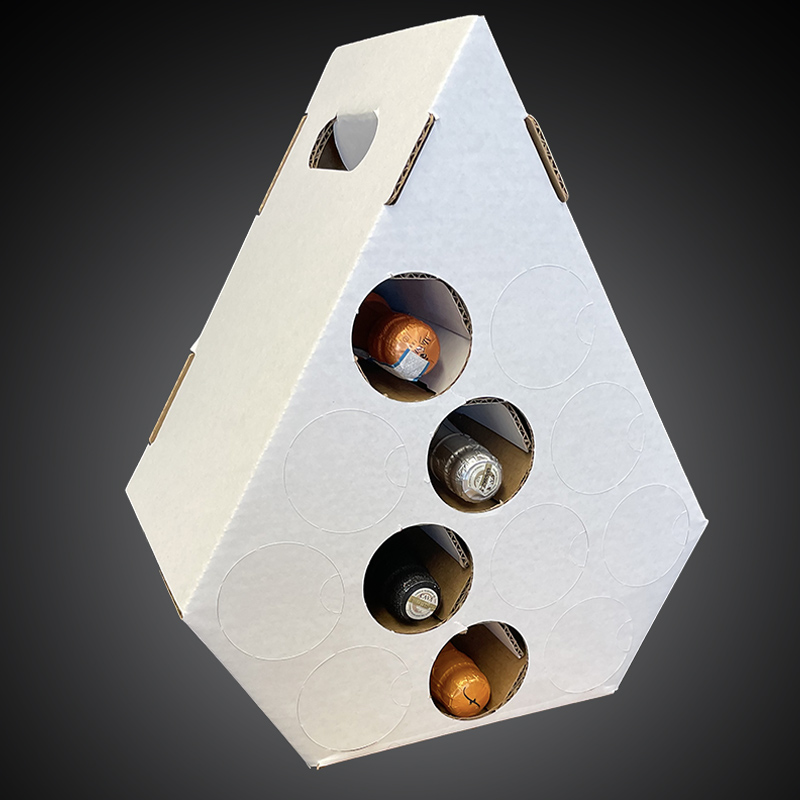 The tree format concept was selected that embodied the spirit of the holiday season