Related Success Stories: | Spirits | Folding Cartons | Promotional Packaging
Opportunity
JohnsByrne was granted the opportunity to produce an individual folding carton to showcase Goose Island's 30th anniversary of the Bourbon County Stout; aged in Jim Beam barrels from their small batch bourbon collection.
Our Approach
Before diving into development our team wanted to better understand our partners' needs to determine the best approach to make the packaging stand out for this special occasion product. As we provided a multitude of samples to drive inspiration, our partners ultimately decided that a two-piece side loading slipcase and tray would be the most unique structure for the program.
Results
JB developed an operational plan that would offer several solutions to create a truly memorable unboxing experience.
Developing Solutions
In developing the first prototype, our team of structural engineers designed a structure that included windows on the front and back to showcase the 16.5 oz. Bourbon County Stout. To create a unique unboxing, JB crafted a creative concept that featured a die cut image of the featured beverage on the left side of the slipcase for end users to push the tray open and slide out the inner carton.
Our Solution
Our collaboration for Goose Island's 30th Anniversary of the Bourbon County Stout resulted in a highly decorated paperboard structure. Both the slipcase and tray were printed on two 24pt stock, utilizing a 4 Color process, a mix of PMS inks, and gold foil stamping throughout to create contrast. The look of charred barrel on the interior structure was designed using soft touch, spot gloss, and emboss patterns to create a wood grain, tactile feel.
The selected stock includes 10% PCW, making the paperboard package sustainable and fully recyclable.
Let's Talk
Our packaging and print experts are ready to learn more about your brand and 'unpack' your needs. Contact us today to get the conversation started.
Highly decorated with gold foil stamping, soft touch, spot gloss, and emboss patterns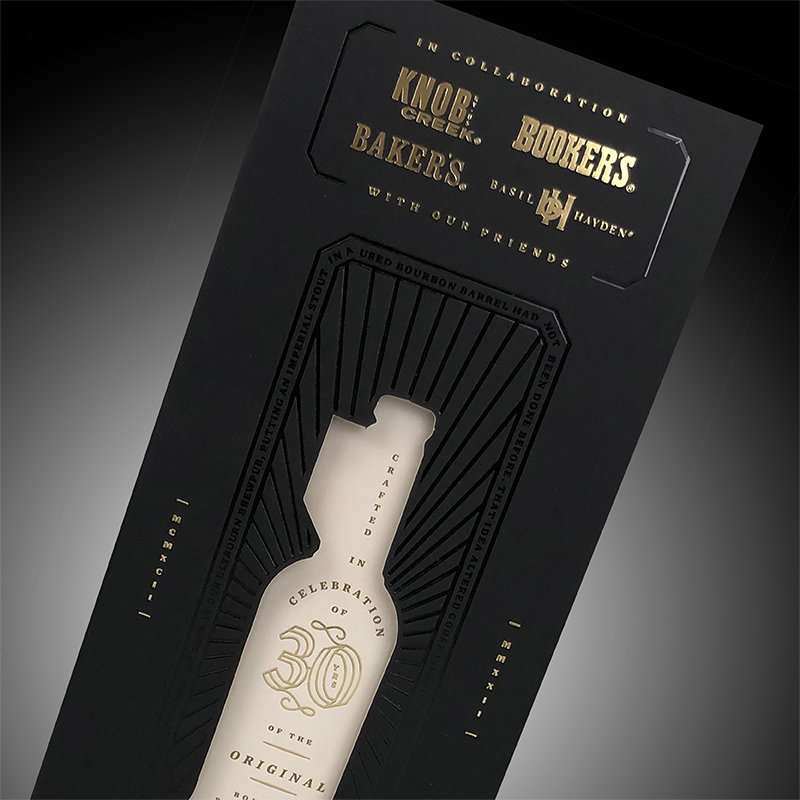 Unique structure featuing a two-piece side loading slipcase and tray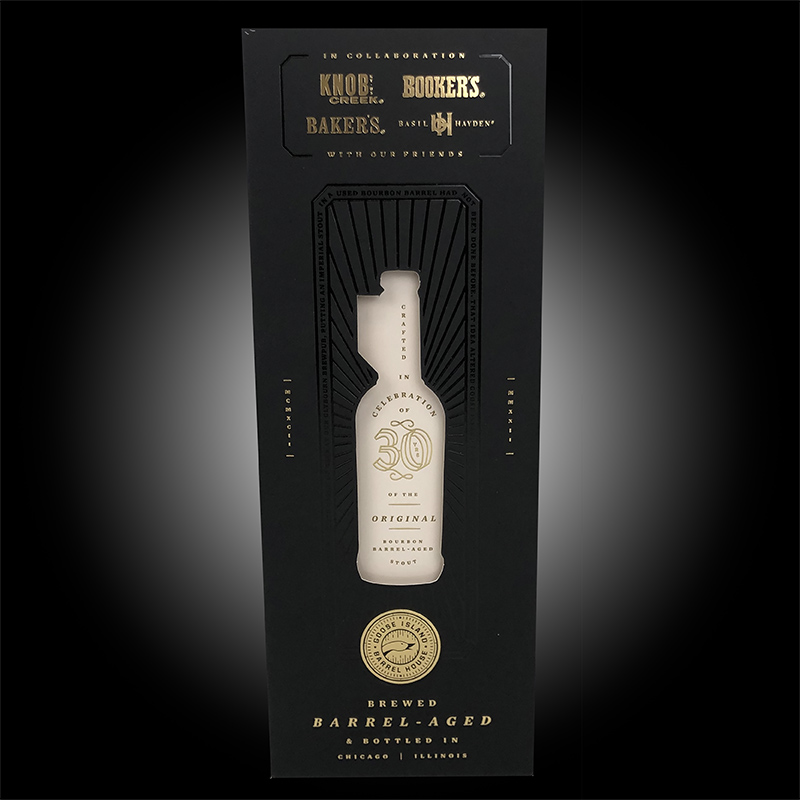 The side panel captures a silouette of the bottle