Related Success Stories: | Spirits | Promotional Packaging
Opportunity
For the Kentucky Series from Hardin's Creek, JohnsByrne partnered with Beam Suntory, ADM and Olberding Family Brands to create the memorable unboxing experience fitting for this special bourbon gift pack trio.
The trio includes three 17-year-old bourbon's each aged  in different stillhouses located in the Kentucky city locations of Boston, Clermont, and Frankfort.
Our Approach
Our structural engineers developed a rigid box structure featuring a hinged lid with angled sides and an integrated insert to securely hold and display the bottles
A full press proof was conducted for visualization and to make any necessary artwork adjustments prior to production
Solution
The package was printed on our 15-unit press with an Iriodin coating and dull varnish to give it a weathered copper sheen look. Embossing on the lettering throughout provides added depth and dimension. The interior features a printed map highlighting the zip codes of each of the three cities.
Let's Talk
Our packaging and print experts are ready to learn more about your brand and 'unpack' your needs. Contact us today to get the conversation started.
The package features an Iriodin coating + dull varnish for a weathered copper sheen look.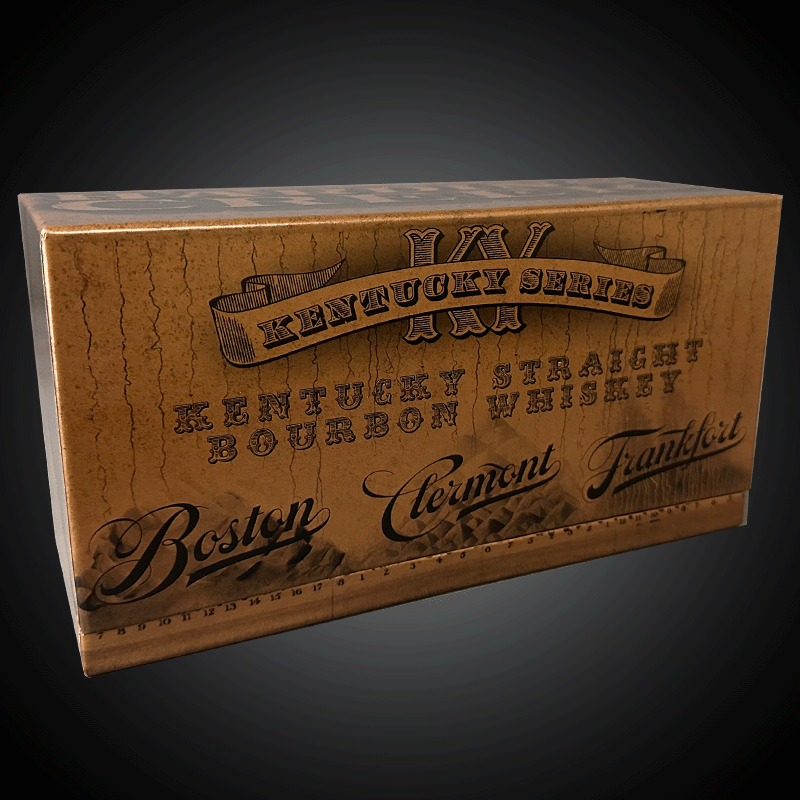 A printed map on the interior highlights the KY locations where the bourbons were produced.