Related Success Stories: | Beauty & Wellness | Rigid Boxes | Promotional Packaging
Victoria's Secret PINK Brand
Victoria's Secret and Victoria's Secret PINK are two, globally known brands under the parent company of Victoria's Secret & Co. As one of the world's largest specialty retailer, the brands aim to empower and inspire their customers by offering a wide assortment of modern, fashion-inspired collections including signature undergarments, casual, sleepwear and athleisure apparel, as well as award-winning, fragrances and body care.
Opportunity
Our partners at VS Pink engaged with JBC to manage and produce a rigid, three-tier influencer kit to create buzz around their latest campaign with TikTok star, Remi Bader, as the brand's newest ambassador and size consultant.
As Pink continues to make tremendous strides to be more size-inclusive, this collaboration builds upon the brand's overall mission to support young adults of all sizes to feel empowered in their apparel and when using their products.
Packaging Solution
Our team worked closely with the VS Pink team to bring their inspiration to life with our full-scale capabilities. Utilizing inspiration from client provided mood boards and creative concepts, our structural engineers crafted a solution that involved SBS hinged stoppers and airholes throughout the structure to allow for easy accessibility into the three interlocking drawers; creating a functional and interactive unboxing experience.
The final structure and print components included, printed on FSC certified material, reinforcing the brand's green initiatives for recyclable packaging.
Let's Talk
Our packaging and print experts are ready to learn more about your brand and 'unpack' your needs. Contact us today to get the conversation started.
The structure is designed with three interlocking drawers for a functional and interactive unboxing experience.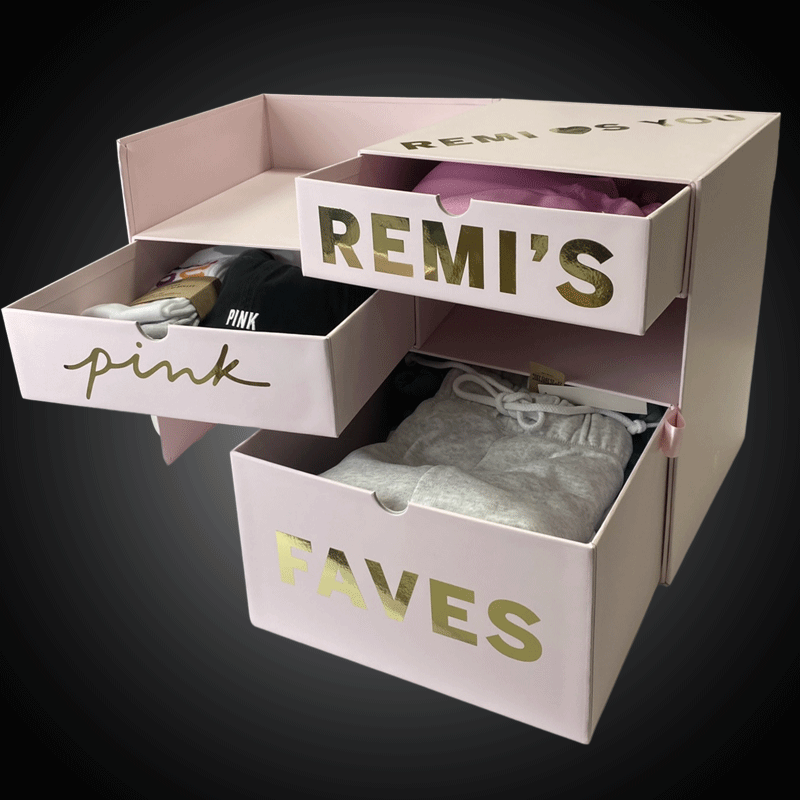 Gold foil stamping is used through to provide and elegant appearance on the pink soft touch background.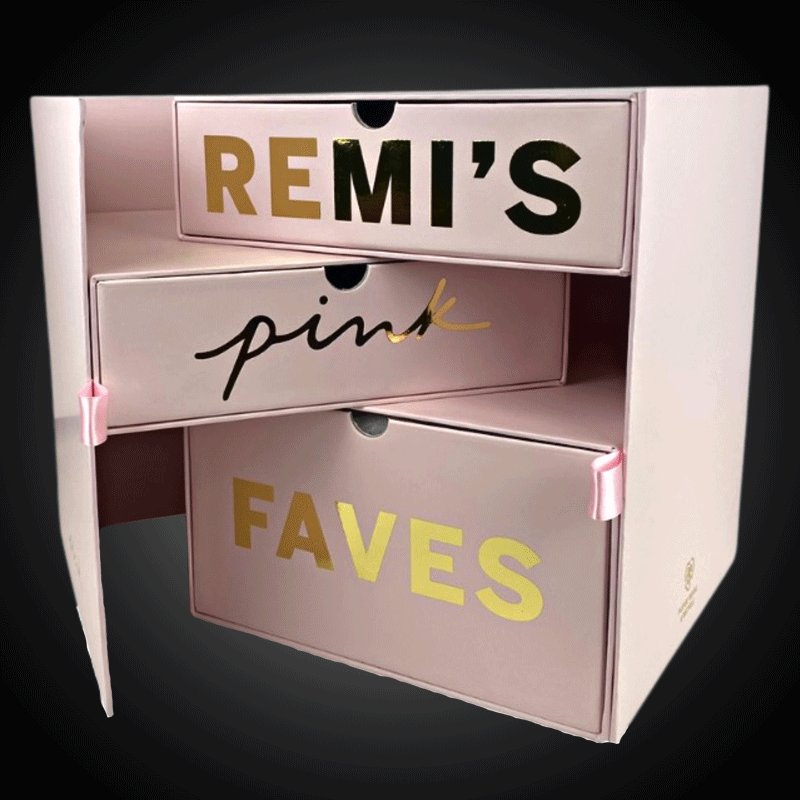 The rigid box package features a soft touch finish and ribbon pulls.