Child Resistant Packaging With Functionality And Aesthetics
Safety is paramount and child-resistant packaging is a critical 'must- have' for the cannabis market. After closely examining the child-resistant (CR) carton solutions cannabis growers/extractors had, our mission was to design something that delivered robust safety, easy user functionality and great aesthetics all at the same time.
We understand that your products come in different sizes, shapes, and servings, and therefore, EPIKTM LOK comes in multiple configurations and is adaptable to fit your wide variety of products. EPIKTM LOK features:
CR release mechanism located on backside of carton leaving front clear for branding and messaging.
Easy to use CR release mechanism
Robust and re-closeable design compliant with state packaging regulations
Make Your CR Packaging EPIKTM!
Want to See More?
Talk to a CR Packaging Expert
Helping You Meet Industry Standards, Testing & Validation Requirements
Our packaging specialists have expansive experience developing packaging that effectively meets industry regulations and standards. We are also familiar with CR packaging guidelines and codes.
As an ISO 9001:2015 certified company, we follow rigorous packaging development processes that can help you achieve reliable, safe packaging. Most importantly, our emphasis on collaboration ensures that your packaging vision can be developed into a packaging design that meets even the strictest of industry requirements.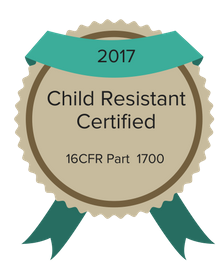 Certified-Child Resistant Packaging Solutions
As cannabis products are increasingly legalized for both medical and recreational uses across the country, one of the most prevailing state requirements is for cannabis companies to have child resistant folding cartons certified to federal testing procedure 16CFR Part1700.
At JohnsByrne, we put our packaging and structural design expertise into action to produce the EPIKTM LOK packaging solution. A 16CFR Part1700 tested and certified packaging solution.
The Latest Print Technology For Attractive & Safe Packaging
An evolving marketplace that requires child-resistant packaging demands the latest in print technology to stay compliant and ahead of the competition. With a state-of-the-art pressroom featuring advanced presses such as our Press384, we are confident that we can help you bring packaging design from concept to reality without compromising aesthetics.
Whatever your packaging challenge is, we're ready to help. With validation and deep understanding of industry standards, we can make sure your attractive packaging is safe for all.