Differentiate your medical and recreational cannabis with innovative, safe and effective packaging.
With staggering market growth rates, the cannabis market has exploded in both size and offerings. Not only is the market overall on the rise, but new products are also constantly being developed and launched to meet consumer demand.
In this ever-changing, ultra-competitive market with unpredictable government regulations, growers and extractors need an experienced packaging provider who can offer innovative and safe cannabis packaging solutions that help them differentiate their brand and products while getting to market fast to generate income & revenue!
JohnsByrne offers custom cannabis packaging for recreational and medical marijuana. Choose from a selection of different boxes, in a variety of sizes and colors. We can print custom labels and images on your packaging.
INNOVATIVE MEDICAL & RECREATIONAL CANNABIS PACKAGING DEVELOPMENT & DESIGN
JohnsByrne, a leader in cannabis packaging, specializes in the rapid development and quality production of innovative, value-added packaging solutions for cannabis products such as edibles, VAP pens, cartridges, pre roll tubes, oils, concentrates, dabs, distillates, and merchandise.
Our award-winning packaging solutions include:
We have the skills to create marijuana packaging that will fill your stores with happy customers.
---
Some of our clients include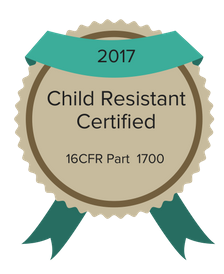 CERTIFIED-CHILD RESISTANT PACKAGING SOLUTIONS
As cannabis products are increasingly legalized for both medical and recreational uses across the country, one of the most prevailing state requirements is for cannabis companies to have child resistant folding cartons certified to federal testing procedure 16CFR Part1700.
At JohnsByrne, we put our packaging and structural design expertise into action to produce the EPIK LOK™ packaging solution. A 16CFR Part1700 tested and certified packaging solution.
THE LATEST IN TECHNOLOGY TO BUILD YOUR CANNABIS BRAND AND COMMUNICATE QUALITY
At JohnsByrne, we understand the unique needs of the cannabis market. We pride ourselves in creating cannabis packaging products that our customers can trust. 
Whether you are trying to convey efficacy, ensure safety, build credibility, achieve a high-end look, or create an approachable healthy cannabis packaging, JohnsByrne offers a wide array of print and finishing effects to transform your packaging from ordinary to remarkable. 
Thanks to the latest in press and post-press finishing technology and innovative packaging development we can deliver on your vision with capabilities that include: 
printing on paper, plastic or exotic substrates
unparalleled structural design expertise
innovative finishing and press effects
In business since 1959, we provide high impact print and packaging experiences. Our team can successfully turn your cannabis packaging vision into reality, all with speed-to-market and unparalleled quality. Learn more about our cannabis packaging expertise
CONSULT WITH THE EXPERTS IN DESIGN & PRINT
Not sure how to start developing new cannabis packaging for your next big product launch, brand refresh, or line-extension? Don't worry! 
At JohnsByrne, we collaborate early to develop concepts and solutions that become high-impact packaging that educates, protects and attracts patients and consumers. We want to create packaging that gets people coming back to your store.