Related Success Stories: | Beauty & Wellness | Folding Cartons | Promotional Packaging
Opportunity
Urban Decay teamed up with Marvel Studios on the collaboration of She Hulk "Whole Lotta Hulk Complexion Duo Set." The 2022 promotional kit was developed in conjunction with the new comedy series, now out on Disney+. Our partners at UD helped fans get ready by releasing a limited edition set of their iconic, All Nighter setting spray and expandable sponge.
Our Solution
JohnsByrne engaged the Urban Decay team with ideas on how to best execute their desired decorative embellishments while providing cost saving solutions. JBC developed a strategic, operational plan to explore different finishes and printing techniques that would maintain the creative integrity of the client provided artwork.
Ink draw downs and technical findings were provided to help our partners understand the benefits of hot vs. cold foil and using 4-color process would ultimately enhance the print.
Utilizing JBC's guidance and consultative solutions, the Urban Decay team decided to move forward with rainbow holographic hot foil stamping combined with multi-level embossing and a matte & gloss finish for packaging that packs a punch!
Let's Talk
Our packaging and print experts are ready to learn more about your brand and 'unpack' your needs. Contact us today to get the conversation started.
Promotional kit developed in conjunction with the new She Hulk comedy series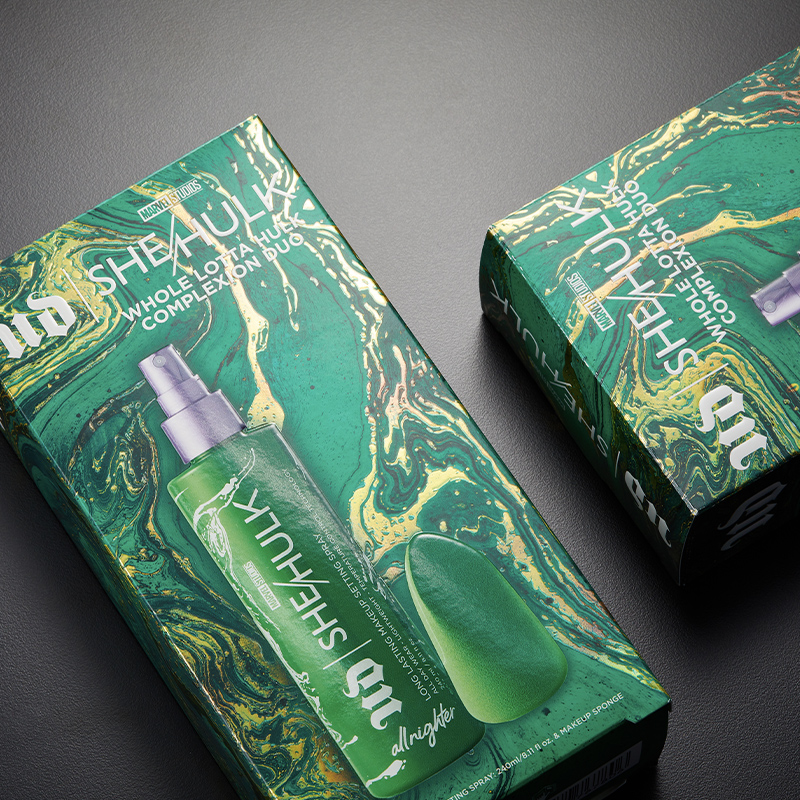 Rainbow holographic hot foil stamping combined with multi-level embossing and a matte & gloss finish