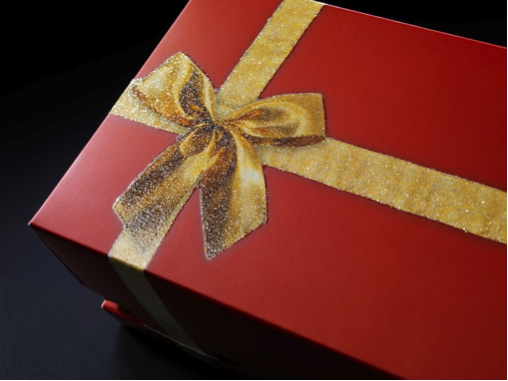 For the holiday season, when consumers are already inclined to buy, think about ways to make your packaging part of the product experience. By utilizing custom options, you can create a long-lasting, memorable encounter for your customer base, encouraging them to cross off an item from their gift list with your product. Whether it's changing the packaging color or developing a gift-with-purchase (GWP) program, here are five holiday packaging ideas to consider for 2015. 
1.   Create Holiday Branding
The holidays are a perfect time to branch away from traditional branding. Use elements of tradition mixed with new and distinctive packaging to set your product apart, or create a special edition package that serves as a display for your product. Keepsake packaging can house a product for years when not on display or in use. It can also keep a product at the forefront of a customer's mind and encourage repeat sales. Make this holiday memorable with creative branding that is both attractive and functional.
2.   Play with Colors
Not every holiday package needs to be red, green, white, or blue. Mix and match colors and patterns to set your product packaging apart wherever it is displayed. Patterns are a great way to capture attention. Add rich jewel tones and deep colors to complement the winter season, or brighten things up with some lighter palettes.
Metallic silvers, golds and even pearl whites can add sparkle and class to product packaging while remaining unique. Focus on highlighting the product with your color choices instead of falling into the trap of traditional holiday colors that may clash with or camouflage with other products on shelf.




3.   Experiment with Textures
In addition to sight, people use their sense of touch to experience product packaging. Differentiate your product through raised letters, coatings, inks and finishing effects. Add gloss or matte varnishes, or create a mixture of the two to create a rich visual effect. Soft-touch coatings or embossing/debossing finishes can add intricate patterns and depth that amplify your holiday packaging without much effort.





There are countless ways to create memorable textures with packaging. Having something that is texturally unique or pleasant can enhance the overall customer experience and indicate professional quality.
4.   Offer Limited Editions
During the holidays, limited editions are more common. A limited edition product has a psychological effect on consumers, creating a sense of urgency by implying the product is in short supply and has special branding or design that cannot be found elsewhere. Limited edition products have the added benefit of being perceived as more valuable. They can be products that are more likely to become collector's items in the future. Use distinctive packaging designs, textures and colors to set apart a limited edition item and encourage sales.
5.   Turn Your Packaging into a GWP
A GWP is always a value add when it comes to holiday buying. Indecisive consumers often make decisions on where to buy or what brand to choose based on a GWP. Instead of adding something to your product for the holiday season, turn your folding carton packaging into a GWP. Different materials and exceptional craftsmanship from JohnsByrne can help you take your packaging from utilitarian to value added in the form of a GWP. The carton can be etched with artwork that enhances the product, or it can serve as a repository for the product or other items. The possibilities are limitless.
Creating memorable packaging for holidays and beyond
Our end-to-end manufacturing process provides peace of mind for your project from start to finish. We pride ourselves on fast, quality results that keep our clients coming back to us year after year.
The holidays are a perfect time to branch out and try something new for your marketing and sales campaigns. Let the JohnsByrne team help you create memorable holiday solutions this year and into 2015 with innovative packaging to set your product apart. Contact us today for creative, cost-effective packing or print solutions to your holiday needs.
More Resources
Custom Folding Carton Packaging
---
Related Posts
---