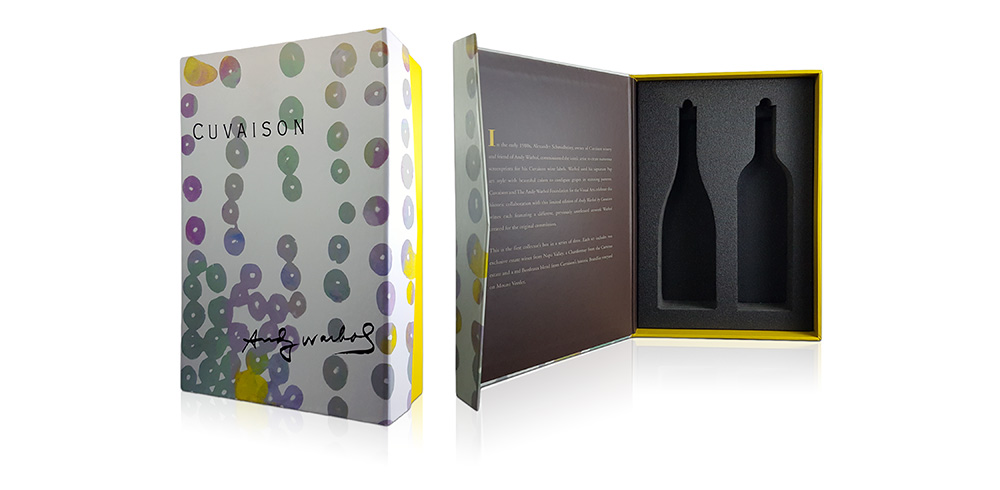 The spirits industry is one of the most creative fields when it comes to packaging. This industry utilizes unique concepts to catch a consumer's eye in a crowded marketplace. Whether its whiskey packaging or wine gift packaging, more and more spirits companies are getting creative with the way they present their product to consumers.
The best liquor and spirits packaging take advantage of custom folding cartons, value-added packaging, and more to create one-of-a-kind solutions. They perfectly display the brand and the value of the product within. Here we'll look into some of the best whiskey packaging, vodka packaging, and more to find out what makes these creative packages so great.
Bourbon Packaging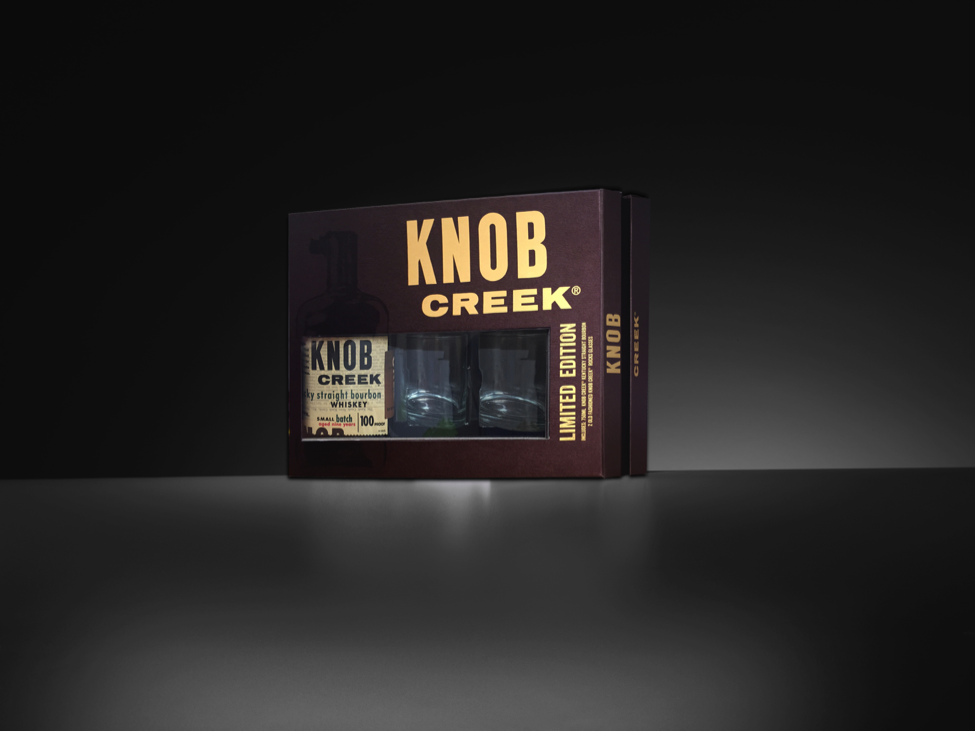 Bourbon is a classic American whiskey. 95% of all bourbon is made in Kentucky, meaning this spirit is something that has deep American roots. Bourbon packaging should incorporate the soul and story that bourbon has to tell.
Traditionally, bourbon is associated with the South. Born and brewed in Kentucky, this liquor goes back to the 18th century. There are many folktales regarding the origin of bourbon, but it is said that bourbon is a variation of whiskey that comes from the Scots who made their way to America and settled in Kentucky. Although not confirmed, legend also says that the name bourbon is in honor of Bourbon County, Kentucky.
To incorporate the story bourbon has to tell, a brand can showcase the product inside. Certain VAP packaging and custom bourbon packaging solutions incorporate windows that allow a consumer to see the product within before purchase. This is an especially important tool for gift packages and other value-added packages because it shows that you are not only gifting bourbon but other products as well. Overall, windows give consumers a sneak peek into the story of your bourbon.
In 2016, JohnsByrne partnered with Knob Creek to create a rustic packaging that perfectly showcased the product within. Considering that the Knob Creek brand dates back to 1898, it's only appropriate that this packaging incorporates a traditional, rustic aesthetic with bourbon tones. This particular packaging was for a limited edition bourbon whiskey as well as two accompanying lowball glasses.
The result was a two-piece telescoping VAP with a window showcasing the bourbon and glasses within. The packaging's wood grain embossing and golden lettering gave it an old, southern aesthetic. To top it off, JohnsByrne included an antique newspaper "drop card" within the box. This indeed was a one-of-a-kind limited edition bourbon packaging.
Champagne Packaging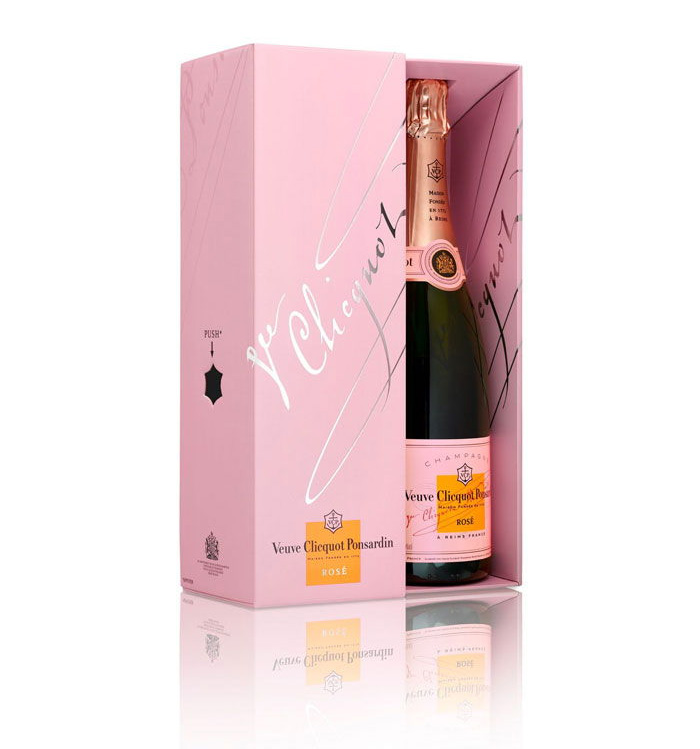 Champagne is the epitome of luxury, which is why it's crucial to utilize packaging to elevate the product within. But why is champagne considered such a luxury drink of celebration? That story dates back to 1693 when monk Dom Perignon accidentally discovered the bubbly beverage.
Monk Dom Perignon was struggling to "de-bubble" a batch of wine when he decided to taste-test the ruined batch of carbonated wine. Although this story is not confirmed as fact, Dom Perignon, if not the inventor, at least had a significant role in the popularization of champagne.
Since then, champagne has become the choice-drink of many celebratory moments, such as ringing in the New Year, weddings, anniversaries, and more!
Since champagne's tradition goes so far back, the spirit's packaging can get repetitive, so it's essential to make the secondary packaging stand out. Packaging should always display the quality and luxury within, but it's vital to put eye-catching flares into champagne packaging design.
Try utilizing unique substrates and being selective with graphics featured on the packaging. Trying out exotic substrates can elevate the luxury feel of the packaging. You can even incorporate leatherette or velvet textures into the interior of your packaging. Or choose an unexpected color to distinguish your brand from the dozens of other champagne-based color palettes.
Veuve Clicquot released a unique packaging for their Rosé product a few years back. The packaging was light pink with a splash of traditional Veuve Clicquot orange. The packaging also came equipped with a pink champagne koozie to keep the champagne cold on warm days. It's the perfect embodiment of the luxury of the Veuve Clicquot brand.
Tequila Packaging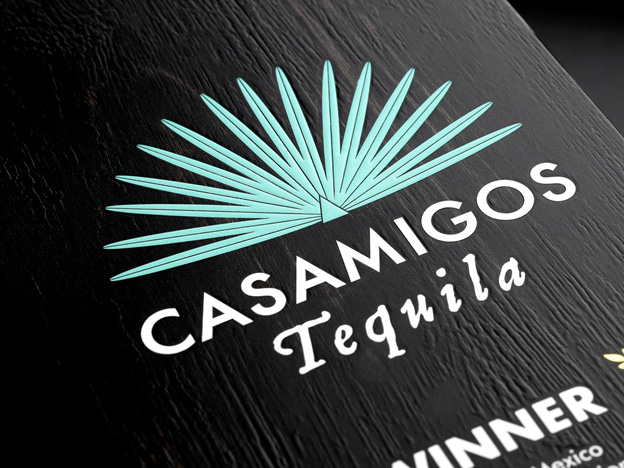 We often see tequila packaging pulling on its origins. Blue agave, the plant that makes tequila, is often the centerpiece of the packaging.
Tequila's origins date back thousands of years, back to the Aztec people. The Aztec people would ferment the blue agave plant. When the Spanish arrived in Mexico in the 1500s, they began to distill the blue agave plant in Tequila, Mexico, to create the tequila we know today.
So with this tradition in mind, how can tequila packaging stand out?
An excellent way for tequila brands to stand out is to use texture, foils, and more elements in their secondary packaging to enhance the sensory experience. Going beyond press effects can help connect to consumers. Soft-touch coating treatments combined with vertical grains can create a textured feel, making your packaging stand out.
George Clooney's Casamigos Tequila emphasizes the purity of this high-end tequila. A consumer's eyes are immediately drawn to the blue agave plant design, but there is much more to this packaging. The luxury folding carton incorporated pre-foil stamping, a spot UV gloss coating, soft-touch matte coating, embossed lettering, vertical wood grain deboss, and much more. The combination of these effects created a beautifully textured packaging solution in black, tan, and white.
Vodka Packaging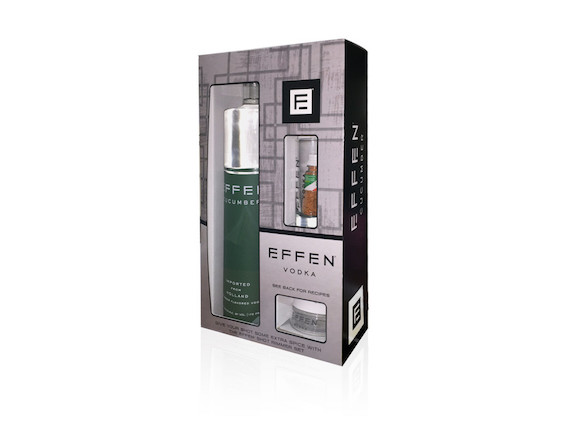 Vodka is a strong, somewhat flavorless liquor. It's a pure spirit that is usually around 80-proof. The purity of vodka goes back to its Russian and Eastern European roots. Depending on where the vodka is made, production methods will vary, but traditionally vodka is distilled from either starches or sugar plants.
It the 1430s, Isidore the Monk created the first Russian vodka recipe, which was referred to as "bread wine." In Poland in the 1500s, vodka was used for medicine. As time went on, vodka was adapted as a casual drink of many Russian, Polish, Swedish, and other cultures around the world.
With vodka, packaging should emphasize purity. People want high-quality vodka that is known for its pure and smooth taste, just like the original vodka recipes. Packaging can do this by utilizing soft colors in its design and making sure to fully showcase the product. An interesting way to do this is by using custom folding cartons that incorporate windows to show the product within.
Effen Vodka and JohnsByrne partnered up to create this extraordinary gift set. The custom folding carton lets the consumer see that not only does the packaging contain a bottle of Effen Vodka, but two complimentary gifts. The green colors also bring out the cucumber flavor of this specific Effen product. Overall, it's a simple packaging that emphasizes the quality of this product.
Whiskey Packaging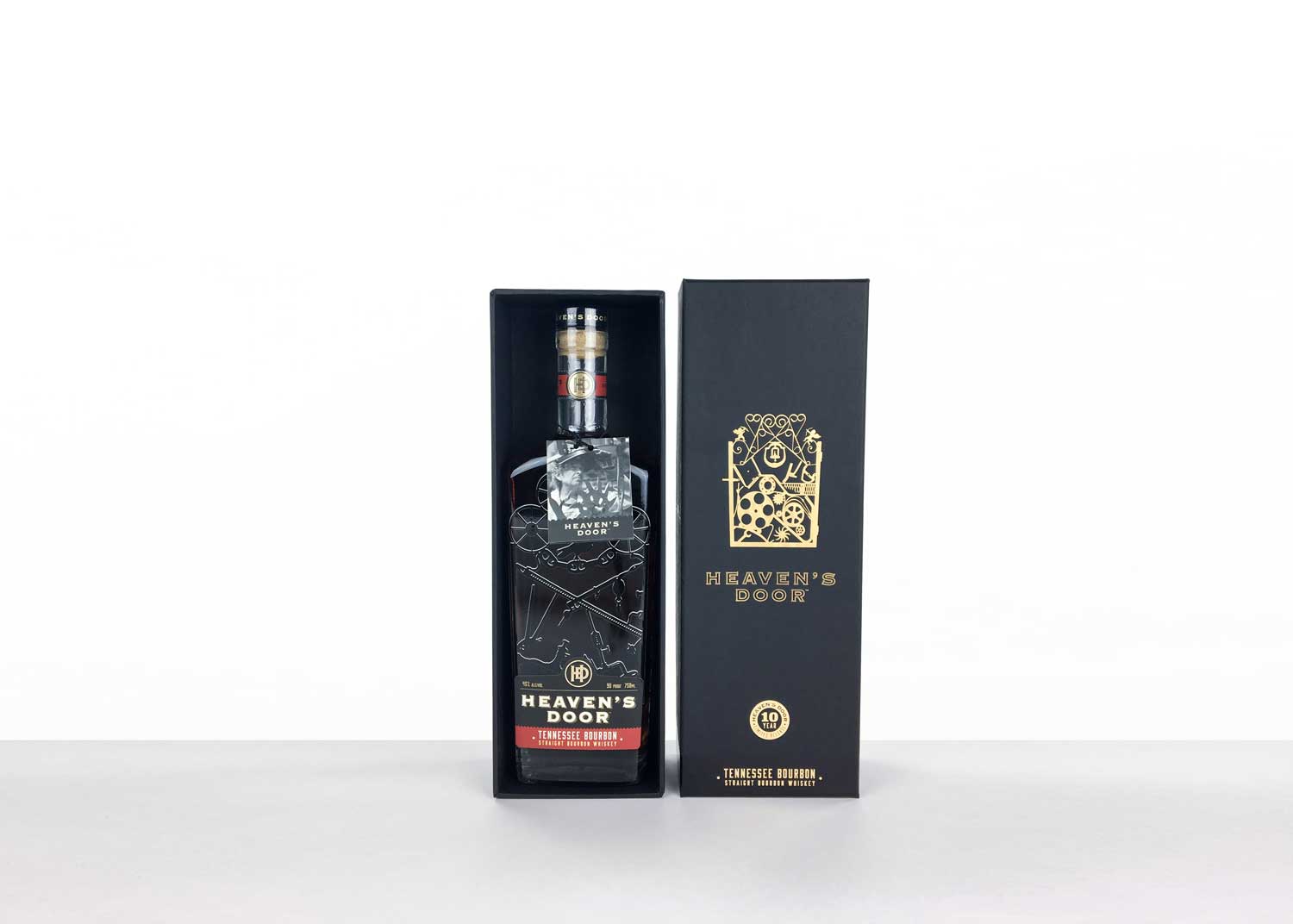 Like bourbon, whiskey has a strong tradition attached to it. Although whiskey is made anywhere from Scotland to Tennessee, it is still a staple for communities around the world.
When the distilling process arrived in Scotland and Ireland, modern whiskey came to fruition. This process arrived in the years 1000-1200, and since the Scotts and Irish had no access to grapes, they turned to other means. The people began to ferment grain mash into what is known as whiskey. This spirit has inspired many liquors across the world, including bourbon and scotch.
Whiskey packaging should emphasize the rich caramel color of the liquor and show the history this spirit holds. This can be done by incorporating unique imagery with specialty effects and different embossing methods. Consider incorporating silver and gold foils and embossing to make any logo and brand stand out.
Bob Dylan's bourbon whiskey, Heaven's Door Spirits, utilizes a unique rigid box packaging. The primary packaging of the liquor incorporates beautiful, intertwining welding materials with golden and black elements. The secondary packaging uses deep black and rich gold tones. The gold tones are foil stamped elements of Bob Dylan's sculptures and the brand name. The sleek rigid box also utilizes debossing for the gold and black foil elements. The result is a stunning, strong black rigid box to encase the Heaven's Door product.
Wine Packaging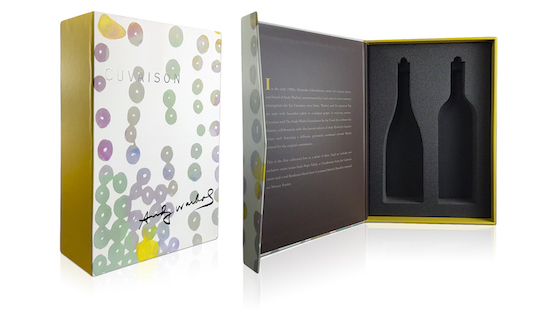 Wine is one of the oldest liquors on the planet, dating back to 6,000 BC when grapes were accidentally fermented. The discovery of wine was said to be somewhere between eastern Turkey and western Iran. From there, wine made its way to Mesopotamia, Egypt, and Palestine. It wasn't until around 750 BC that wine came to the Romans and Ancient Greeks.
As you can see, wine has such a rich history. Therefore, wine packaging must showcase the luxury and class of the product within. And with more and more companies entering the market, it's growing increasingly important to showcase the uniqueness of certain wine brands. With the help of specialty packaging, wine brands are putting the elegance, class, and history of wine on display for potential consumers.
Wine brands can put themselves ahead of the curve by creating specialty packaging that is unlike any other. Innovative specialty packaging is key to making your wine stand out from the hundreds of other brands online and on shelves everywhere. It also provides endless opportunities for your brand to showcase the history and class of your wine. Many people label shop when picking out wine, so it's vital to make your packaging special.
A few years back, JohnsByrne collaborated to create a limited-edition Andy Warhol print specialty packaging with the brand Cuvaison. This packaging incorporated one-of-a-kind Andy Warhol screen-prints on the primary and secondary packaging of the product. This limited-edition wine box set included two estate wines labeled with exclusive Warhol prints from the 1980s. This specialty packaging turned collector's item provided consumers with value not seen in grocery stores anywhere.
These are our top picks for the absolute best in liquor and spirits packaging. For more information on how you can bring these creative solutions to your brand, reach out to JohnsByrne today!
---
Related Posts
---