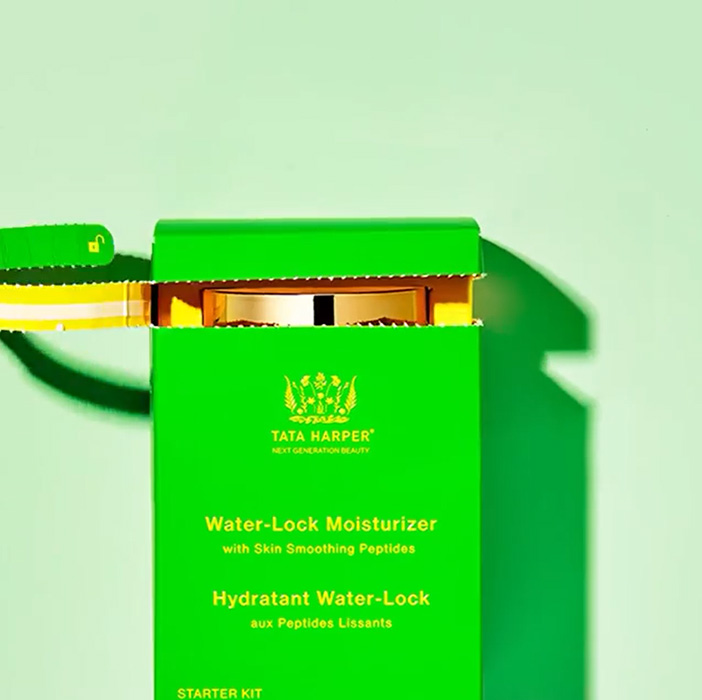 Photo Credits: Tata Harper Skincare
In a society where the beauty industry is largely unregulated, consumers are wary to put products with potentially harmful ingredients on their faces. They want products they can trust, made without toxic ingredients – hence the upward trend in clean beauty today. Clean beauty products contain non-toxic ingredients that are proven to be safe and effective.
Consumers perusing the shelves or an online store won't immediately know your product is a clean beauty product. Therefore, it's important for brands to entice their consumers and send a message that conveys their brand's values through their packaging. The following packaging designs in clean beauty packaging can attract consumers to your product.
1. Transparent Packaging
Creating a transparent packaging design for your clean beauty product – both literally and figuratively – is one way to grab the interest of a customer. Creating a die-cut window that is made from a clear material allows the consumer to see the product's color formulation through the packaging. Not only is this look pleasing to the eye and on trend, but it also allows the consumer to feel as though they can better trust the product when they can see what's inside. Being transparent about the ingredients and what your product offers is another way to capture the interest of the consumer. Listing the ingredients clearly on the bottle and making the ingredients a focal point on your packaging is one way to do this. Clearly conveying the message that your product is clean and natural by using related imagery such as greenery is another effective strategy.
2. Sustainable Packaging
Sustainable products and packaging are important to consumers across all industries and the clean beauty market is no exception. In fact, clean beauty and sustainability go hand-in-hand. While consumers are looking for products with ingredients that are safe and will not harm their skin, they also want the product and its packaging to be made from materials that are safe for the environment. Furthermore, packaging that is sustainable, such as packaging made from eco-friendly materials, with an FSC®-certified logo, or dyed natural colors and tones, will help imply to the consumer that the product itself is clean as well.
Sustainable packaging can be achieved through using less materials and using sustainable substrates, such as post-consumer waste paper or materials that have earned a PEFC certification. Additionally, using cold foil and hot foil stamping are sustainable ways of adding decorative touches to your packaging.
Minimalistic Packaging
Clean beauty focuses on simplifying the ingredients used in a product – and in order to initially convey this to consumers, the packaging should reflect the product's simplicity with a minimalistic packaging design. Using a minimalistic packaging design offers several benefits. For one, the design is simple and appealing. It captures consumers' attention because it is not a "busy" design that is overwhelming to the eyes. Furthermore, a minimalistic design makes information, such as the ingredients in the product, clear to the customer. This is important because customers who opt for clean beauty products value knowing exactly what is in their products.
3. Glass Primary Packaging
While plastic packaging is extremely popular, the shift from plastic to glass packaging – in the skin care industry especially – is growing. Glass packaging appeals to consumers for several reasons: it looks clean, sleek and tactilely pleasing. In the clean beauty industry, glass packaging also helps convey the message that the product itself is clean and made with safe ingredients. One reason glass packaging conveys this is because glass itself is clean and sustainable – it can be indefinitely recycled in a closed loop and it can be reused. Additionally, glass conveys the message that the product inside is high-quality – made with high-quality (and therefore safe) ingredients. This message is backed up by the fact that glass packaging offers chemical durability, which ensures that the product inside will be compatible with the packaging and will be protected.
4. Experiential Packaging
While minimalism and sustainability are on the forefront of clean beauty trends, another unique trend that is emerging is experiential packaging. Clean beauty packaging with pleasing visual and tactile features grabs consumer attention and can generate interest on social media. This type of packaging is a great way for new brands entering the beauty market to stand out amongst competitors.
Experiential packaging can include creating tactile experiences by using elements like soft touch coatings, multi-level embossing/debossing, or grit effects. Additionally, visual experiences can be used by adding effects like pearlescent coatings, glitter coatings, or glow in the dark phosphorescent effects.
Start Your Next Clean Beauty Packaging Design With JohnsByrne
Looking to get started on your next clean beauty packaging design? Schedule a consultation with one of our packaging experts to create a memorable design that grabs consumers' attention.
---
Related Posts
---