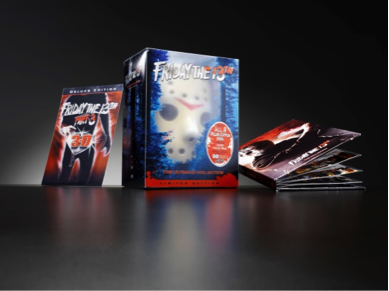 When it is labeled as limited edition, a product gains a leg up on the competition. Limited edition items imply specialty, limited supplies, and unique product or packaging attributes. Limited editions are also perceived as more valuable than regular edition counterparts.
Creating visually appealing limited edition packaging can enhance the product experience and encourage sales over a period of time. Developing unique packaging sets a limited edition item apart and adds value
If you are looking to create limited edition packaging that is eye-catching, the design team at JohnsByrne has the expertise and experience to bring your limited edition product to the spotlight with exceptional quality and affordability. For truly remarkable limited edition packaging, consider these ideas:
Use a Unique Substrate
Plastics, foils, leathers and a variety of paper stocks are unique materials that can enhance a product experience. A package that is soft, sleek, or matte can form a lasting first impression in a customer's mind. Have you ever felt a piece of paper and had the thought that it "feels rich"? That perception affects consumer purchasing decisions on a daily basis. Having quality packaging can inform a consumer about the quality of the product contained within the package.




Durable packaging made of materials such as metals or plastics can be used after the product is purchased. Being contained in a reusable package adds value to the product for the customer. Often, packaging is used to store an item when not in use, and having a durable package will allow a consumer to care for the product over time.
Forego the "Box"
Instead of packaging your limited edition product in a box, try using a different element of structural design. Cylinders and other geometric designs add a level of intrigue to product packaging. Something that is uniquely shaped will encourage handling of the product, which is the first step in converting a shopper to a buyer.






Consider making the packaging into a permanent display for the product. A DVD/Blu-ray case that also stores the discs in an attractive manner is more appealing than a traditional jewel box. A visually appealing package can become part of the product allure and encourage sales.
Include a Gift with Purchase
A gift with purchase (GWP) automatically improves the selling chances of a limited edition product. Have a small sample of another product included for cross-selling purposes, or turn the packaging itself into a GWP. Around the holiday season, a package can mimic gift-wrapping or stockings to provide a unique flair and eliminate the need for traditional giftwrapping. Include a small gift card or special coupon for another product in your brand, or try a two-for-one deal.
Reinforce the Brand
Create a unique spin on the brand for a limited edition. Pair with a brand ambassador or use a popular cultural icon or concept to bring an extra level of authenticity to the brand. Changing the branding slightly with color or texture can make a limited edition item seem special and more valuable. Use a play on words or add a message from the brand to make a limited edition item pop.
Don't Specify a Tight Timeframe
Limited edition item packaging that focuses on certain holidays makes any unsold items obsolete after the holiday is over. To avoid this, focus on a season or idea that is longer lasting, while still in the spirit of a "limited" edition. Create seasonal packaging that is focused on a season as a whole.
Invest in Quality
For a limited edition product, the packaging should reflect the specialty of the item. Use high quality, durable packaging that is creative and eye catching.
Go the extra mile with the packaging to make the consumer's initial impression the best it can possibly be. Use higher quality inks, finishing effects, and substrates so that the packaging reflects the brand in a positive, limited-edition kind of way.
For more information about how to create an innovative design that inspires purchases and sets your limited edition product apart from the competition, contact JohnsByrne today.
More Resources
Folding Carton Packaging Company
---
Related Posts
---