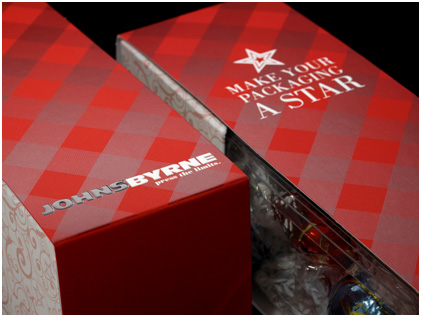 You already have great products. But what about your packaging?
Far too often brands are opting for unremarkable elements when it comes to packaging. Consumers have seen them time and time again. Some of the brilliance of the product inside gets lost due to non-descript packaging.
Good news: there are plenty of elements you can experiment with to make your packaging shine just as brightly as the products inside.
The holidays are the perfect time to innovate and get more creative. Here at JohnsByrne, we took that to heart in our 2016 gift box showcases.
Take a look at some of the elements we used, which you can adapt to make your own packaging a star!
Ideas We Put into Action
We always like the push the envelope when packaging and printing holiday gifts for our clients. The idea is to showcase the newest innovations while sincerely thanking clients in a way that taps into the spirit of the holiday season.
Our 2016 holiday program consisted of two elements: a gift box full of chocolate truffles and a thank you card.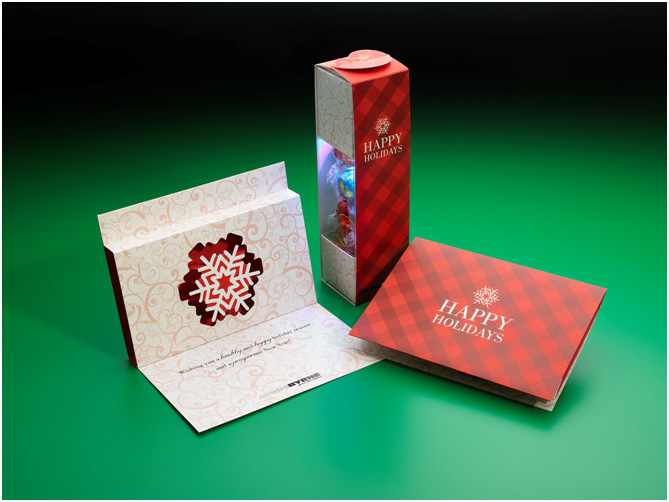 Here's how me made the gift box unforgettable:
3-piece carton design. A unique structure gives the gift box a signature look. It is comprised of base, lid and middle section that together result in a carton with very clean lines with interesting visual elements.
A combination of plastic and paperboard substrates.Often we see a paperboard or a plastic carton, it is very rare to see these substrates used together and produced to perfection as each substrate behaves differently. The gift box design has a paperboard base and lid that, sandwich an APET (plastic) middle section, which is clear. Our clients get a peek at what's inside the box: delicious chocolates!
Lighting effects. We also installed an LED lighting unit inside the gift box lid. With its color-shifting effects, it creates the feel of holiday lights and a dramatic display.
A decorative sleeve. A red flannel pattern decorative sleeve adds an unusual structural element. It also let us display branding and messaging, leaving open the option to reveal more messages beneath. Having the sleeve slide horizontally preserves the view of the chocolates and light.
Innovative pint and finishing effects. A white and pink swirly pattern (on the gift carton and inside of the card itself) served as the perfect complement for the flannel. We used the Press384 upfront coating unit to lay down pearl coating,and print whites and soft pinks. Spot gloss UV coating and spot dull varnish accentuated the swirled pattern.
Vingetting of the varnishes. We wanted our red flannel to really pop. By using different "screen values" of gloss varnish on the black within the pattern, we created a layering effect. As you tilt the box and the light hits it at different angles, a dancing effect brings the pattern to life.
3D pop-out card. What do we get when we combine complex die-cutting,origami and our new EmoteCoat coating technology? A snowflake that animated as our clients opened their holiday card. Simple touches like these are what people truly remember.
Transform Your Packaging into Something Remarkable
There are so many options to innovate and transform your packaging into a star. By using just a few of the ideas above or combining them with your own, you can create something truly memorable.
It takes a lot of experience and the right technology to make sure everything comes out just as you envisioned. Partnering with the right print and packaging expert will help you make it a reality.
---
Related Posts
---