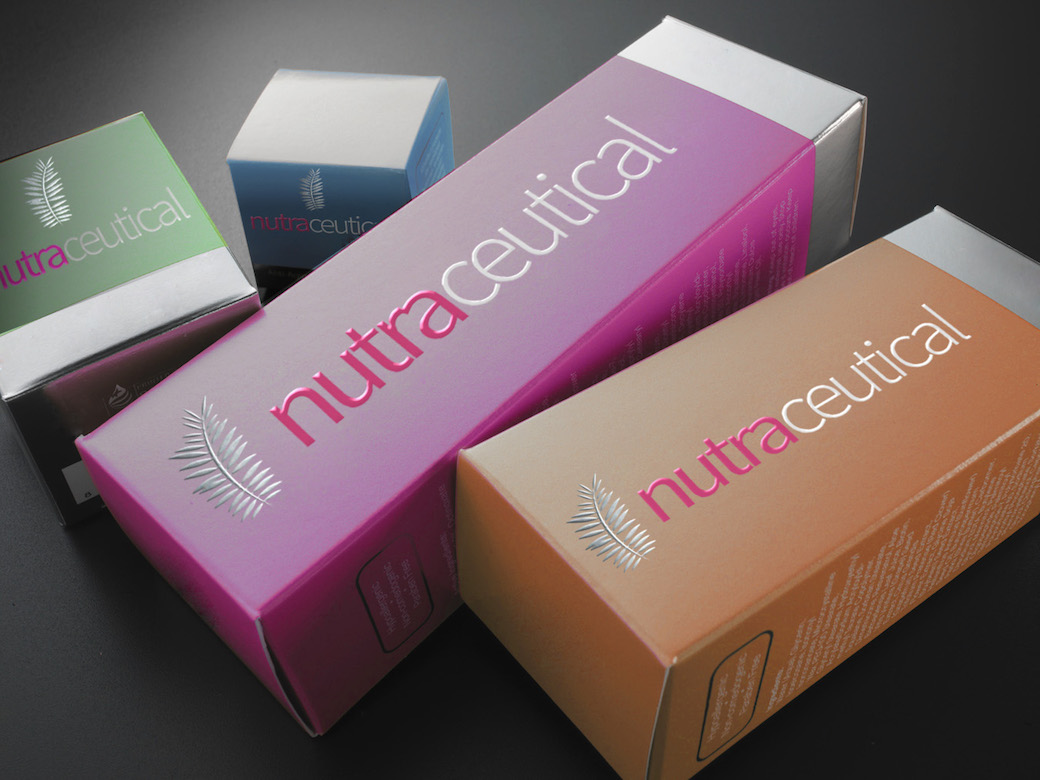 When it comes to servicing the nutraceutical market, it's important to understand which category your product fits into. The more you know, the better you'll be able to shape your packaging to the targeted audience. Learn more about how to shape your packaging to reflect your brand's image.
What is Nutraceutical?
An amalgamation of the words "nutrition" and "pharmaceutical," nutraceuticals generally fall into three different categories:
Functional food and beverage
Dietary supplements
Nutricosmetics
Nutraceuticals are typically sold in dermatologists' offices, health clubs, spas, nutritional stores, as well as online stores and health and natural food stores. Examples of nutraceutical products include dietary supplements, vitamin and mineral supplements, energy drinks, protein bars, sports nutrition and many other lifestyle products.
Chemical-Free Care
With the public's increasing awareness of the dangers of unnatural ingredients in their food or personal care products, the nutraceutical product industry has been one of fastest growing industries in the past decade.




Unlike typical drugstore products, nutraceuticals are usually the end-result of long-term research and exclusive formulations developed for the health-focused consumer. Nutraceuticals are usually formulated without the use of harsh chemicals, chemically enhances, or hormone disruptors such as parabens, mineral oils, sulfates, BPA, or ingredients that are not tolerated by sensitive skin, such as alcohol or artificial fragrance.
With the growing popularity of health awareness, this expanding market is in high demand across all categories to provide more health-conscious solutions for consumers. Typically, the nutraceutical marketplace comes with a higher price tag because consumers are willing to pay extra for a product that helps maintain long-term health and wellness. For this market, the right packaging is as essential for success as product and brand credibility. Let's look at some of the must-haves for successful nutraceuticals packaging.
Distinguish From Pharmaceuticals
Nutraceuticals should not be confused with pharmaceuticals, and the product packaging should reflect that distinction.
Often times, the demographics are completely different. The look of a nutraceutical product and point of sale displays should reflect health, sustainability and a connection to the natural world. This can be accomplished with the use of recycled paperboard (or finishes that mimic it), reticulation to give a more dimensional look, foil stamping, neutral colors, finishes that resemble natural materials like wood grain, and embossing and debossing on the box and logos.
For example, Burt's Bees, a popular worldwide brand, uses the image of a honeycomb on the background of many of their products and retail store displays, along with a line drawing of the company founder for a rustic look. Other products feature drawings of bees or beehives to illustrate the natural beeswax that is used in many of the products. And with the launch of their lip balm tube recycling program, the company has enhanced their "natural" image with an ongoing sustainable and eco-friendly practice.
Tom's of Maine, another successful brand, uses plain white or cream-colored backgrounds with their logo in a sophisticated, scripted font to convey simple luxury. Their packaging often features a drawing or graphic of one of the featured natural ingredients that can be found in the product, such as mint, orange, lavender, or cinnamon. The brand also includes products for children, featuring bright colors and whimsical typography.
Sports Nutrition and Functional Foods
Despite the above, a line should be drawn between the type of nutraceuticals that are geared toward beauty and wellness and those targeted to athletes, body builders and sports enthusiasts.
Products like muscle builders, protein shakes and other performance enhancers tend to do well with flashier packaging, bright colors and bold typography. Since muscle builders are targeted to a largely masculine audience, those products focus less on wellness and being eco-friendly, and more on results and specific claims. The ingredients are displayed prominently. Protein amounts and other key nutrients such as whey or amino acids are usually printed front-and-center. This aids in quick selection of the right product for the consumer's specific needs.
Functional foods are products that claim to give an additional function (often one related to health-promotion or disease prevention) with the addition of new ingredients or more of existing ingredients. Proponents of functional foods say they promote optimal health and help reduce the risk of disease.
A common example of a functional food is oatmeal because of its naturally occurring soluble fiber—an ingredient believed to lower cholesterol levels. Some foods are modified to have health benefits, for example, orange juice with added calcium for bone health, or yogurt containing active cultures or probiotics for added digestive health.
These types of foods are packaged similarly to sports nutrition in the certain ways. The key ingredients are highlighted or illustrated for quick selection based on health needs. They might have key words such as "plus" to indicate the addition of extra ingredients or nutrients. The colors tend to be softer, the typefaces more rounded, and the backgrounds are typically white or another light color.
Regardless of your audience, creating successful nutraceutical packaging to ensure the success of your product requires the help of packaging experts. At JohnsByrne, we focus on early collaboration to assist our clients with the various business and marketing phases of their product. When you work with us, we will identify and develop customized packaging for each and every product.
We can help you design a packaging that will make your product jump off shelves and drive sales. Contact us today to get started.
---
Related Posts
---