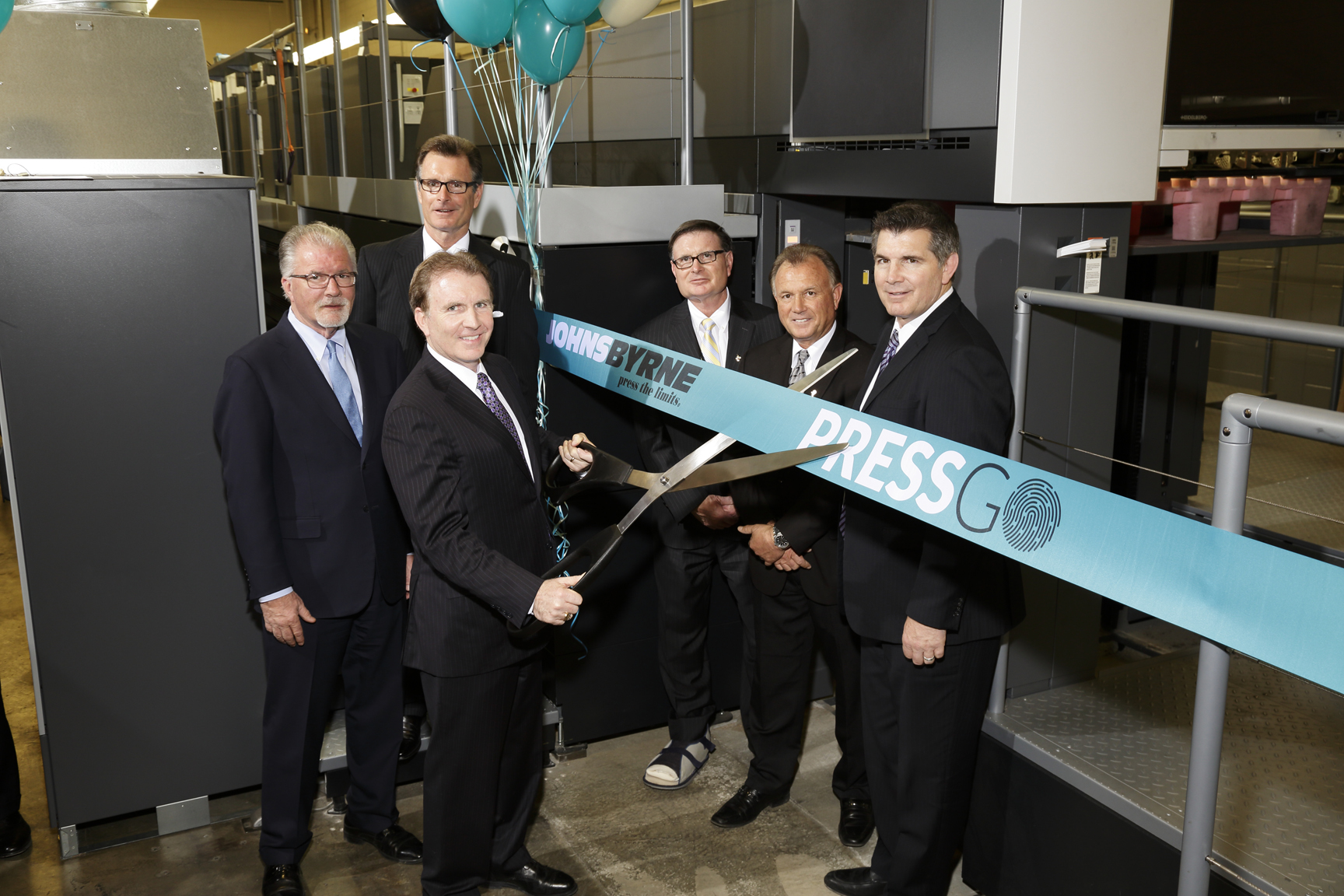 Press384 is an inspiration that derived from a concept as JohnsByrne became more deeply involved with packaging. It's a byproduct of years of leading and creating innovative solutions for our clients in the marketplace. JohnsByrne performs, invests, and grows through the motivation of just one word—innovation.
The Whiteboard: The Spark of Breakthrough Technology.

It was over twenty years ago when the Gustafson brothers—owners and partners of JohnsByrne Company—gathered in a conference room and began diagramming on a white board a unique press solution that would become reality in 2015. In the nineties, JohnsByrne Company was beginning to dive into some unique business that allowed them to begin experimenting and testing different techniques and substrates on a conventional offset press. The initial 'whiteboard' idea for their concept press consisted of an up-front coater with additional units to follow. Ultimately, the Gustafsons wanted to continue to grow the company and become key players in this competitive industry.  In order to do so, they needed to invest in technology that delivered cost-effective innovation.
[youtube id="0oQCIr92YA8″ align="center" autoplay="no" maxwidth="755″]
In the years leading up to the new millennium, JohnsByrne continued to mature as a company and furthered their reputation within new and existing marketplaces. The business evolved in 2005 when JohnsByrne acquired Graphic Converting, which transitioned them out of commercial printing and established themselves as an innovative printing and packaging provider. This allowed the company to make a national footprint in the marketplace. With a high demand for decorative printing and packaging from their clientele, JohnsByrne revisited the drawing board and began to reconfigure what we know now as Press384.




The Configuration at Work
With the firm vision of the configuration in place, the Gustafsons began to evaluate the current press market to determine the best match for the company. From 2011 onward, the company went into an intensive development phase with ideas of having a configuration of an upfront coater, seven printing units, and two coaters to follow. But, that quickly changed when the configuration of an upfront coater, seven printing units, second coater, eighth print unit, and final coater came into play. This configuration allowed for more flexibility, which is exactly how they wanted to approach the market.
Over several months, JohnsByrne visited the multiple press manufacturers and their US installations to further refine their research and see first-hand what these presses could do. Spending five days in Europe at press manufacturers' sites, and testing forty-two different press forms, the company made a multi-million dollar decision that would change printing as we know it.
In 2014, the partners decided to turn their vision into a reality and committed to the capital investment of Press384. This unique press allows JohnsByrne to move ahead of their competition in more ways than one. Their motivation was to develop groundbreaking techniques that the marketplace hadn't seen or heard before.
For JohnsByrne, this press is just one piece of the puzzle that has to fit into the overall technology offering. It's about the technology, a thought process, and our people that allows the company to be a top provider of innovative, cost-efficient packaging solutions. As a company, JohnsByrne is committed to their clients and their offering to the marketplace.  Press384 is a celebration of innovative technology, but more importantly, it's a celebration of our people, our clients, and our business.
Open House Coming Soon
JohnsByrne is hosting an open house event for Press384 in Spring of 2015. Keep checking back for more information on event dates and registration links. If you haven't already, be sure to take a look at the PressWatch series for an inside view of the Press384 installation progress. If you want to learn about the additional benefits or have any questions about Press384, contact us directly using the Start Your Project Now form or call us at 847-583-3100.
What Will You Do With Press384?
We want to know what YOU will do with this 15-unit configuration that allows for more creative freedom. Stay tuned to see what breakthrough techniques JohnsByrne has in store for your next upcoming project.
More Resources
---
Related Posts
---