The goal of skin care and cosmetic products is to enhance the appearance of the user. To align with the concept of beauty, manufacturers have developed packaging designs—both structural and aesthetic—to support that image in their products and help them to stand out in a sea of competing products on the shelves.
More than that, packaging for such products must protect what are often fragile containers, easily damaged or broken in transit. In addition, skin care and cosmetic products are susceptible to bacterial growth, much like foodstuffs, and this must be taken into account.
Over the past decade or so, consumers, particularly millennials, have a greater concern about sustainability, which includes eco-friendly packaging. Many industries have adopted greener methods of packaging their goods to meet the demand.
Because of the challenges related to protecting products, the skin care and cosmetics industry has, to some degree, lagged in creating sustainable packaging, but is now doing more to rectify the situation. It is not only good for the planet, it is good for business. Savvy shoppers are aligning themselves with companies in all industries that are producing eco-friendly products and using proven sustainable initiatives to the tune of a 20 percent increase in sales revenue.
WHAT ARE THE KEY ASPECTS OF CREATING ECO-FRIENDLY COSMETIC AND SKIN CARE PACKAGING?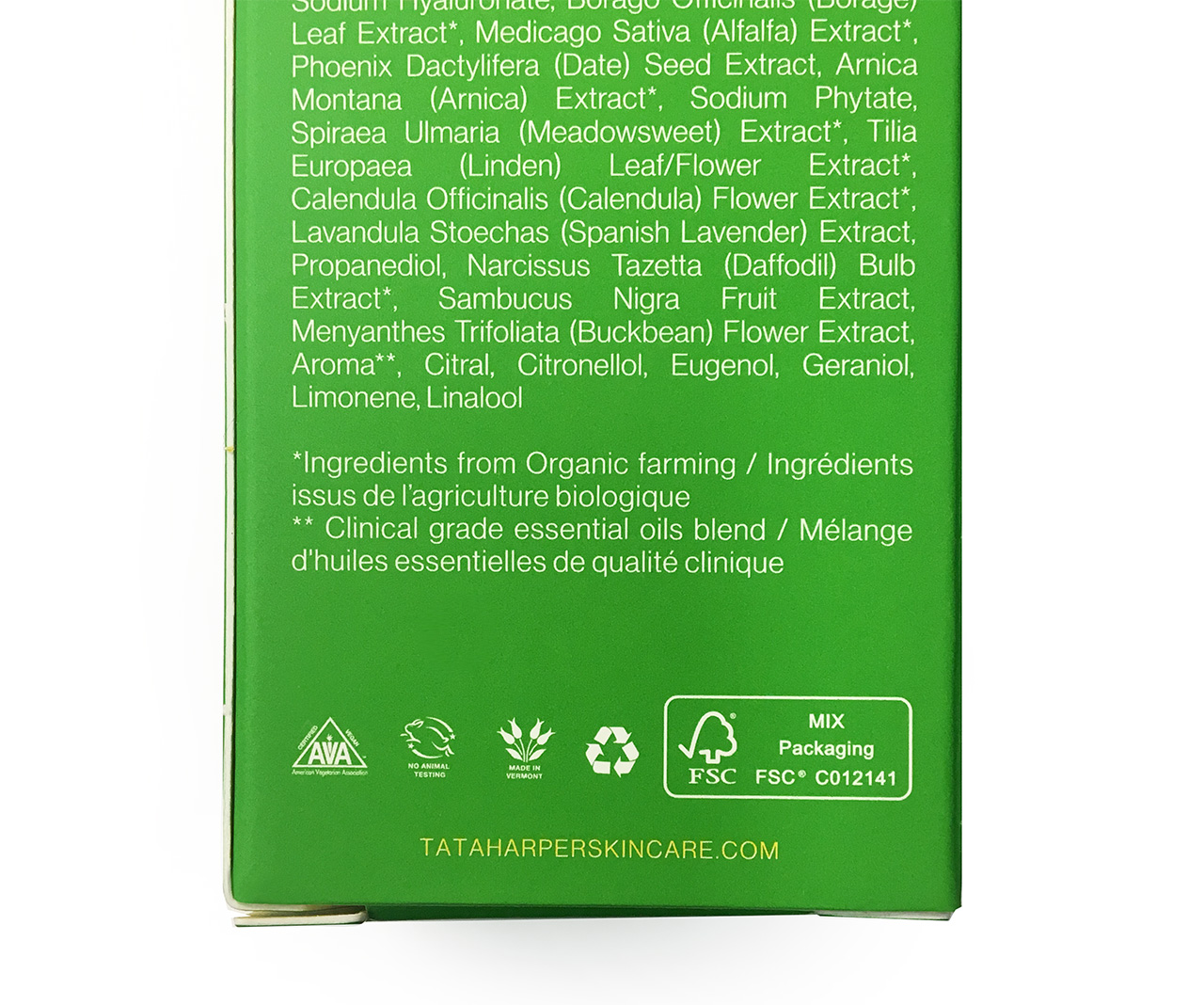 "Eco-friendly" is a word that is bandied about a great deal in the current culture, and it is often seen on labels and packaging—even when there is no actual proof. Let us be clear about what eco-friendly means, and what developing sustainable skin care and cosmetic packaging entails.
At its simplest and most basic, eco-friendly means earth-friendly—something that is ecologically beneficial or, minimally, not harmful to the environment. There are aspects related to environmentally friendly packaging materials.
Using Sustainable Packaging Materials for Skin Care & Cosmetic Packaging
This can be looked at from both sides of the coin:
Creating packaging FROM recycled materials, which include paper, certain metals, glass and plastics, or from naturally derived materials, such as cassava starch and green tea extracts, which are fully biodegradable.
Creating packaging that CAN BE recycled (or is fully biodegradable). This is especially important when thinking about the type and quantity of plastic used in beauty packaging. There is often a plastic window in the outer box, as well as blister-type packaging inside the box, and these plastics—which could survive for hundreds, if not thousands, of years—are currently estimated to take up approximately one-third of all plastics in landfills.
Reducing the Company's Carbon Footprint of Your Packaging
There are several ways health and beauty product manufacturers can reduce the carbon footprint. Among them, are the following:
Utilizing 100% recycled paperboard over virgin paperboard
Using paper with some post-consumer fiber content which is a mix of recycled fibers
Becoming FSC® certified – products come from responsibly maintained forests
Becoming PEFC certified – every part of the supply chain comes from a sustainably managed forest
Becoming SFI certified – loggers must meet specific sustainable requirements and practice sustainable logging practices
All of the above are impactful in terms of the resources required to produce the packaging, such as electricity and water, as well as the fuel required to transport the product.. By pursuing one of the above practices or certifications you can show your customers that you care about every single detail that goes into your packaging.
HOW JOHNSBYRNE IS CREATING ECO-FRIENDLY COSMETIC AND SKIN CARE PACKAGING FOR ITS CUSTOMERS
Known for our innovations in structural design and health and beauty packaging, we've worked with plenty of companies who wanted to reduce their carbon footprint while still promoting their brand. A recent client of ours wanted to take the opportunity to creatively re-brand while simultaneously reducing their carbon footprint, without sacrificing the aesthetics and quality of the packaging.
Their key criteria they required were:
Whiteness and having a stock that provided a clean, crisp look
High percentage of post-recycled content (PCR) for true sustainability
High level of print quality to reflect brand standards
Consistency across the entire brand line
Minimum orders and lead times
Cost
After scrupulous research into 100% recycled alternatives, we:
Selected two eco-friendly cardboards.
Embellished all test sheets with eco-friendly foil stamping and embossing for comparison
Die-cut a new one-piece carton solution for the brand re-fresh that consisted of a web-tuck top and auto-bottom.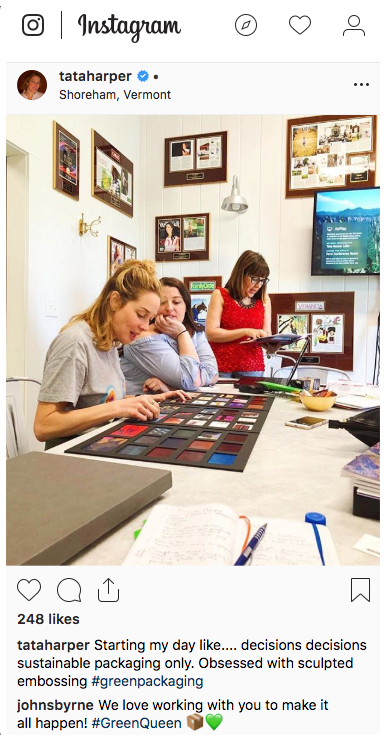 Tata Harper taking a look at our sustainable packaging embellishments
Besides the cost savings possible from using the recycled paperboard, the potential environmental impact in one year was somewhat staggering, saving an average of:
3, 545 trees
1,033,857 gallons of water
8,820 lbs. of air pollution
443 cubic yards of waste in a landfill
Work With Our Team to Design Sustainable Packaging
The innovators at JohnsByrne will not rest until we have created the optimal structural solution for our customers. So let's press the limits together. Contact our team to discuss the design process for eco-friendly cosmetic packaging or skin care packaging.
---
Related Posts
---