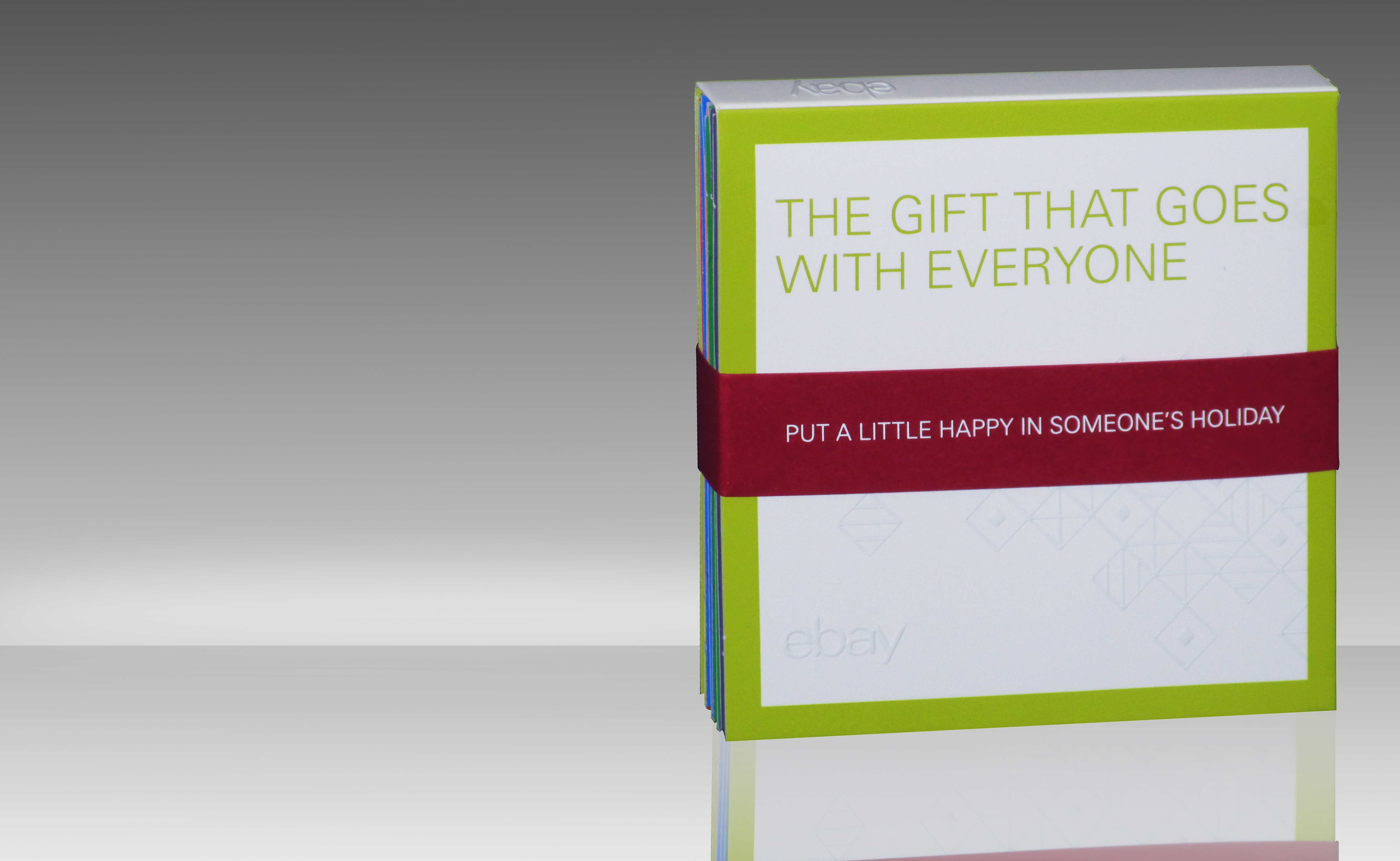 This year, on the 6th day of her show's special, featuring "12 Days of Giveaways," Ellen DeGeneres gave different gift cards to each member of her audience. Among these gift cards were eBay's accordion style gift card set, produced by JohnsByrne. The eBay gift cards were part of a unique five-piece gift card holder, designed as an accordion style chain of gift cards that could be unfolded and torn off. This allowed the recipients to pass on their gift by giving the gift cards to their friends and family members. Each card had a message that displayed feel good salutations like "For the One Who Makes My Day Brighter," meant for the cards' final recipients. (Skip ahead to 3:45 to see the gift cards)
The Design of the Gift Card
These gift card accordion holders and their messages were developed specifically for that episode of the Ellen Show. However, the idea of the card holder itself was developed by Digitas. JohnsByrne offered suggestions for how the gift card holder could be designed to open more easily and also created two ways to decorate the accordion style holders. Featured on this card holder is an embossed pattern with blue tinted coating, in a snowflake shape and with the eBay logo. The other includes an overall luxurious soft touch coating.




While it may seem trivial, a gift card's packaging and presentation is an important part of the card and impacts how recipients feel upon receiving the gift. Some cards are flashy and eye catching, but in this case subtle packaging was our customer's choice. When someone gives a gift card to a loved one, they usually want to express feelings of warmth and love towards the recipient. A softer, more subtle package supports those intentions.
Digitas Gift Card Holder Options
Digitas wanted to use the right techniques in designing the gift card holders, making them the perfect gifts for treasured friends and family members. A soft touch coating was used to give the overall piece a softer finish incorporating a subdued combination of embossing and a blue tinted coating finishing technique.
Packaging that Creates Memories
At JohnsByrne we specialize in creating unique and one-of-a-kind packaging for all seasons. For more information on the innovation packaging solution we offer—including beautifully designed gift card holders—contact us today.
More Resources
Folding Carton Packaging Company
---
Related Posts
---