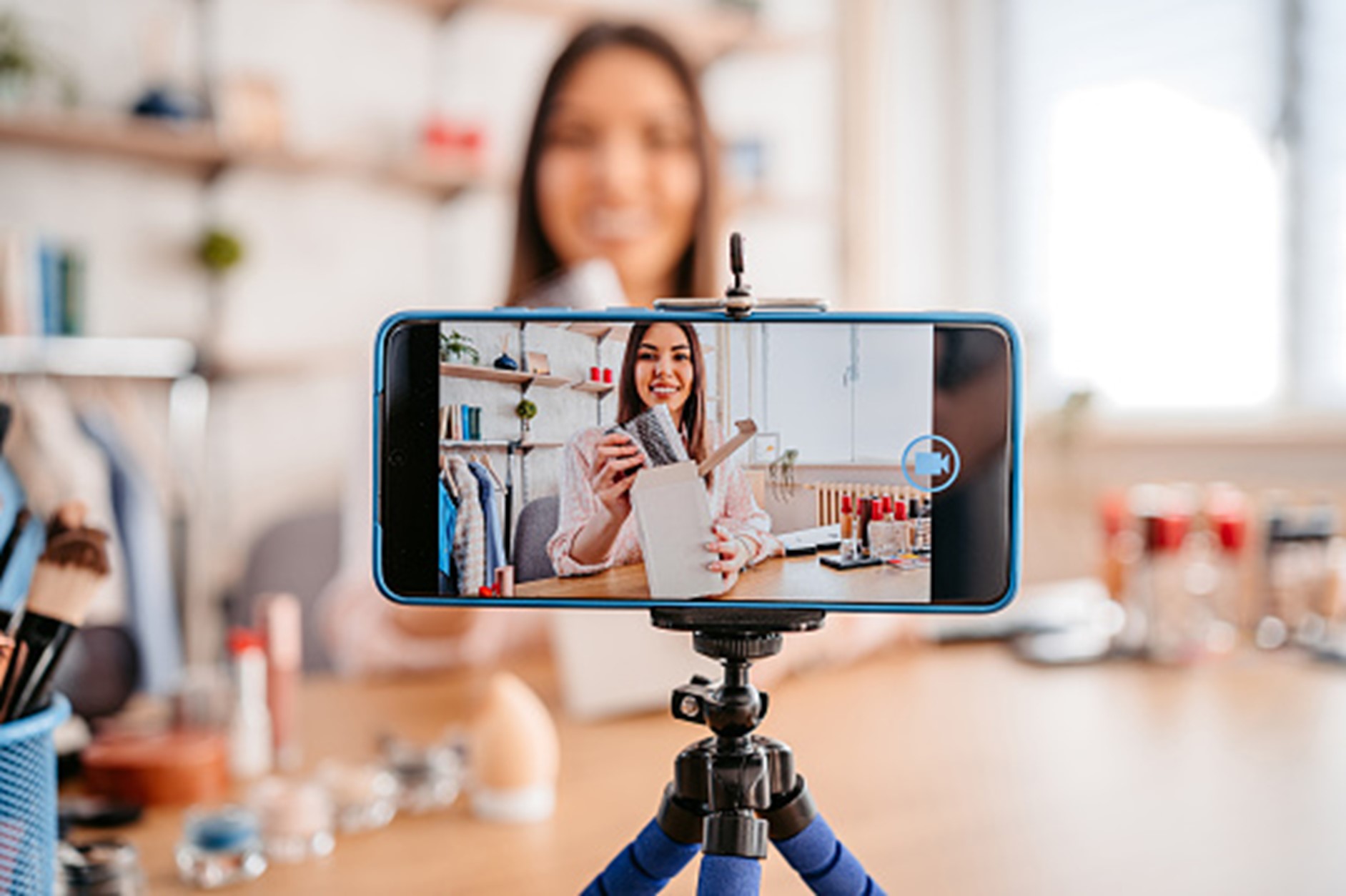 Ever since the first cave paintings and sharing of tales around the campfire, we humans have been obsessed with sharing experiences as vividly as possible.
Similarly, the "unboxing video" phenomenon, in which consumers film themselves "unboxing" a product for the first time, has been growing and appears to be more than just a passing fad.
Whether it's a holiday promotional package or product welcome kit, brands are fighting for on-shelf differentiation, top of mind awareness and now for buzz online.
So, along with branding product identification, and shelf impact, every package design now has another goal of creating a compelling consumer experience. The ultimate objective: an interactive, multisensory experience that customers feel compelled to share. And clearly, it's working:
The top unboxing channels have over 30 million subscribers
77% of companies producing packaged products are now focused on the unboxing experience (Keypoint Intelligence)
1 in 5 consumers have watched an unboxing video
The unboxing video has thus shifted from a sporadic YouTube post to an end goal for packaging development and product launch. From theatre to marketing essential.
Obviously, the actual product inside the package has a great deal to do with it… the latest, hottest tech, toy, beauty product or sippin' whiskey is bound to draw attention. But across the board, from cosmetics to spirits, unboxing is powerful marketing mojo:
Endorsement: creates brand influencers for increased online exposure to attract new customers
Brand connection: it's an opportunity for customers to interact with your brand
Sales growth: a positive experience leads to customer loyalty and repeat purchases
And like any hoped-for viral communication, it begs the question: how can a brand help assure that powerful unboxing experience?
Unique package engineering creates customer "Oh wow!" moments
Brand-appropriate, elegant design/art direction captures visual attention
Premium materials and finishes convey higher perceived product value
Secondary packaging and enclosures provide additional options for brand storytelling
With all this increased attention on unboxing videos – not to mention all the competition – some trends have developed to amplify the user experience further; including personalized thank you notes, interactive packaging, more sustainable packaging, coupons and samples. Whatever it takes to create a memorable first impression for customers.
At JohnsByrne, we work in partnership with customers to elevate their brands, design an impactful experience, and create that ineffable connection between consumer and brand, regardless of venue… whether it's on shelf, in store, online and now in unboxing videos.
The first question is always – what kind of an experience do you want to create for your customer? We then engineer around the desired experience and project budget to create the packaging that will produce the best possible user experience.
Let's look at some examples of packaging that have generated big unboxing views.
TikTok
TikTok has more than 1 billion active monthly users with global offices around the world. They wanted to reach out to 135 leading Internet influencers with thousands of followers for a recent promotion to promote brand visibility and notoriety.
The box would include two brand-name gifts in their own packaging: a Crosley™ phono turntable and a set of Beats Solo3™ headphones. The challenge, of course, was to somehow design a package that would lead to an unboxing experience, putting the two gifts front and center with their own branding intact yet connect them instantly and memorably to TikTok.
We began by making sure the exterior structure would be sized and scaled to that of the premium products contained inside. The solution included a front lock mailer with a "mask" to allow for brand real estate and create a suspenseful layer to the unboxing experience. Then, our design team developed a corrugate spacer to secure the headphone box in place and create clear separation between the two branded boxes.
JohnsByrne designed the outer box to facilitate removing the large record player with a front-facing panel that folded outward, allowing the recipient to "slide" the contents out of the colorful shipper box. It included a "cover" over the two packages inside to carry the TikTok branding and tease the recipient with what might be underneath. With embellishments including coatings and foil stamping, it made for a premium unboxing surprise indeed!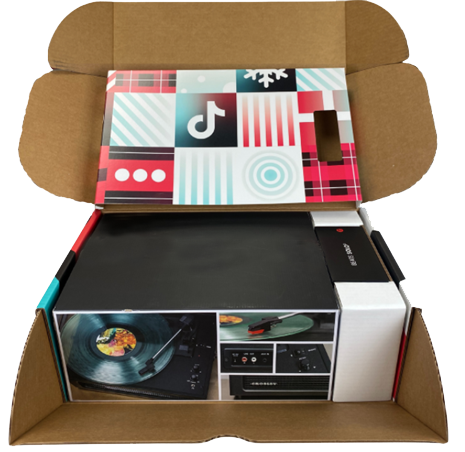 Kiehl's
For Kiehl's, a leading skincare brand, the unboxing experience has been themed successfully around an Advent calendar.
The most recent one that we partnered with them on featured a challenging design to house 24 individual travel-sized products. The package also needed to embody Kiehl's commitment to sustainable packaging and support the company's "Future Made Better" journey by being fully recyclable and eliminating the use of plastic.
After receiving the initial concept diagram from Kiehl's/L'Oreal, our packaging development team created structural options of the outer calendar box containing the individual folding cartons for review. The end design that was chosen presented the products in a neatly puzzled configuration that provided for a unique unboxing experience constructed entirely out of paperboard.
This as well as previous calendars have sold out in record time and are featured in numerous unboxing videos for consumers fortunate enough to get their hands on one. The calendars have also become collectable keepsakes.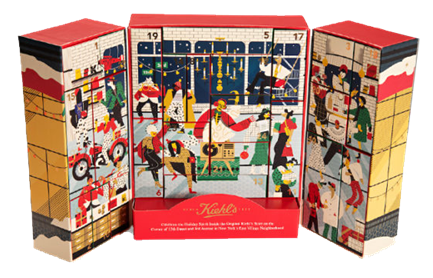 Rabbit Hole Whiskey
It's the experience and consultation of JohnsByrne that makes us ideal for premium limited-edition releases like Rabbit Hole Distillery's recent Boxergrail™ Founders Collection Rye Whiskey package, of which only 1315 bottles were produced. Located in Louisville, KY, each year Rabbit Hole connects a Louisville tradition to that year's blend… in this case, the city's connection to pugilism and Muhammad Ali.
According to Rabbit Hole, "Wrapped with our eye-catching brand linen pattern, this gift carton cradles our exquisite bottle and begs to be held. Soft and luxurious, it features the bottle number with gold foil appointments as well as the signature of our founder proudly embossed on the side. Paying tribute to our iconic whiskey bottle, this structure features a beautifully embossed glass sash with minimal gold decoration. Its jewel-like package is complete with our signature cross-ribbon neck label that includes an individual bottle number."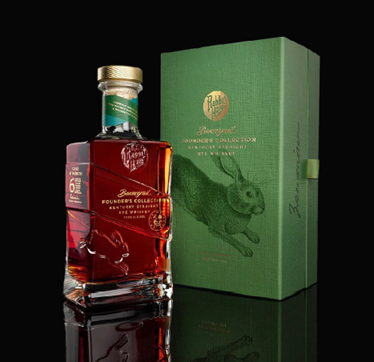 Of course, every thoughtful brand today wants a viral video unboxing "hit." What's behind the hit is how thoughtful brands increase the odds that it happens: design innovation, superior quality, and a process that maintains essential control over budgets, supply chains and deadlines. It's what JohnsByrne is literally built around — and what the world's leading spirit, beauty and consumer brands (among others) have come to depend on. Now, unbox that before your next project.
To get started on your next packaging design that gives an amazing customer experience, contact us for your consultation.
---
Related Posts
---