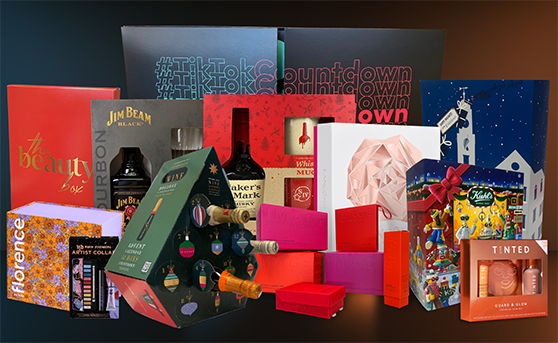 "It's the most wonderful time of the year!" Particularly if you're a leader in the premium packaging industry, like JohnsByrne.
After all, the holidays have become synonymous with epic consumer packaging projects. From advent calendars to limited-edition gift sets, every year brings new challenges and equally novel solutions that take the unboxing experience "up on the rooftop" and spread consumer joy wherever they go.
So, in the spirit of the season, let's take a look at "12 Days of JohnsByrne Faves," to discover more innovative, seasonal packaging solutions, and perhaps glean some insight into how and why we've become the holiday go-to premium packaging house for so many leading national and global brands.
1.  Overture/TikTok 2022 Advent Calendar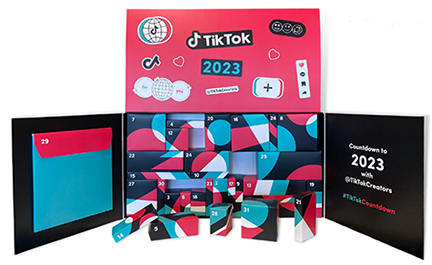 Given JohnsByrne's extensive experience with holiday advent calendar-style packages and TikTok influencer kits, we were a natural for Overture – a leading promotional marketing agency – to entrust in executing the 2022 TikTok advent calendar.
The holiday effort was designed to generate buzz on the platform for influencers to create content around this novel unboxing experience all through December. Our team developed the concept as one large, outer structure to house 31 smaller straight tuck folding cartons in a puzzle-like embrace. The 31 products represented the most popular business segments on TikTok, including Health & Beauty, fashion, travel, tech, etc. And large it was: an impressive 26.1" wide x 14.3" tall x 3.1" deep.
We also handled the all-important fulfillment aspect, including tests in our assembly department to verify the time required to fold, pack and prep for shipping to meet deadlines with the fastest turnaround possible.
2. Lancôme 2022 Holiday Packaging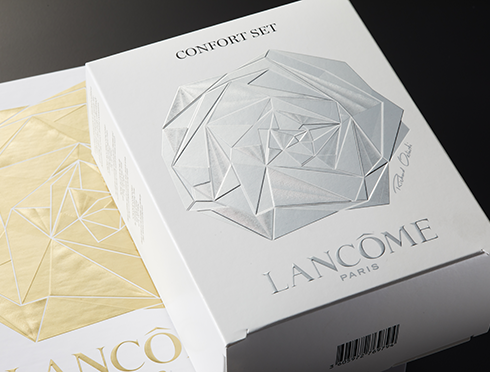 For the 2022 holidays, Lancôme wanted to highlight their commitment to sustainability in a line of 9 rigid boxes with sleeves and 18 folding cartons, all featuring a stunning flower pattern designed in France.
JohnsByrne translated the pattern into multi-level embossing with micro-etching on entirely recyclable stocks (FSC paperboard and chipboard, including inner trays), combined with matte and gloss coatings to add dimension and fine detail. Gold, silver and rose foil stamping was used for packaging as well as the paperboard trays.
The entire packaging line features a very detailed and dimensional rose pattern across a set of 9 rigid boxes with sleeves and 18 folding cartons. By using the paperboard tray instead of the traditional vac tray and foil stamping instead of metallized materials, the entire packages are recyclable.
3. Melaleuca 2022 Advent Calendar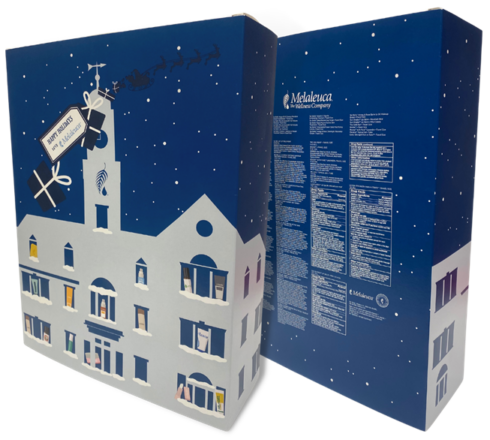 Ranked as the largest online wellness shopping club in North America, Melaleuca offers over 400 products best known for clean ingredients and natural formulations in the Health & Beauty, wellness and home care categories. As longtime partners (for their Sei Bella brand, among others), Melaleuca naturally turned to JohnsByrne for their holiday advent calendar program.
Initially begun in 2020, creative and structural development was put on hold due to pandemic supply chain issues with the products featured in the calendar. In 2021, JohnsByrne resumed work on the project, selecting on a book-style unboxing experience to accommodate 25 different-sized products: a two-part straight tuck box with two APET vac-formed interior trays and a paperboard outer sleeve. Two years in the making, the final design was printed on 24pt stock using unique PMS colors, an overall gloss UV coating, a spot dull varnish and embossing throughout.
4. Maker's Mark 2022 Holiday VAP Set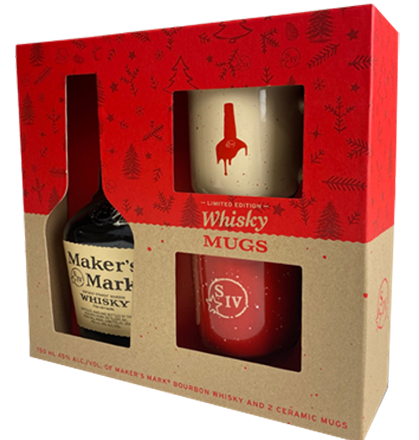 Sustainability (and deliciousness) are the hallmarks of the Maker's Mark Holiday 2022 program, designed to house the famous red-wax-topped 750ml bottle of whiskey and branded mugs highlighting a Chai Hot Tati recipe for the holidays. Focusing on sustainability (as well as durability and on-press performance), JohnsByrne sourced a host of Kraft materials. The ultimate selection was chosen to achieve a stunning contrast between the brand's vibrant signature red color (achieved by using multiple hits of the red over multiple hits of white) and the warm traditional feel of Kraft stock. The premium VAP package is also sustainable and uses 100% recycled material including PCW content and is fully recyclable.
5. Live Tinted Holiday Kits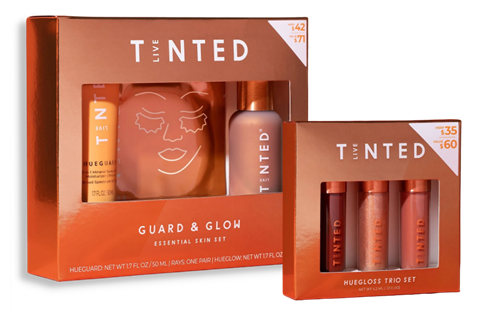 Live Tinted is a clean, vegan, cruelty-free brand that began as a digital community focusing on diverse, inclusive beauty. The brand now produces a variety of color corrector cosmetics.
We began working with Live Tinted when they contacted us to refresh the brands current packaging and manage the production of their Holiday 2022 packaging programs. The brand embraced the holiday season with our reflective copper metallic folding cartons custom made for their limited-edition skincare and Huegloss trio gift sets.
6. Freixenet 2022 Advent Calendar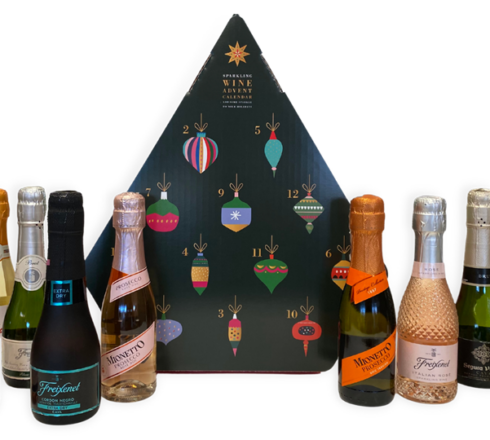 In August 2022, Freixenet Mionetto USA (one of the world's largest sparkling wine companies) challenged JohnsByrne to produce a new advent calendar to feature 12 mini-bottles of their specially crafted beverages. Paramount concerns were for a cost-effective design that would allow product interchangeability and, of course, quick turnaround.
Of two client-provided designs prototyped, a Christmas tree-inspired shape was selected and refined to reduce overall size, ensure sustainability, and support the designers' creative integrity. We also added the outer panel to prevent potential tampering at retail. The finished design uses an SBS sheet mounted to a single-face white Kraft B Flute and an internal corrugated insert to support the 12 bottles (187ml.) securely. Each door includes a half-moon thumb notch for ease of opening.
Our collaboration with Freixnet Mionetto resulted in an impactful, unique packaging design that makes a perfect holiday gift this season!
7. Urban Decay 2022 Holiday Kit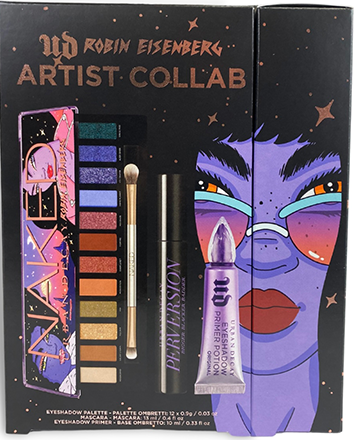 This year, Urban Decay's holiday packaging is festive and edgy. The products are a collaboration with Urban Decay Cosmetics for their limited-edition holiday makeup set with Naked x Robin Eisenberg.
JohnsByrne partnered again with Urban Decay to produce their cosmic holiday packaging that's out of this world. The folding cartons use FSC PCW paperboard stock featuring cold foil, gloss, spot glitter and dull coatings to sparkle and shine.
8. florence by mills Advent Calendar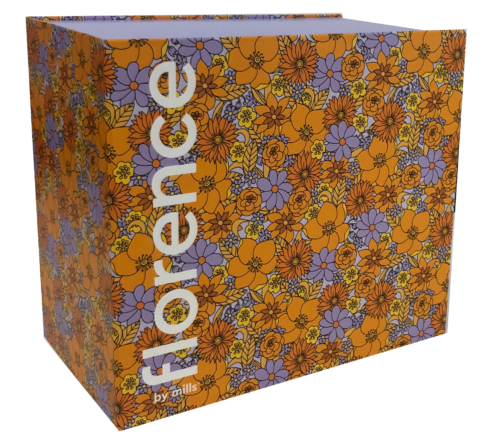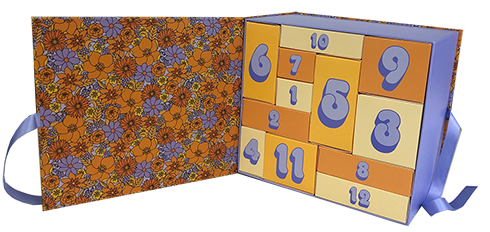 The florence by mills brand is all about loving and expressing ourselves through skincare, makeup and hair products; clean, super easy and always fun. Searching for a domestic supplier for their 2022 "peace, love, and florence" advent calendar, the company partnered with JohnsByrne to reflect their clean, non-toxic brand attributes and uninhibited spirit.
Working closely with the florence by mills team, our structural engineers developed a fun, colorful and interactive 12-day advent calendar to house various skincare and cosmetic products plus a holiday ornament for the last day, all packed in individual cartons nested inside a keepsake box. FSC stock was used throughout to assure full recyclability and biodegradability. The enclosing keepsake box is designed to be repurposed and reusable.
9. Jim Beam Black 2022 Holiday VAP Set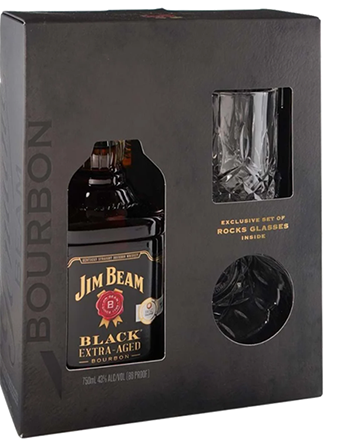 From the immense success and positive feedback of the 2021 Holiday program, the Jim Beam Black 2022 Holiday kit was a structural return featuring new artwork. To continue elevating the Jim Beam Black brand, JBC recreated the look and feel of a leather finish utilizing soft touch and an overall emboss. The additional application of precise foil stamping created a distinct and luxurious contrast to that of the black background.
Our team of structural engineers refreshed the 2022 project by utilizing 28pt C1S SBS. The premium VAP exceeded our customers' expectations to continue creating a memorable unboxing experience for consumers.
10. 2022 Amazon Beauty Box Advent Calendar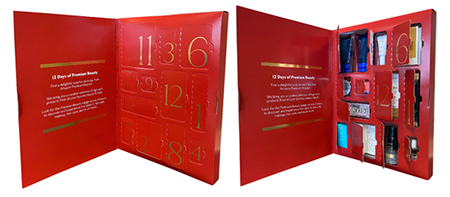 In 2022, Brandshare and JohnsByrne teamed up in a first collaboration to create a specialty advent calendar to support Brandshare's clients at Amazon. The company partners with consumer goods manufacturers and retailers to provide novel eCommerce and event-based sampling programs to support digital marketing and consumer engagement initiatives. This project included structural engineering and design.
Not only was JohnsByrne asked to engineer a knockout presentation of 12 different health & beauty products and produce it on a tight deadline, but we were also tasked with hand assembly and fulfillment, a true end-to-end solution. The result: a paperboard carton with book fold cover, housing a 12-compartment vacform tray behind 12 perfectly sized compartment doors. The "12 Days of Premium Beauty" Box, in rich red with metallic gold foil embellishments throughout, even included a QR code on each interior door, creating a true interactive unboxing experience as recipients could explore each brand's products upon opening.
11. Image Skincare Holiday Kit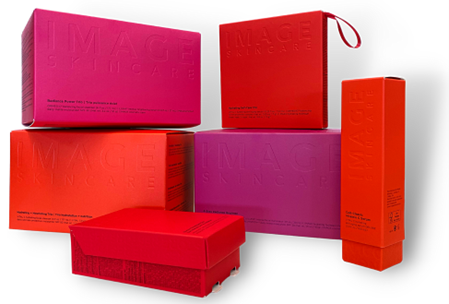 Image Skincare is known for their clinical-grade skincare brand that's powered by safe, proven ingredients and smart botanicals. Their 2022 holiday gift sets are bright and colorful.
JohnsByrne partnered with the brand for the elegant limited-edition packaging. The eco-friendly packaging was printed on FSC 10% PCW paperboard stock and features soft touch and reticulating coating along with a debossing pattern.
12. Kiehl's 2022 Advent Calendar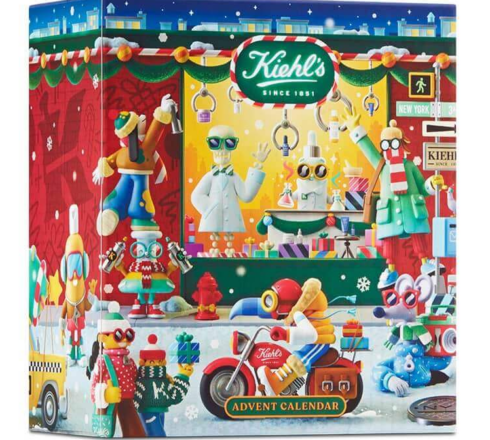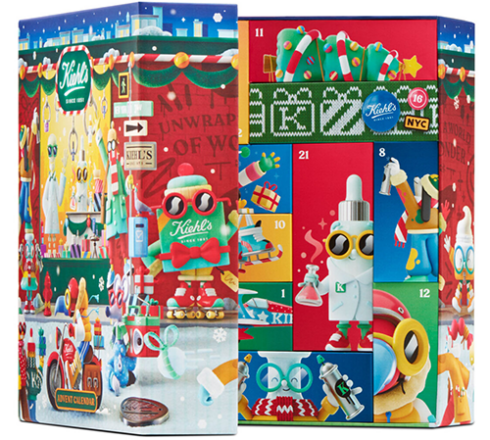 Given Kiehl's near-cult-like following of dedicated customers, their Advent Calendar is naturally an extraordinary celebration with feature artists, products, and designs. This 2022 Advent Calendar by JohnsByrne for Kiehl's was inspired by the previous calendar that was awarded the prestigious "Package of the Year" award at PPC's annual North American Paperboard Packaging Competition and the gold award for sustainability.
The calendar provides a one-of-a-kind consumer holiday experience and is made of 100% recyclable materials to embody Kiehl's sustainable packaging commitment and their "Future Made Better Journey."
The design includes 24 Kiehl's products in individual straight-tuck cartons for a snug, puzzle-like fit inside the outer hinged box. The enclosed box doubles as a shelf display, and the separate boxes offer a premium unboxing experience. This amazingly intricate Advent Calendar – made entirely of sustainable materials and without the plastics traditionally used in such packages and continues the tradition of Kiehl's green holiday campaign.
For a deeper dive into why the world's leading beauty, wellness, spirits, and other brands keep coming back to JohnsByrne for once-a-year holiday packaging spectaculars that genuinely elevate their products and brands, visit JohnsByrne.com.
---
Related Posts
---