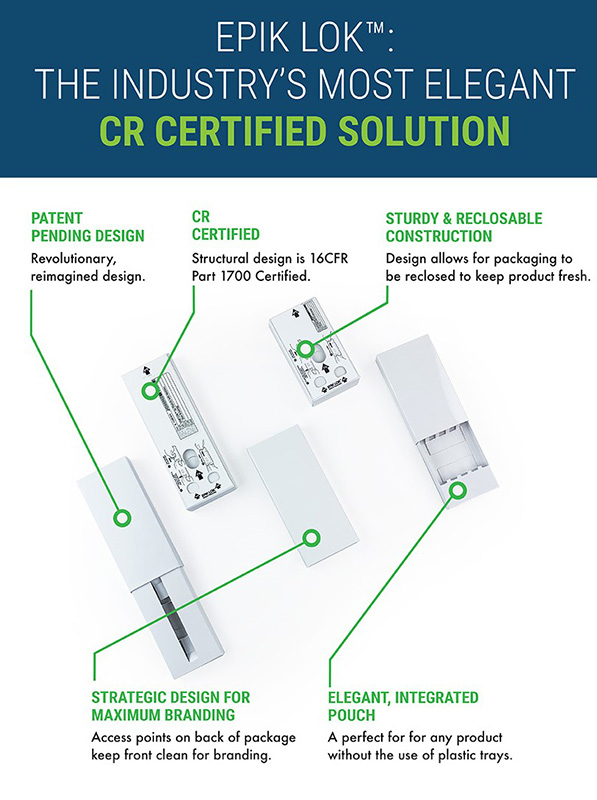 Child resistant (CR) packaging is packaging that is easy for adults to open, but is difficult for children ages 5 and under to open. Around since the 1970s, the Poison Prevent Packaging Act (16CFR Part 1700) has been a crucial factor in preventing and reducing the number of accidental poisonings in children who could ingest harmful substances.
Today, child-resistant packaging is used for a wide variety of products, including cannabis, pharmaceutical products, dietary supplements, and more. CR packaging has also made great strides design-wise, as packaging that was once limited to plastic tubes is now available in customizable and aesthetically pleasing innovative paperboard options.
Nowadays many suppliers offer CR packaging as an option, but how can you trust if the packaging they offer is actually child-resistant? While some packaging suppliers claim to provide CR packaging, many designs do not meet the official regulations of true child-resistant packaging. JohnsByrne goes over what to look out for and the questions to ask to determine whether your packaging is truly child-resistant.
Look for Child Resistant Certified Packaging
The most important thing to look for when investigating whether or not your packaging is child resistant is if the packaging is labeled as "Certified Child Resistant Packaging," rather than just "Child Resistant Packaging." This is because Certified Child Resistant packaging has passed certain crucial tests to ensure true child resistancy that non-certified packaging has not. More specifically, Certified Child Resistant packaging is tested for 16CFR Part 1700 of the Poison Prevention Packaging Act. 
About the Testing
This testing requires a test of 50 children between the ages of 42-51 months. The test is 10 minutes in duration. Within the first 5 minutes, the children are encouraged to open the box without instruction. After 5 minutes, they are visually shown how to open the package and have the remainder of the time to continue attempting to open it.
For seniors, testing requires 70 people ages 50-70. Seniors are given 2 identical packages and have 5 minutes to open the first package, Once opened, the seniors are asked to empty the contents of the container and then properly close the package. If they open and close the first package successfully, they are given a second identical package to open and close and are given 60 seconds to do so.
After testing, if 5 or fewer children can open the package and if all seniors can open the package, the packaging design passes the test and becomes certified CR packaging.
Choosing a manufacturing partner that tests with a strongly accredited lab is very important, as brands do not want to be held liable for anything that might happen to children who ingest your product.
Two Questions to Ask Your Child Resistant Packaging Supplier
It is also a great idea for brands to ask potential suppliers certain screening questions before working with them on a CR packaging project. Depending on the answers the supplier gives, this can help your brand weed out suppliers who do not create true CR packaging. Effective questions to ask include:
Do you have proof of certification or compliance with U.S. operations? If the supplier is operating in the United States, this is a great question to ask, as suppliers with proof of certification guarantees that they follow the required regulations and will more likely provide you with a high-quality finished product that is child resistant.

Have you had any failures in the marketplace? This question can give you insight of the quality of product they provide and the reliability of the supplier.
What Makes EPIK LOK™ Unique – JohnsByrnes' Certified Child Resistant Packaging
Truly, it comes down to the details of the package. JohnsByrne's Patented Certified Child Resistant paperboard solution has unique indicators that others do not, including:
The tray and outer slipcase do not separate to ensure reusable CR functionality
No windows or easy access to the product
Package is opaque
Locking mechanism is not operational for children
Locking mechanism is operational for seniors
Packaging is one assembly
Packaging is resistant to biting, chewing, and saliva
Packaging avoids glue flaps, unfinished edges, sharp corners and exposed trays via thumb-notches that create easy entry points for children
Get Started on Your Next CR Packaging Design
At JohnsByrne, our packaging experts have created EPIK LOK™, a child resistant certified packaging box that comes in multiple configurations and can adapt to fit a wide variety of products. Learn more about the EPIK LOK™ and see how we can work together to create effective child resistant packaging solutions by scheduling a consultation today.
---
Related Posts
---