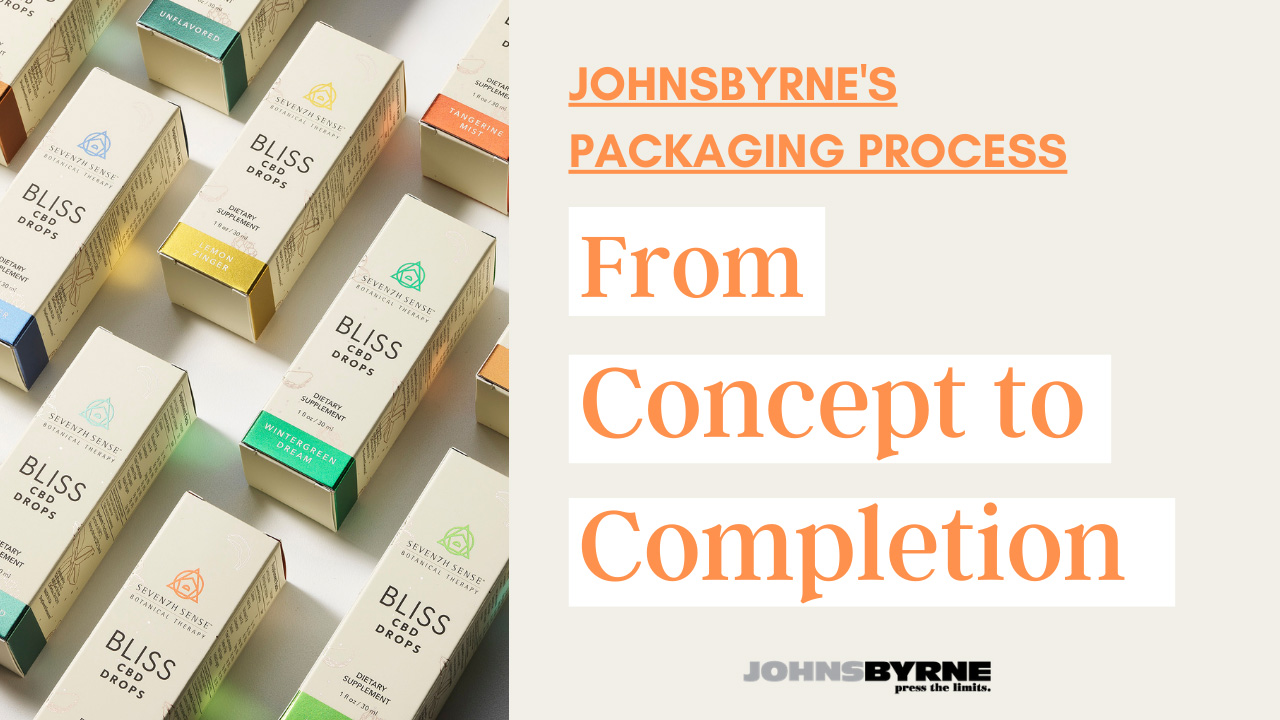 If you've decided to start working with a new print and packaging partner, you're probably curious about what the printing and packaging development process looks like. It is important to know how each potential packaging partner runs their processes in order to determine what to expect.
Below, JohnsByrne breaks down each step of our own printing and packaging development process.
Early Collaboration
Early collaboration is an essential part of your partnership with a packaging company and shows that the packaging partner is reliable. Close communication from the start sets up customer expectations and ensures a strong foundation for the rest of the process.
The result from early collaboration and strong communication? A finished product that is consistent with the customer's expectations. By setting up expectations early on, our team can provide an evaluation of the manufacturing, ensuring run-efficiencies and resulting in a cost-effective packaging experience. 
At JohnsByrne, we work with our clients right from the start of the process with the goal of understanding and properly executing our client's objectives and goals. We offer our own insights and expertise to elevate the design experience and help you design a final product you are proud of.
During this stage, we'll review several factors regarding the product, including:
Packaging Goals and End-Use: We will work closely with your brand to review distribution models and go-to-market strategy
Evaluation of Product Weight and Dimensions: Review of the primary package to custom fit your product
Substrates Evaluation: We can provide FSC® and PEFC certified materials, mylar boards, APET, coated and uncoated stocks
Cost Evaluation: This step will help determine the types of materials and embellishments to use for your packaging
Product Timeline: Whether you need a final product in the next few weeks or you aren't planning on launching your product for another few months, we can create a final product that meets and exceeds your expectations. Our manufacturing efficiencies speed up the process without sacrificing quality. We'll work with you to come up with a personalized process to meet your deadline goals.
Structural Design Lab
During this step of the collaboration process, we receive your product and begin the structural design development. Based upon conversations in our early collaboration stage, we can evaluate best practices for assembly & fulfillment, paperboard weights and substrates, and make informed decisions specified to your structural packaging design needs.
For example, if a brand decides that their paperboard kits will be constructed off-site at their fulfillment center, this indicates the packaging material will need to be shipped flat from our facility. Based on this information, we can design an easy-to-erect SBS kit rather than a rigid box that does not ship as efficiently.
JohnsByrne's structural packaging design specialists review multiple steps to ensure the best structural design solution:
Create Prototype: Utilize CAD cutting tables for accurate prototyping, we can ensure your package will be custom fit to your product
Review Structural Design Checklist: Review the design for functionality, durability, and product support
Ease of Manufacturability of the Package: this allows JohnsByrne to provide the most automatable solution 
Collaboration: On-site access to pre-press, press and finishing departments for real time interaction
This helps our customer make real, informed decisions for the rest of the development process. Once the customer signs off on the white-paper prototypes, the structural design team will provide the customer with art-ready die-lines that will move the package forward to pre-press.
Pre-Press
The third step is done by the pre-press department. The pre-press team:
Assembles the job for press
Builds color proofs confirming artwork fits to die-lines provided
Review proper glue knockouts for die-cutting and finishing
At this point of the development process, you want to be aware of the deliverables:
Properly prepare die-lines for proofing
Ensuring proper set-up of colors, whether you are using CMYK or spot colors

Spot colors – ink drawdowns are created for all jobs utilizing spot colors only*
Our facilities are equipped with G7-certified prepress operations ensure that your expectations are met every step of the way in the pre-press process. These prepress operations apply the latest in color theory and ink technology to hit exact color specifications. Every proof is also marked with G7 approval to guarantee compliance and color matching.
During this step of the process, we also offer color retouching, alterations, or art/layout recommendations on an as-needed basis.
Press Room
In the pressroom, your packaging partner will create visual and tactile effects that not only create a visually appealing product but differentiates your brand from competitors.
JohnByrne's pressroom comes equipped with our newest press, the Press384. With a speed of 18,000 sheets per hour, our one-of-a-kind configuration is housed with three coaters, eight print units, and four dryer units for endless manufacturing possibilities including substrate simulation.
Our Press384 can achieve exciting on-press decorations and techniques, such as:
Cold Foil
Gloss UV / overprint spot Dull Varnish
Soft touch coating
Pearl coating
Iriodin coating
Strike-through
Micro-debossing
Grit/sand coating
Raised UV Coatings
Gold and silver sheen coating
Finishing
At this point of the process, you can expect to be adding final touches to your packaging.
Some of our engaging finishing effects include:
Embossing & Debossing

Multi-level and single-level embossing and debossing
Hot Foil Stamping

Holographic foils: For a unique and memorable look, our holographic foils use an diffracts light with an embossed pattern and reflects a variety of different colors when the package is seen from different angles.

Clear foils: Clear foils add an elegant look by adding a clear and glossy sheen to the packaging material.

Silver foils: Silver foils are a great way to help your packaging stand out on the shelves, while also providing a modern and fun visual design.

Gold foils: Great for luxury brands, gold foil can help create a high-end and elegant look that pops.

Color pigment foils: With a virtually endless amount of color options to choose from, using color pigment foils is a great way to incorporate brand colors in an engaging way that texturizes your packaging.

Micro-etched security foil stamping: This finish technique offers an added level of security, preventing counterfeits of your products and packaging.
Film laminating: This finishing process makes your packaging stronger, providing an extra layer of packaging protection from outside elements such as rain. This finish is aesthetically pleasing as well – our lamination can be applied as matte or glossy to enhance your design.

Mounting: Our mounting techniques give you the ability to add imagery that tells your brand's story and enhances your packaging.
Die-cutting
Next, the packaging will be die-cut to size. If you would like to further elevate your custom package, tailoring your package with specialty die-cut windows can further enhance your structural packaging design.
Window patching: By adding a thin plastic layer to a die cut window, you'll integrate your product into the packaging design and give your customers a sneak peak of the product. This helps instill the customer's trust in your product and brand.
Folding & Gluing, Assembly and Fulfillment
Lastly comes folding & gluing, assembly and fulfillment. At this stage, you are getting ready to finalize your project.
JohnsByrne can complete your project from start to finishing – which includes making sure that your product is ready to ship to its destination on time. To make certain that your product is completely assembled and finalized, we offer the following assembly solutions on an as-needed basis:
Final Gluing – Magnets, Ribbon
Inserting
Kitting & pack out
Drop-shipping
Start Your Next Packaging Project with Us!
For your next packaging project, partner with us at JohnsByrne. We offer the latest in technology and innovation in order to ensure your final project is of the utmost quality and is exactly what you are looking for. Contact us today to learn more.
---
Related Posts
---