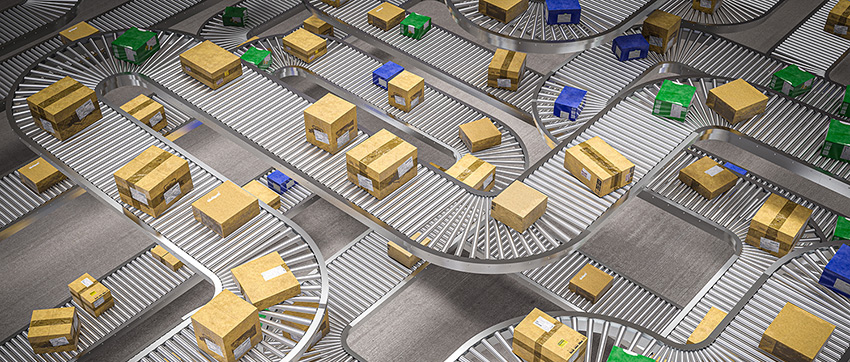 It's understandable to blame the global pandemic for today's supply chain shortages and disruptions. In truth, the impact of Covid-19 in many ways simply amplified existing weaknesses and the consequences of industry trends that built up during the few past decades.
Those trends – doing more with less and doing it faster – have been met primarily with better quality management and lean processes. The result has been a trade-off: undeniably greater efficiency, but with less resilient supply chains across the board (JIT inventories, production, and delivery are great… until the storm rolls in). Then, the lack of redundancy and flexibility inherent in today's interconnected networks make sudden change much harder to manage. As so many companies are discovering today.
Confronting today's supply chain challenges – materials costs, transportation disruptions, pandemic demand shock, longer lead times, production lines, and such – requires strong, diverse supplier relationships, focus on speed-to-market innovation, and enhanced visibility up and down the chain.
And these issues are indeed industry-wide. Each leg of the chain has taken a huge hit, and they just keep coming. According to one study by Smith Corona:
Ocean cargo prices have skyrocketed: the median cost of shipping a 40-foot container from China to the West Coast jumped from $1,300 in February 2020 to $4,992 in February 2021.  And there's a global shortage of such shipping containers available, as containers are stranded in ports and rail yards.
Shortages of truck drivers, rail workers, and longshoremen are driving freight rates higher. Labor shortages mean vessels are unable to unload upon arrival: Wait times at West Coast ports often exceed a week.
Driver shortages also impact the LTL and small parcel deliver end of the chain. As it stands, there are around 80,000 fewer truck drivers in 2021 than in 2020.
Industry-wide, pulp prices began rising in Q4 of 2020 and continue: prices in China have nearly doubled. And that market has itself increased pulp and paper consumption, with high demand in China for tissue and packaging/board.
At JohnsByrne, we're part of the global supply chain as well, so all of these factors impact us too. We're seeing longer lead times and higher costs from our vendor partners… including allocations based on historic usage. And we expect we'll see them right through 2021.
That said, our nimble, innovative nature and vertically integrated business model (developed during SIX decades of private ownership!), offers JohnsByrne customers a distinct competitive advantage in today's turbulent environment. Consider:
Vendor Relationships
It begins with really strategic vendor relationships. Ours go back decades with leading domestic as well as foreign firms and personally involve company leadership. Our goal is "vendor partners": we take the time to understand their businesses, and help them understand ours. That investment in vendor/partner relationships – plus ISO level accountability, prompt payment, and fair treatment – has really paid off in the current moment, when you need genuine partnership most. It helps put JohnsByrne in an advantageous position when supplies get tight.
At the same time, we strive to share our strengths with our vendor partners… our passion for ISO quality management and innovative thinking is passed along. When vendors say "we can't," we work together to develop ways that they can… to help them generate new thinking at their end… and become more successful.
Simply put, when you take care of your vendors, they'll work harder to take care of you. For our customers, partnering with JohnsByrne – particularly if we get involved early – allows us to call on our deep relationships to bring projects to completion on time and on budget. That's part of the strength behind our role as a speed-to-market innovator. Which many packaging companies, larger or smaller, just can't re-create. Including overseas. Speaking of which…
Domestic Supply Chain Emphasis
Our customers cannot miss a release. And their needs are very real, given that every raw material has issues. From inks and photo-initiators for UV coatings to cartons for vape cartridges in the cannabis market to skincare ingredients, customer leadership is challenged to get what they need. And much of that revolves around offshore supply chains.
Regardless of size, we find customer leadership wants to onshore as much of the supply chain as possible. We hear it over and over again: "Can we have access to board, paper, and stock? Tell us about JB's situation."
We say, "We can address those issues."
Our domestic, end-to-end solution is uniquely equipped to "make things happen." Headquartered in the Midwest, independent and privately held for 61 years, with a quality management system second to none, JohnsByrne's entire operating model is designed around providing innovative solutions and options, with single-source accountability right here at home.
So, while we too face issues, JohnsByrne can address them faster and more effectively. because of our strategic and differentiated approach. As a leading domestic manufacturer, vertically integrated, value-driven, and forward-thinking, even senior leadership is tasked specifically to help manage supply chain issues. And today, facing such unprecedented supply chain issues, that really comes into play, because our philosophy has put us in a position to anticipate needs so as to alleviate supply chain problems that are crippling many of our competitors.
Diversified Vendor Relationships
Strategically, our vendor distribution is very broad. (Nobody wants all their eggs in one basket.) We believe diversified vendor relationships are essential. Why? In one instance recently, a particular grade of paper for one of our proprietary products was simply unavailable. Rather than delay, we were able to work with a different vendor, and actually recreate the necessary qualities by laminating two sheets together. Diversification and innovation, hand in hand, is how you create that kind of "wow" moment for demanding customers.
Vertical Integration
End of the day, fluctuating prices and shortages throughout the supply chain will continue to challenge the industry and our customers. (In some ways, they're creating a more equitable market, since no one company can call all the shots.) To that end, JohnsByrne has evolved an end-to-end solution that removes steps, reduces "touches," and as a result delivers better speed-to-market. Our sourcing strategy has taken out inefficiency and taken more control over it, all under one roof with single-source accountability to you. Which puts JohnsByrne customers in a better position to ride out the current storm.
Vertical integration and turnkey accountability mean fewer supply chain issues across the board. Just one more way JohnsByrne adds value for the most important customers in the world.
---
Related Posts
---