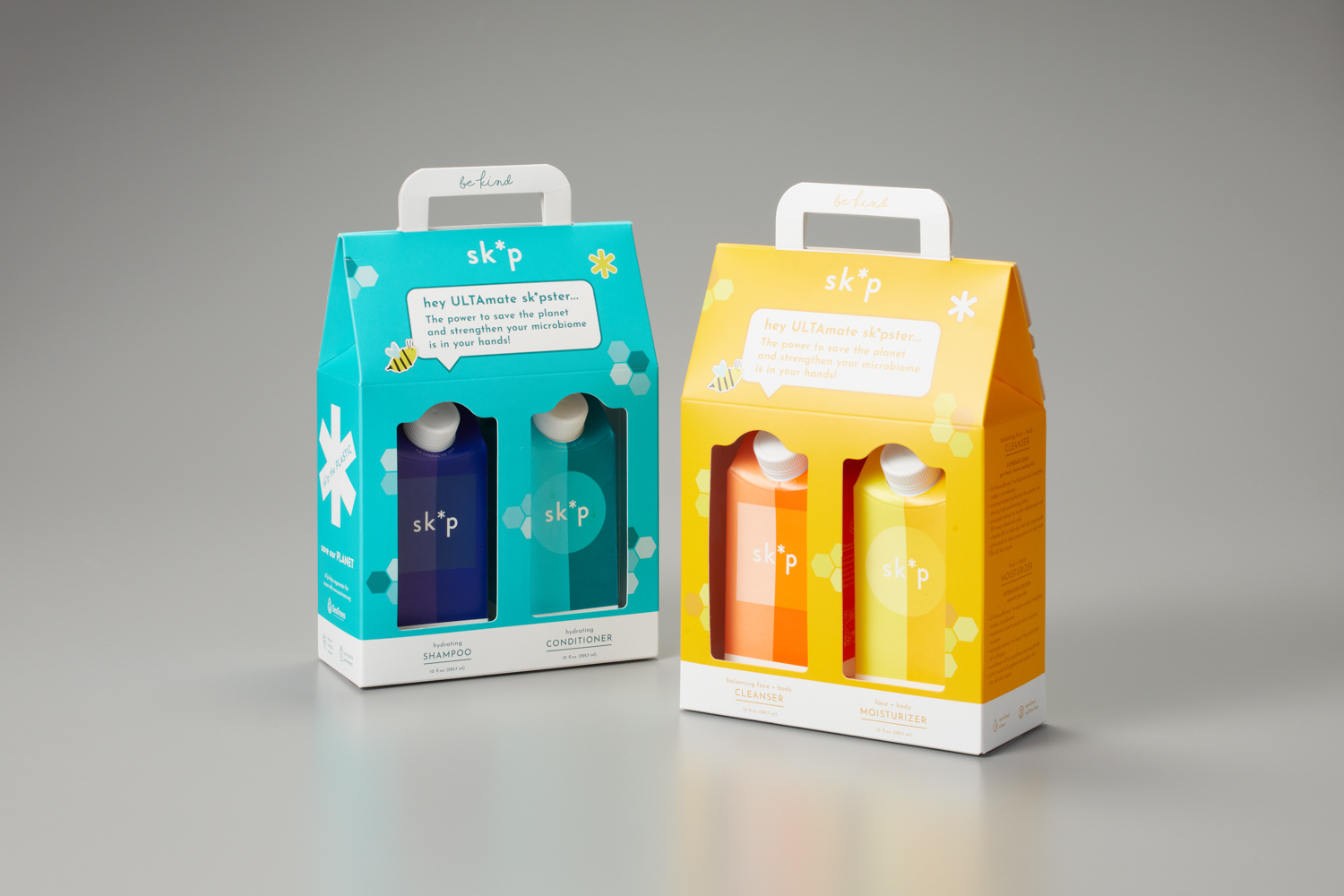 When you think about it, "sustainability" is far more than an environmental buzzword. Focusing on more sustainable packaging makes good business sense because a commitment to sustainability produces a cascade of practical, real-world economic benefits downstream. According to McKinsey, in 2020 more than 60% of consumers went out of their way to recycle and purchase environmentally friendly products. 
While many define sustainable packaging as a move away from plastics, in truth, that's only one aspect of a total sustainable packaging philosophy. Along with our FSC® (Forestry Stewardship Council®) and PEFC™ (Programme for the Endorsement of Forest Certification) certifications, waste reduction is integrated into the entire approach to package engineering and design. So every JohnsByrne client benefits from our ongoing sustainable package design focus. And the results are sustainability with customer satisfaction in mind. 
Replacing plastic with innovative paperboard engineering – and then "doing more with less paper" – has become second nature for JohnsByrne design teams. Now, we're addressing the next-level challenge – "premium sustainable packaging."  
Premium Sustainable Packaging  
Premium sustainable packaging includes leveraging our deep expertise in sustainable package design for the high-end, premium packaging clients demand. Then we apply techniques that include embossing, die-cutting, environmentally friendly inks, coatings and other creative effects on paper. The result is maintaining that luxury look and feel while giving clients and consumers what they want – a package with less waste that's recyclable and doesn't compromise on packaging impact.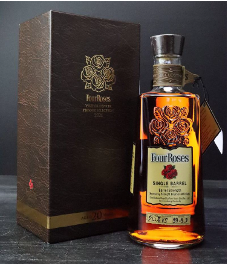 Premium Sustainable Packaging Example: Limited-Release Bourbon Package 
 Four Roses asked us to help create a limited-release bourbon package to commemorate the grand opening of its expanded Visitor Center in Lawrenceburg, KY in 2021. To make the offering extra special, they relied upon JohnsByrne to help develop a high-end showcase presentation package befitting the $200 bottle of Private Selection commemorative whiskey. The run was limited to 2,000 total bottles and sold out in a day. 
The overall package provided a premium consumer experience for those lucky enough to get their hands on one of these collectibles. The exterior simulated leather with pops of gold and a red rose for elegant touches. The red theme was continued on the interior, where a red-wrapped triple-black E-flute was used to hold the bottle instead of a plastic vac tray. 
This special design utilized a text weight paper wrapper and liner on 60pt chip containing 90% post-consumer waste paper. Premium design provided an upscale and aesthetically-pleasing branded look while eliminating the need for a traditional vac tray, making the package more sustainable. 
It was the ultimate in JohnsByrne capabilities, something that is often out of reach for competitive package designers: elevating the brand while meeting our customer's objectives for sustainability and cost-control. 
Package embellishments included: 
Dull varnish and spot gloss UV coatings

 

Exterior printed and embossed / debossed to simulate a leather look and feel 

 

Red stock laminated over triple black E-flute 

 

Sustainable Package Design for Waste Reduction 
Beyond the brand benefits and consumer preference for sustainability resides a host of real-world advantages in JohnsByrne's approach to waste reduction. This is especially true given that our approach includes continuous attention to making packaging both smaller and lighter while utilizing environmentally friendly materials and eliminating plastic where possible. 
The result is cost savings literally end-to-end: 
Reduced cost per package across the entire production run since less material is required

 

Reduced cost for package fulfillment as careful design engineering creates paper trays that are faster and simpler to assemble

 

Smaller, lighter packages equal more packages per skid, oftentimes a surprisingly larger number 

 

Lower transportation costs because fewer skids with more packages mean shipping more packages for less money

 
And we're not talking nickels and dimes here. Recently, JohnsByrne redesigned a package for a major global entertainment brand to reduce plastic by more than 50% as it offered other efficiencies. The new, smaller version reduced package weight by three ounces, so more than double the number of units that fit on a 50" shipping pallet. Think about the cost-effectiveness of that single packaging improvement. 
Waste Reduction Example: Hair Care Kit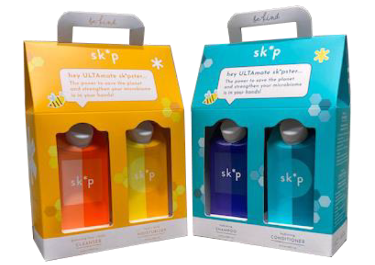 The sk*p hair care brand provides good, clean products on a mission to sk*p the plastic and save our planet. Given that the beauty industry adds 79,994,374,133 (and counting) pieces of plastic packaging to our landfills each year, using paperboard cartons for its primary and secondary packaging is essential to its sustainability pledge. 
Sk*p approached us to create holiday packaging for its kits, including full-size hair products, with clear objectives including:  
All packaging must use FSC-certified paper and be 100% recyclable since sustainability is the cornerstone of sk*p's brand promise 

 

Offered specifically to big box retailers, the packaging must be tamper-proof as well as provide optimal shelf presence

 

Secondary packaging must let the beauty of the gable-top primary packaging shine through

 
Sk*p provided initial concepts for the package, which JohnsByrne enhanced together with its internal structural design team to add to the vision and bring it to life. Utilizing die-cuts without plastic windows, the packaging is on-point with their gable-top branding, sustainable and portable as it showcases the products in the retail environment. 

The JohnsByrne Difference 
It all starts with JohnsByrne's tradition of innovation and domestic, vertically integrated business model. Headquartered in the Midwest and privately held, our entire operation is designed to provide innovative solutions and options with single-source accountability right here at home.  
It also allows our structural engineering and creative teams to offer genuine enhancements to clients' artwork and design ideas, including options and alternatives they hadn't even considered. For one client, four different approaches to a sustainability solution became 10 for their review. 
At the end of the day, along with one of the industry's most advanced, technologically superior pressrooms, it really comes down to JohnsByrne's teamwork, talent, commitment and passion. Our ability to push the envelope further, to revolutionize package design with sustainability foremost in mind. Our singular combination of best people, best tools and best practices. Our determination to exceed the expectation. 
For additional information, download our Repackaging Sustainability guide that covers sustainable packaging from structures to embellishments. Ready to get a consultation on sustainability on your next premium packaging design? Schedule your Innovation Consult.  
---
Related Posts
---