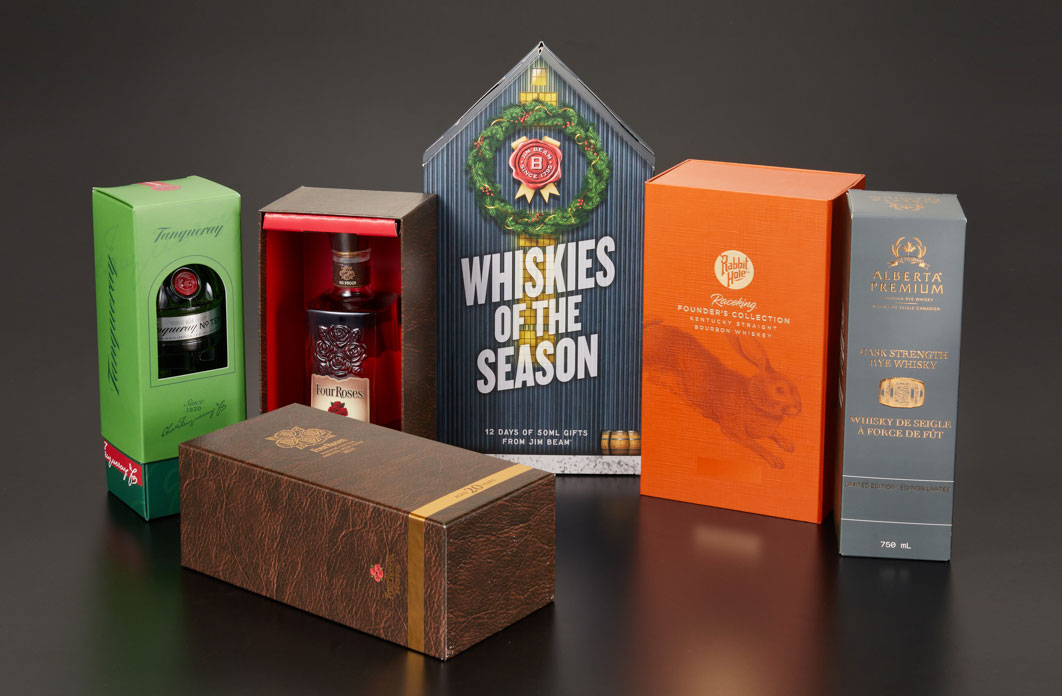 INTRODUCTION
The Luxury Spirit Packaging Industry Is More Valuable Than Ever. With the emergence of more and more spirits, especially craft spirits, competition is heating up. The North American spirits market was valued at $154 Billion in 2020 and is expected to grow at a compound annual growth rate (CAGR) of 7.7% to 2028. This huge increase in worth is largely due to millennials' value of a premium spirit over traditional affordable brands. Millennials are choosing high-end premium spirits, which is driving significant growth.
Another significant factor in all this is the rising trend of craft spirits. With a 10.4% growth in the craft spirits market and an increasing number of distilleries, craft spirits are becoming a strong player in this market. The U.S. is home to over 2,500 craft spirit distilleries, which are primarily concentrated in California, New York, Texas, Pennsylvania and Washington.
Just head over to your local liquor store and you'll notice dozens of new craft spirits with colorful, luxurious labels that have previously never caught your eye. This significant boom in the market involves everything from mocktails to celebrity brand spirits.
Huge names like George Clooney, Ryan Reynolds, Bob Dylan, and more are experiencing their fair share of success in the craft spirits market. Casamigos, founded by George Clooney and Rande Gerber, sold for $1 billion and continues to be one of the biggest-selling tequila brands. Bob Dylan's premium whiskey brand, Heaven's Door Spirits, has released 4 including Tennessee Bourbon, Double Barrel Whiskey, Straight Rye Whiskey, and their limited edition 10-year Tennessee Bourbon. These are just a few success stories within the celebrity spirits business.
Overall, the luxury spirit industry is booming. To stand out in this industry, brands need incredible marketing and packaging. As a leading provider of luxury spirits packaging, JohnsByrne will guide you along the road to bottling success through sprits packaging.
ESSENTIAL SPIRITS PACKAGING
Spirits packaging can make or break a liquor's success. Our modern market is not only looking for a high-quality product but a product that exhibits luxury and class. Generally, as a spirit increases in price, within the $30 – $40 range, it will begin to leverage more specialized packaging, hence a more premium feel. A key way to encompass this feeling of luxury in your product is through packaging design.
Often, luxury spirits packaging utilizes two forms of structural design – rigid set-up boxes and folding cartons. Folding cartons offer versatile designs that can be formed into a variety of customized shapes and sizes. Folding cartons provide a great canvas for decorative finishes and elements and offer accelerated speed-to-market.
On the other hand, rigid set-up boxes exhibit luxury and sturdiness, utilizing high-quality chipboard. Rigid boxes are great for brands needing structurally sound packaging that portrays elegance. These are often utilized for promotional items and packaging incorporating interactive elements.
In order to present this luxury within your packaging, you must follow a few essential practices. There are three essential periods where your packaging must stand out.
Product Launch
Product launch is the first time your product will be seen by the general public, and keep in mind first impressions carry an enormous amount of weight. Having stand-out, on-brand, luxury packaging for your product launch is an absolute must.
Before hitting the market, defining who you are as a brand is essential and then relaying that into your packaging design. People are drawn to heritage and storytelling within the high-end spirit industry. Tell the story of your brand throughout your packaging and make a connection with your target consumer. Incorporate exotic substrates, dramatic effects, and more to pull consumers in.
Limited Editions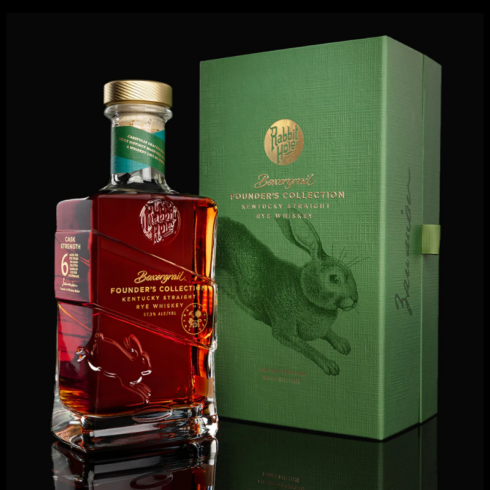 Packaging is key in limited editions of your spirits. Limited edition packaging should establish in one glimpse why this edition is special, its story, and why your consumer should pay a premium price tag.
Whiskey brands such as Rabbit Hole have done this perfectly. Rabbit Hole wanted to create an ultra-exclusive limited-edition package for their first ever Founder's Collection series. Sequential numbering was also essential as the brand wanted to further enhance the exclusivity of the brand. For this limited edition, the signature bottle was replaced with a specialty design – however, the secondary packaging paid tribute to the brand's linen-textured sash. The rigid box features the same linen-textured pattern throughout the packaging and includes soft touch coating hot foil stamping, with the founder's signature prominently embossed on the side.
Holiday & Value-Added Packaging (VAPs)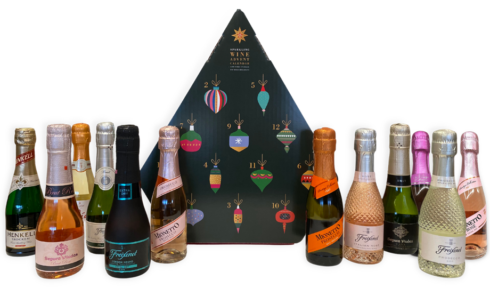 The holiday season is the ideal time for changing  your packaging to add a bit more luxury. Holidays are a time for gifting, so it's best to create exclusive value-added packaging that goes along with it. Complete value-added holiday packaging should be influenced by the festiveness of the time.
Traditionally, this is done by incorporating festive holiday colors – reds, greens, blues, golds, etc.
Gift-ready packaging is also extremely alluring to consumers due to its last-minute shopping convenience. Holiday and gift-ready packaging often utilize embossing, foil effects, and additional special coatings to create the ambiance of the holiday season and entice consumers.
TRENDS IN SPIRITS PACKAGING
Awareness of trends within the spirits packaging industry is essential to your success as a brand. More importantly, grabbing onto these trends and incorporating them within your packaging design, if only for a little while, can be key to boosting sales.
The premiumization trend has been a revenue and profit driver for the spirits industry and will continue, especially with a focus on value-priced brands.
To create a successful premium luxury package, you need to:
Tell Your Story: any luxury product has a story to tell. The best way to communicate your heritage is through packaging. Use colors and graphics to tell the story of where your spirit came from, whether that be family, a country, a culture, or any other unique heritage.
Use Proper Imagery & Graphics: luxury packaging should utilize more than just any imagery or graphics. Carefully select your imagery and graphics to fit your brand, season, and audience's taste.
Choose Your Substrate Carefully: luxury products use luxury materials. Therefore, luxury spirits need to incorporate high-quality substrates. This can be done by utilizing exotic substrates (i.e., wood veneers, leatherette, etc.). Embossing and debossing can also be used to create linen, wood, and leather textures. If sustainability is important, there are plenty of sustainably sourced and recyclable materials available.
Incorporate Appropriate Colors: luxury packaging must exhibit class. Sometimes, this means utilizing more traditional deep colors aligned with your spirit. For example, rums often utilize deep wood tones, browns, and ivory to call upon their Caribbean history. Overall, your colors should align with your brand and your story.
Never Forget Specialty Effects: specialty effects are the last essential element of luxury packaging. Finishing effects will elevate your packaging to new levels. With silver or gold foils, embossing, and more, you can put the final touch of luxury into your packaging.
Foils & Metallics
Foils and metallics are the perfect solution to highlight specific parts and unique pieces of your product. They provide a unique look and can be the final push for a new consumer to pull your product off the shelf instead of their typical repeat purchase.
Foil stamping, both hot (traditional) and cold, is ideal for an intense metalized look, making your packaging visibly gleam. Incorporating foils into your packaging gives you the feel of luxury and high quality since shiny metals are often seen as more valuable.
Metallic inks can also exhibit the same effect. Although metallic inks are incorporated earlier in the printing process, this finish will give off a subtler feel. Metallic inks still give off a unique shine and can be utilized in finely detailed packaging.
Vintage & Nostalgia-Inspired Packaging
Vintage is in, and there's no denying this trend is inspiring the packaging industry. Brands are setting themselves apart by drawing on the nostalgia of the past. Consumers appreciate a trip back to simpler times in such a technology-driven era.
Brands are incorporating simple and traditional elements into their packaging such as simple color schemes or old-fashioned fonts. Vintage and nostalgic packaging is often offered as a limited edition to increase sales.
STANDING OUT IN THE SPIRITS MARKET
Now that we've established how significantly the spirits industry is growing let's discuss how it's possible to stand out in such a crowded marketplace. There are endless creative strategies that you can utilize from start to finish of your packaging process.
Every packaging design starts with an innovative structural design. Structural design is the backbone of spirits packaging. With a unique, innovative design, you'll be set apart from the myriad of other craft spirits.
Inventive structural design can be met through 3D printing, extensive prototype proofing, and more. A few innovative solutions commonly used in spirits structural design are:
Unique closures are perfect for making your spirits packaging appear interactive to create a memorable unboxing experience. Closures can be used as a revel feature – revealing hidden components of your packaging, product, and more. Unconventional openings, such as closures, are the perfect solution to create that true "wow" effect.
Whether you're looking to promote interactivity or bring about a feeling of mysticism with hidden aspects, closures can help your spirit packaging stand out.
Specialty Effects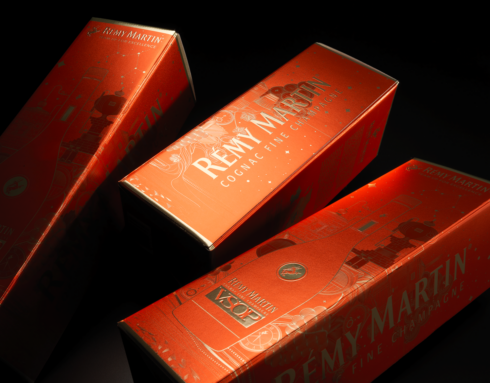 Specialty effects are truly the secret to being successful in the spirits industry. Specialty effects are the design aspects that intrigue consumers and advertise your spirit as a true luxury product.
A few effects that will most definitely propel the success of your spirit are:
Metallic inks
Hot foil stamping
Cold foil printing
Embossing / Debossing
Holographic foils
Coatings: soft touch, pearlescent, spot gloss, reticulating
These are just a few finishes that can press the limits of your packaging design. In addition to this, it's smart to utilize other, more exterior effects such as magnetic closures and exotic substrates. Exotic substrates (actual or recreated through embossing and debossing) can give you the look and feel of a variety of materials such as wood, silk, leather, canvas and more, therefore encompassing even more character into your finish.
Color Consistency
Choosing the perfect color for your brand is crucial. But keeping that color consistent across all products is even more vital to your spirit's success. Color inconsistency sticks out like a sore thumb.
When working with your packaging producer, make sure that they can provide consistency across all products, from different volume-sized products to promotional items.
Rigid Boxes for Collections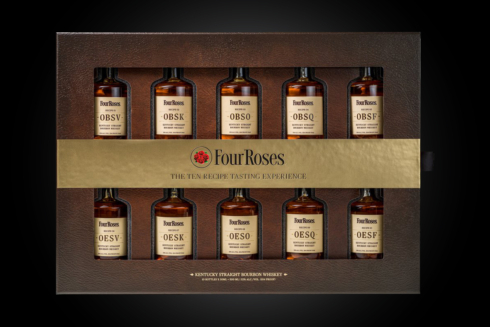 Collections and collectors' items call for a different type of packaging entirely. When packaging a collection, it's best to use rigid boxes, as they're ideal for showcasing the beauty of the bottle within.
Rigid boxes are crafted from thicker, high-quality chipboard wrapped in a light printed sheet. Chipboard and the additional higher-quality features of rigid setup boxes are a powerful way to present a limited-edition item, collector's item, collection, and more.
Rigid set-up boxes carry a plethora of similarities to folding cartons, but in reality, these two packaging solutions vary greatly. Where folding cartons, made of paperboard, can be folded down flat and have a quicker speed-to-market, rigid set-up boxes are made of thicker chipboard, which can be up to 4 times thicker than traditional paperboard. Rigid set-up boxes are stronger, more durable, and cannot stray from their original shape or form.
In celebration of the brand's 135th anniversary, Four Roses released a one-of-a-kind tasting kit that allows bourbon drinkers to taste all 10 of their signature recipes. The rigid box structure features a custom leather grain emboss pattern, dull varnish, spot gloss and gold foil stamping. The package overwrap is made from 100% recycled material, and the chipboard includes 90% PCW.
Incorporating Windows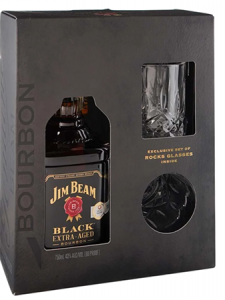 Windows are a necessity for spirits packaging. Windows are the ideal solution to showcase your product. Windows can be utilized within a variety of structural designs and are crucial to presenting the colors, features, flavors, and more of your spirit.
A product that does this seamlessly is Jim Bean Black. Jim Beam Black showcases their extra-aged bourbon along with two high-quality whiskey glasses that are included in the packaging. The window gives potential customers valuable insight into what they are purchasing.
Duty-Free Packaging
When travelers are wrapping up their trips overseas, often they'll wander into the duty-free liquor store to get that one last item tax-exempt. Liquor is a common duty-free purchase, so this is another significant area where you can distinguish yourself in a crowded marketplace.
Create exclusive packaging specifically for duty-free locations. Remember that often, duty-free purchases are gifts, so create a convenient ready-to-gift packaging. Incorporate embossing and foil stamping to establish luxury.
Themed Packaging
Themed packaging is a go-to for spirits companies to do something different. Whether it's a promotional partnership between a movie franchise or a seasonal themed packaging, we've found themed packaging is another great way to stand out amongst thousands of other competitors.
Jagermeister released a successful Halloween-themed Stag-O-Lantern packaging that featured an eerie green figure and a light-up stag emblem. Not only was this packaging interestingly themed, but it was also multi-sensory with the help of real LED lights incorporated into the packaging.
Sustainable Packaging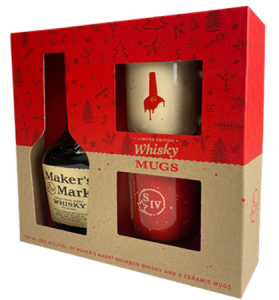 Today's society is more environmentally conscious than ever, and consumers are now shopping that way. Consumers value sustainable packaging. By creating sustainable packages, your path to success will be much easier.
You can attract an entirely new audience by utilizing more sustainable materials in your packaging. Start using recyclable materials such as paperboard and chipboard in your structural design. You can also dissect your packaging process to find wasteful areas. Ensure your packaging is optimally designed to eliminate waste and is recyclable.
Experiential Marketing + Packaging
Spirits are truly an experiential product, so it's crucial to exemplify the experience within the product's packaging. Casamigos does an exceptional job at this.
Casamigos Tequila is founded based on becoming the "best-tasting, smoothest tequila around." This bold tequila is accompanied by a stripped-down, bold packaging. It pulls on the colors of the agave plant – featuring warm blue-greens, black, white, and beige components. The packaging truly exhibits the culture of a true, genuine tequila.
CONCLUSION
The spirits industry is booming, and the only way to set yourself apart is through packaging that truly presses the limits. JohnsByrne has been helping clients do precisely that since 1959.
Our team of expert structural designers and innovators work to make your dream spirits packaging a reality. With JohnsByrne, you'll experience seamless end-to-end manufacturing delivered by industry experts.
For more information on how JohnsByrne can help you press the limits of spirits packaging, reach out to us today!
---
Related Posts
---