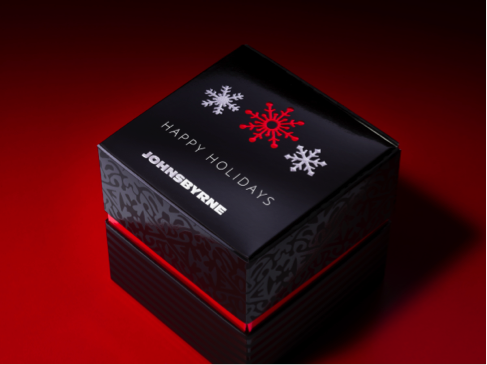 A cornerstone of secondary packaging is the paperboard folding carton. Paperboard stock is specifically formulated to crease easily and some stocks are purchased for their crack resistance properties. The most significant advantage of folding cartons is that they can be shipped flat and then assembled upon arrival, making them an incredibly space efficient alternative to packaging that must be fully constructed.
All great packaging solutions start as an idea, and being included in the design team's vision can allow folding carton manufacturers to more effectively realize the vision.
THE FOLDING CARTON MANUFACTURING PROCESS OVERVIEW
Once a design has been decided upon, it's all about your packaging supplier and their process for taking your folding carton packaging design from concept into a reality. Here's what the typical process looks like:
1. DIE-LINES AND SHEET LAYOUT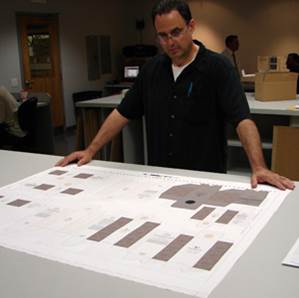 Die-lines are the 2D flat version of what will become the final 3D folding carton. Die lines will show where die-cutting, folding and gluing will occur and will also show where artwork is positioned for printing.
In offset-sheet fed production, die-lines are then used by pre-press departments to build the 'sheet layout'.
Depending on the size of sheet, the number of versions and/or pieces for that specific package, the maximum number that can be put 'up on the sheet' will be configured.
2. SHEETING & PRINTING
Before the paperboard can be run through the press, it needs to be sheeted. Paperboard typically arrives from the supplier in a large roll, and sheeting is the process by which these rolls are cut into sheets of paperboard to be fed into the press. During this stage, folding carton manufacturers will ensure the grain is running in the direction that will be most effective.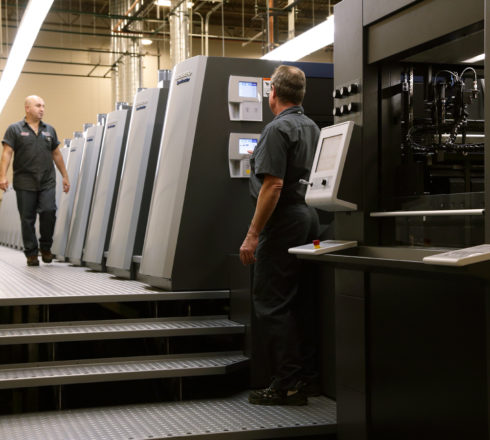 Once the sheets are fed into the press, the imagery and artwork is printed onto the sheets using the sheet layout . During the print process, many ink and coating units will be used to apply color, innovative textures, and other visual effects.
3. POST-PRESS FINISHES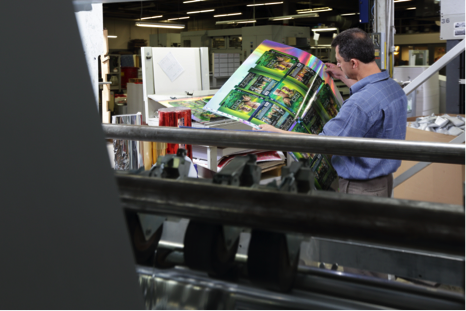 At this point, any remaining visual effects such as hot foils or emboss/debossing will be done post-press using hot foil stampers and emboss/deboss machines. These effects further 'dress the sheet' while it is still in its flat form.
4. DIE-CUTTING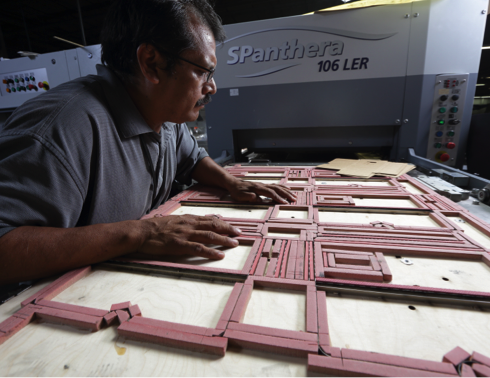 After the printing and post-press processes are complete, it is time for die cutting. The die is an elaborate, powerful cookie cutter used to cut many duplicates of the layout out of a sheet of paperboard and to minimize waste. In addition to steel knives to cut along edges, the die will also have rounded protrusions to create the creases that will allow for easy folding where necessary. When the individual cartons have been cut out of the original sheet, folding carton manufacturers separate and recycle the remaining stripped paper to form new paperboard.
5. FOLDING/GLUING
With die-cutting complete, it is time to move to folding and gluing where the flat, die cut pieces will be fed for folding, pre-breaking, and gluing. Some folding cartons require transparent windows through which the product can be seen, and these windows can often be applied 'in-line' during folding/gluing.
The goal is to do as many of these operations in the fewest 'passes' and to end up with a flat, folded/glued package that can be 'racked' and 'fulfilled' with the actual product.
THE FOLDING CARTON MANUFACTURING JOURNEY
Have a folding carton design that needs to go from concept to reality? Get in touch with one of our folding carton manufacturers today at JohnsByrne!
<![endif]-->
---
Related Posts
---