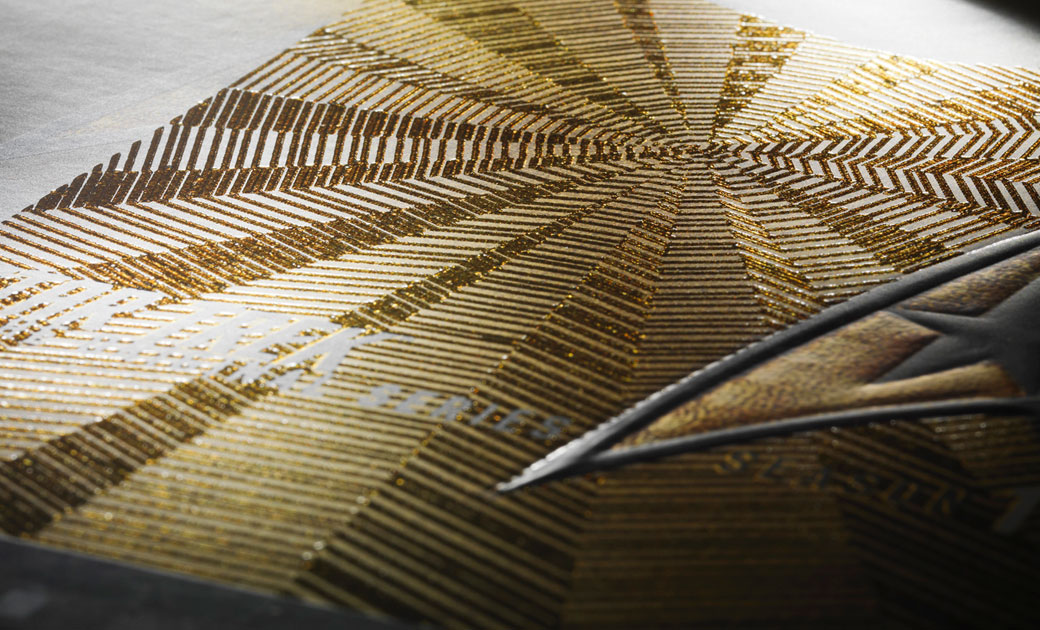 Differentiating your product and brand in a crowded landscape of other similar offerings is challenging, to say the least. While it takes a great deal of research, planning, and precise implementation to be effective, there are certain ways to boost the likelihood of successfully making an impact on your product packaging or print solution. This can be achieved through the use of high quality unique substrates, finishes and coating effects.
The Value of Unique Finishing Effects
Unique finishing effects are incredibly valuable and influential. Not only do they differentiate a product, but they can also make a statement about creativity and quality. Visually attracting customers is only half of the equation. Once a customer begins interacting with the package, we can measure the influence it has on the user, which is key in the purchasing decision.
For example, a folding carton with attractive colors and a unique shape may entice a customer to interact with it. Once the customer is engaged, the texture and finish should take over the user-experience from there. If it has rough edges and feels strange to the touch, a purchase conversion is highly unlikely—regardless of whether there is existing brand equity or not.
The Top Finishing Effects
While each brand, industry and niche is different, many materials are widely used in a variety of markets. Let's take a look at some of the most successful substrates, finishes and coating effects currently available and why they are used.
Emboss-deboss finishes. Sculptured embossing and debossing is extremely popular and effective for corporate logos, DVDs/Blu-Ray Discs, cosmetic boxes, and consumer electronics products that are frequently handled before purchase. By utilizing raised surfaces on specific images or text, you can draw the customer's attention to particular value statements.
Exotic substrates. For point-of-sale displays in particular, exotic substrates can be used to attract attention and promote features. Some of the top exotic substrates currently being used include plastics, foil boards, wood veneers, leather, canvas, silk, and engineered papers.
Pearlescent coatings. Used for promotional materials and product packaging, pearlescent coatings makes an incredible multisensory statement. Not only is it visually appealing—utilizing light refraction to literally sparkle—but it's also unique to the touch. Its appeal sets it apart from the array of normal dull or glossy alternatives.
Lenticular graphics. While 3D movies have increased in popularity over the past five years, lenticular graphics have long been a unique method of attracting attention. Not only are they noticeable, but they often force the customer to touch or move the product—which increases the likelihood of influencing a point-of-sale purchase decision. Different lenticular graphics also add an element of suspense depending on the artwork used.
Raised UV coatings. Raised UV coating is visually stimulating and unique. Its heavy volume of coating creates the raised texture and inviting touchability along with being extremely eye-catching to make a lasting impression.
Hot foil stamping. Hot foil stamping involves foiling a design onto the packaging's substrate. It uses a stamping machine to apply heat and pressure to leave behind a reflective, slightly raised design that stands out from the rest of the packaging. Hot foil stamping is very precise and can be used with a variety of materials and substrates to make a bold statement.
Scented coatings and varnishes. When looking to develop multisensory packaging, scented coatings can make a bold statement. These materials use aroma-release technology to entice and engage customers beyond the usual touch and sight properties.
Clear foils. Having clear foils provide high reflectivity, yet allow the printed image to be seen underneath. This is particularly useful for foods, beverages, consumable products, and health and beauty offerings. It can also be used to give customers a preview of a new product.
Holographic foils. One of the highest quality finishing effects on the market is holographic foils. These foils are often used for individualizing products and attracting attention to a particular area on your packaging.
The Lasting Effect
At JohnsByrne, we are driven by an insatiable desire to meet and exceed our clients' need for high quality, unique and visually compelling printing and packaging solutions. We possess G7 Master Qualification status, which allows us to use the latest technology, techniques and controls. For more information on how we can assist you, contact us today.
More Resources
Custom Folding Carton Packaging
---
Related Posts
Standing out in today's competitive market is vital to keeping your brand alive – no matter what industry you're in. Since packaging is the first … Lenticular Printing
---