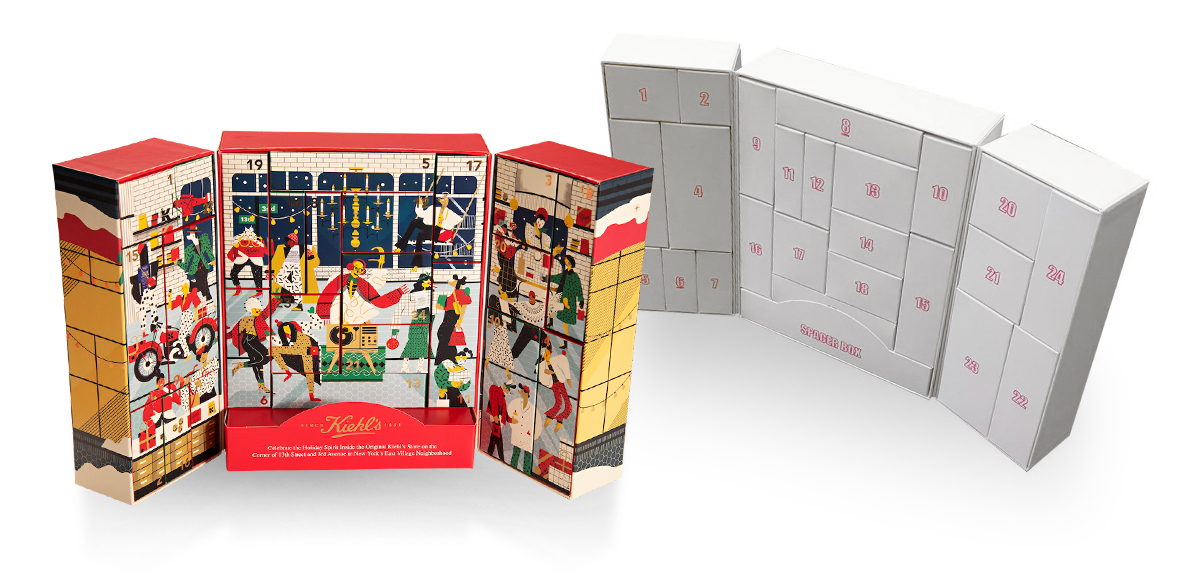 Combine an iconic holiday tradition with an equally iconic American consumer brand, and what do you get? For JohnsByrne, you get the opportunity to create the 2020 edition of Kiehl's Apothecary Skincare Advent Calendar… which won "Package of the Year" at the Paperboard Packaging Council's (PPC) 78th annual North American Paperboard Packaging Competition for 2021 and a gold award for packaging sustainability.
---
One of the greatest joys – and challenges – at JohnsByrne has always been the opportunity to collaborate with truly singular brands, companies and products with instant recognizability and an almost cult-like following.
So when Kiehl's gave us 24 individual travel-sized products and asked JohnsByrne to reimagine its 2020 Advent Calendar around them – and take both the gifting experience and their sustainability efforts to a whole new level – our packaging development team was, to put it mildly, pretty stoked.
But first, some context. This was the seventh Advent Calendar JohnsByrne has produced for Kiehl's –each a special celebration of the season, featuring globally renowned graphic artists, whimsical themes, enticing structural elements and visual references to Kiehl's many brand "cues." (More on that shortly.) All the previous Calendars sold out in record time, and one can see the brand love that Kiehl's loyal customers have for the Calendar in the many unboxing videos and linked social media posts you can find posted online. Not to mention the fact that the Calendars literally become keepsakes.
In previous iterations, the use of plastic vac form trays was commonplace. So from a structural engineering standpoint, this new edition would require significant re-thinking and development in order to eliminate the use of plastic as well as to elevate the unboxing experience yet again. The goal: an Advent Calendar like no other, made entirely of 100% recyclable materials that would embody Kiehl's commitment to sustainable packaging and support the company's "Future Made Better" journey.
Along with 24 products, Kiehl's provided conceptual artwork that would set the tone for the packaging. For this 2020 Calendar, Kiehl's selected Maïte Franchi, an illustrator and graphic designer based in Lyon, France. Inspired by the Art Deco tradition, her work combines geometric shapes, vibrant colors and subtle textures… a style that brought warmth, richness and a holiday spirit of fun to the project.
Honoring the popularity of sampling in its brick-and-mortar locations, the Calendar illustrations would suggest a visit to a Kiehl's store. On the outside, a view through the windows and, when unfolded, a festive celebration throughout the store that includes visual references to Kiehl's unique in-store traditions… like motorcycles and Mr. Bones… "inside jokes" for all those loyal Kiehl's customers.
They also provided a very rough diagram of how the products might be arranged within the outer box. And with that, the Kiehl's/L'Oréal team said, "Show us what you can do."
In response, the JohnsByrne packaging development team offered two structural options, both featuring an outer calendar box containing 24 individual straight-tuck folding cartons plus a spacer/footer box that would ensure a snug, puzzle-like fit.
Option One – the SBS concept – consisted of three 24 Pt. SBS outer "trays" connected together with 15 Pt. SBS "hinges" to open from the center. Opening would reveal the 24 inner boxes and spacer box of 12-14 Pt. SBS, printed in 4C+1 spot color and foil stamped "countdown" numbers with a matte varnish. The printing on the front of all 24 boxes would be a single continuous image as the boxes fit snugly into the trays like a puzzle. Wafer seals would hold the trays closed.
Option Two – the Rigid concept – utilized 60 Pt. Chip for the outer trays while using the same SBS stock and printing for the hinges and interior boxes. In either case, the resulting design would embody simple components put together in a very creative way, comprising what the Paperboard Packaging Council described as "…a beautifully compact and 100% recyclable box that opens into a shelf-ready storybook display."
And of course, behind that apparent simplicity was the real challenge: getting that perfect, puzzle-like fit in the first place, such that the fragment of artwork on every little straight-tuck carton would perfectly match its neighbors to complete the whole picture as seamlessly as possible.
Spacing was critical. SBS cartons tend to "puff out." Some were common sizes, some were not. Change one size or one carton, and it affected everything around it. The final production piece would require intense tweaking, 32nds and 64ths of an inch with all the folds and scores, to adjust the crossovers, accommodate the artwork and make sure everything fit exactly. "Not too loose, not too tight." As the schematic of the entire layout progressed, the Kiehl's/L'Oréal team was consulted frequently to OK the design revisions.
In the end, Option Two – the Rigid concept – was selected for final production. 60 Pt. Chip outer cartons, with 15 Pt. SBS Candesce C1S Cover for the hinges and 12 Pt. Candesce SBS C1S, FSC for the inner cartons and belly band. The print run was 70,000+… roughly triple the quantity compared to the first Advent Calendar we created with Kiehl's.
And while the results truly speak for themselves, it's worth noting what one of the competition's judges wrote, to put this latest "Best of Show" award in proper context.
"Many of the most successful packages in the competition were able to break shelf dynamics through clean design, thoughtful use of value-added finishings, and storytelling. Their design choices were rooted in a clarity of thought that created boxes full of detail and story. Oftentimes, consumers only uncover those stories as they look closer – a perfect collaboration between the structural abilities of paperboard packaging and the creativity of its uses in marketing.
The design objective of creating an 'unboxing experience' is still alive and well. Many entries unfolded like puzzles, blooming before our eyes… high-end gift boxes that, no doubt, would make consumers want to wait and open them on camera for the whole world to see."
"Package of the Year" for 2021. The most sustainable holiday gifting tradition ever created for Kiehl's/L'Oréal. A premium unboxing experience worthy of all those videos on YouTube. And another most appropriate reflection of Kiehl's history of innovation and strong brand values.
Which, when you think about it, is just how we roll.
---
Related Posts
---