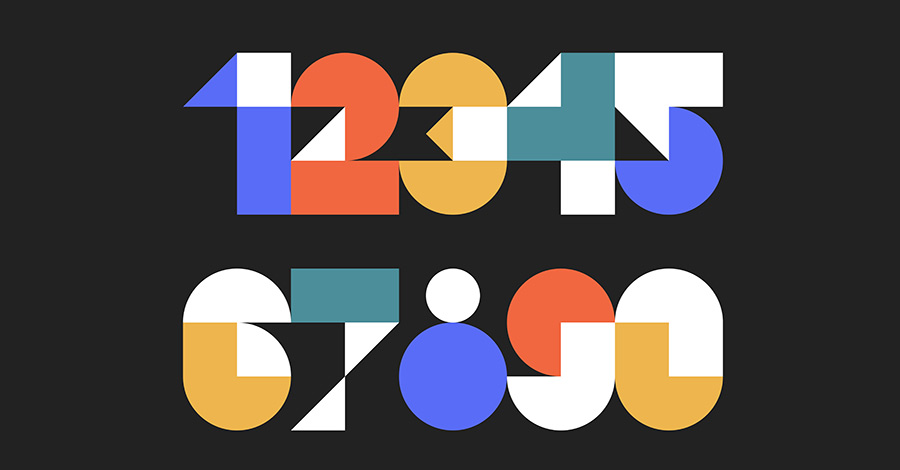 How does an integrated domestic packaging partner drive more quality and innovation?
And why is that so incredibly important for today's brands?
Recently, JohnsByrne circled back to answer that two-part question again, this time by simply "doing the math." And as you'll see, having the math on your side is a powerful advantage in today's supply-chain-challenged world.
384 – THE ONLY 15-UNIT PRINTING PRESS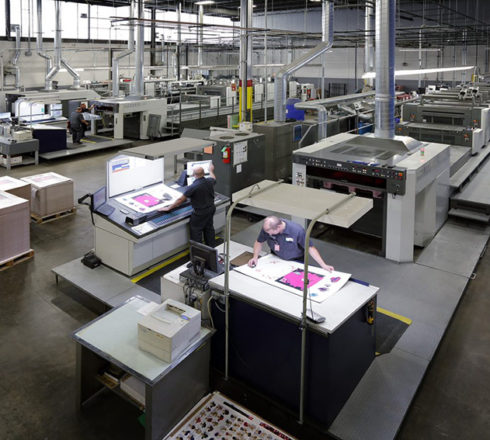 JohnsByrne is home to Press384, the only 15-unit printing press in the country. Consisting (at the moment) of 3 coaters, 8 print units and 4 dryers in-line, it's G7-certified and compliant. And it's only 1 of 5 presses in "The Limitless Pressroom."
You might not think of a pressroom as a laboratory but JohnsByrne does. Another reason why we bring such high levels of innovation to our customers, combining art and technology to create multisensory brand experiences for the consumers who touch our customers' brands.
The way we see it, the real challenge is to imagine and manipulate unique sequences of coating, printing and drying to create never-before-seen product packaging. Adding value – and brand value – are JohnsByne's variety of press technologies, creating new materials out of coatings and paper, then printing on it, then finishing it, all in 1 pass, all on 1 line.
4 + 5 – LARGEST SPECIALITY PACKAGING IN THE MIDWEST
That would be 4 foil stampers and 5 die cutters: the largest assembly of die-cutting and foil stamping in the Midwest. For manufacturing at scale, there's just no equal.
24/7 – PRODUCTION RUN TIME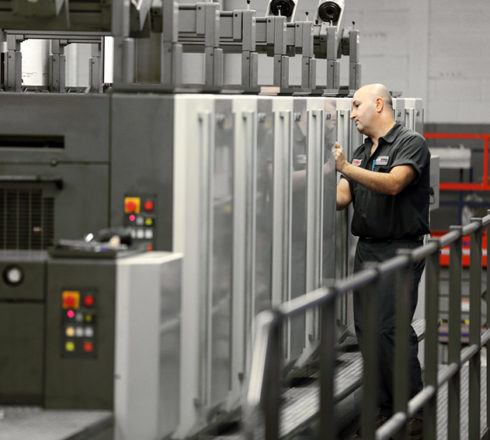 Keeping up with the market and staying ahead of the competition is crucial for any brand. Keeping up with some of the world's most prestigious – and persnickety – brands is what JohnsByrne is all about. So naturally, our domestic production facility is up and running 24 hours a day, 7 days a week. (Stop by anytime).
50 – MADE IN THE USA
States in the U.S.A. and no matter which one you're in, you'll enjoy easier access, more thorough collaboration and faster shipping for every project. Because every JohnsByrne project is proudly made in the U.S.A. And another reason why, as global supply chains continue to challenge production that depends of outsourced components, JohnsByrne can offer profound competitive advantage as a speed-to-market innovator.
1 TO 1 – DIRECT MILL RELATIONSHIPS
As in, 1-to-1 mill-direct relationships. Ours go back decades with leading domestic suppliers, and personally involve company leadership. Our goal is "vendor partners": we take the time to understand their businesses and help them understand ours. That investment in vendor/partner relationships – plus ISO level accountability, prompt payment and fair treatment – has really paid off right now, putting JohnsByrne in an advantageous position as supplies have gotten so tight.
Simply put, when you take care of your vendors, they'll work harder to take care of you. For our customers, partnering with JohnsByrne – particularly if we get involved early – allows us to call on our deep relationships to bring projects to completion on time and on budget.
8 – STRUCTURAL ENGINEERS ON STAFF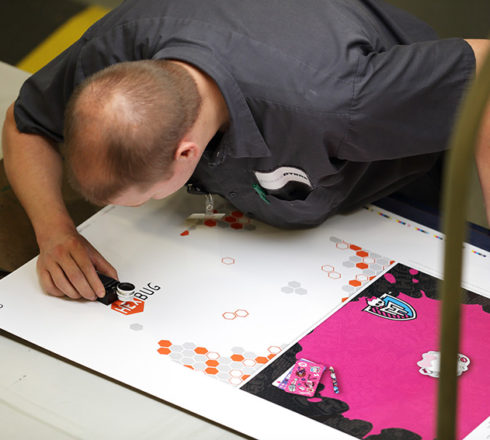 That's 8 full-time, highly experienced, highly creative structural engineers… the people behind the innovative designs that leverage every possible avenue to the most powerful, brand-centric and cost-effective packaging. Designs that are more sustainable (replacing plastic with paper, for example), more secure like Epik Lok® child resistant packaging), and just plain knock-it-out-of-the-park amazing like Cresco Labs. In concert with our graphic design teams and pressroom gurus, this deep structural engineering capability is a distinct edge for clients demanding breakthrough package design.
0 – ZERO OUTSOURCING
Outsourcing. Ask any manufacturer: outsourcing is the complicating, cascading flaw in most supply chains. So we don't, mostly. Our domestic, end-to-end solution is uniquely equipped to "make things happen." Headquartered in the Midwest, independent and privately held for 61 years, with a quality management system 2nd to none, JohnsByrne's entire operating model is designed around providing innovative solutions and options, with single source accountability right here at home.
As for the issues we do face, JohnsByrne can address them faster and more effectively. because of our strategic and differentiated approach. As a leading domestic manufacturer, vertically integrated, value-driven and forward-thinking, even senior leadership is tasked specifically to help manage supply chain issues. Which is really coming into play these days, because our philosophy has put us in a position to anticipate needs, and help alleviate supply chain problems that are crippling many of our competitors.
1 – COMPLETE VERTICAL INTEGRATION
Single = speedy: when everything's in 1 place, you don't have to wait for anything to come from another place. Our entire vertically integrated, domestic business model (developed over 6 decades of private ownership) is predicated on that simple truism.
So the 8 structural engineers are in-house. The comprehensive ink lab is in-house. The Limitless Pressroom is in-house. Finishing and fulfillment technologies and capacities ditto. All in 1 easy-to-reach, secure Midwest location. (Which, please remember, is up and running 24/7.) And all fully integrated with our ISO-certified quality systems. Single source efficiency. End-to-end accountability. And voila: no costly, cumbersome outsourcing issues.
+/- (or </>) – CUSTOMIZATION
Some clients need more. Some need less. JohnsByrne is notable in our ability to customize package orders in appropriate quantities without locking you in to large run/large inventory costs. How? By virtue of our rigorous quality management, customized client onboarding, Limitless Pressroom capabilities and end-to-end integrated operations, JohnsByrne has agility and flexibility built in. We've grown up nimble, so you can prosper.
1, 2, 3, 4, 5, 6, 7….. – QUALITY CONTROL
Every step of the way, JohnsByrne clients are in consultation with their project team, and so in control of their projects' critical path events and ultimate quality. Accessibility is a key benefit of working with an integrated domestic packaging partner. With JohnsByrne, it's all here for you in the U.S.A.
OTHER VERY IMPORTANT NUMBERS
These are found amid our Forecasting Analytics: a very powerful tool used to analyze previous production data and so uncover new/additional printing efficiencies and inventory management hacks. It's intrinsic to our ISO quality culture of continuous improvement. Every order is also a teaching moment. And JohnsByrne customers enjoy the benefit.
84 – OUTSTANDING CUSTOMER SATISFACTION
That's our Net Promoter Score (NPS) in the most recent study of customer satisfaction. And it's much, much higher than the average NPS score of 25-33 for B2B companies. What that tells you is that real customers have awarded JohnsByrne 4.8+ out of 5 for innovation, structural design, product quality and end-to-end capabilities (among other very positive ratings). And we already mentioned how particular they are.
All of which adds up to the many ways JohnsByrne delivers more quality and innovation, on-time and on-budget, as the integrated domestic packaging partner of choice for leading global brands.
It also adds up to 1 Very Simple Fact: if you can imagine it, JohnsByrne can put it on a press.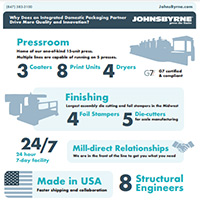 We've summarized all this in a handy infographic for you as well. Click here to see it.
---
Related Posts
---