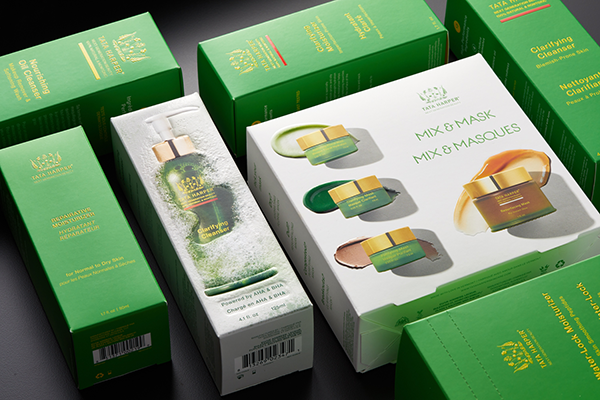 Walk down any Health & Beauty products aisle and you recognize it right away: few product categories are as dependent on innovative, premium package design to help attract and retain consumers and their brand love. From haircare and skincare to cosmetic packaging and more, a clear expression of brand promise and attitude is a crucial differentiator in driving trial and repeat purchases.
Of course, the trick is creating equally compelling consumer unboxing experiences for wildly different brands. As a leader in Health & Beauty premium and sustainable package design, JohnsByrne works in partnership with customers to elevate their brands, creating that ineffable connection between consumer and brand, regardless of venue – on the shelf, in-store, and online.
Why would you need to start with a health & beauty packaging consultation before heading into design?
Health and beauty packaging has changed in the past ten years to meet the changing demands of the customer market:
Increased e-commerce shopping. What does this mean to manufacturers? The customers' experience with the packaging acts like the shelf and store experience. The first impression of premium packaging cements the impression the customer will have of the brand.
Unboxing videos. The rise of popularity with unboxing videos on social media is great exposure for any brand. Think of unboxing as a free testimony and advertisement. However, not every packaging design will get multiple unboxing videos or the shares brands want.
Sustainability demand. Studies have shown that customers are willing to pay more for sustainable packaging. And, reviews for ecommerce health & beauty purchases often reflect the customers' experience with the packaging. Comments such as "excessive" or "unnecessary" packaging can be found within reviews which previously would only pertain to the product itself.
Meeting sustainability pledges does not mean a brand has to sacrifice premium packaging. Regardless of design criteria and embellishments, JohnsByrne can deliver expertly crafted, sustainable solutions for your health & beauty brand. Our focus on sustainability aligns with your packaging goals, including:
Packaging derived from FSC-certified sources and post-consumer waste materials
State-of-the-art printing technologies and practices which minimize energy and water use in production
Minimizing repetitive overnight deliveries – and the pollution they generate – with remote virtual proofing of press forms.
Designs, embossing and finishes using sustainable and environmentally-friendly materials

Look at a very recent approach to premium packaging that highlights the benefits of JohnsByrne innovation and achieving the relationship brands wants with their customers.
Tata Harper
Tata Harper, based in Vermont, was one of the first on the market to focus on all-natural yet very clinical formulas with no artificial additives. They're all unique blends of natural ingredients from the Tata Harper farm; hence, its beauty brand is aligned around what it calls "Farm to Face."
Its goal was to develop packaging that reflected quality, luxury and sustainability, in perfect alignment with that brand promise and their specially designed containers. And since we're talking "green" here, it started with this special green color, "Tata Harper Green." Tata Harper was a pioneer in luxury natural skincare, and everything about the brand aligns with her vision.
JohnsByrne has partnered with Tata Harper since 2019. Our collaborative relationship has included:
Updating the structural design of their packaging to streamline and reduce the overall packaging footprint.
Initiating a supply program.
Designing premium packaging enhancements (embossing, soft touch, spot gloss) for 30+ line-item cartons and promotional packaging.
Its story is told on every box, in Tata Harper Green with a signature yellow logo and an embossed number in a yellow circle signifying the number of all-natural ingredients contained within. And like those ingredients, our package design is very simple, clean and beautiful.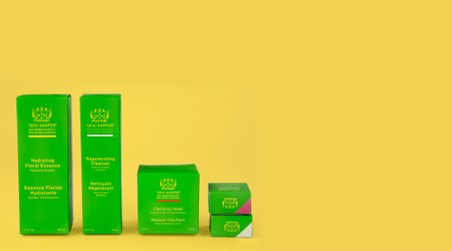 At JohnsByrne, our G7-certified printing color management team leverages all the required measures to guarantee all-important color consistency across branded packaging. These include color consistency, color balance and G7 grey scale within a color bar. In addition, for those envisioning a novel packaging color, that same color management team can provide a host of options, including innovative coatings, tactile treatments and custom inks.
When it comes to Health & Beauty Packaging and JohnsByrne, beauty is more than skin-deep. It's born of design innovation, palpably superior quality, and a process that maintains essential control over costs, schedules, supply chains and deadlines. At JohnsByrne, manufacturing efficiencies are legion. Our modern pressroom, for example, houses four-, six- and eight-unit G7-certified presses, as well as our 15-unit press which offers limitless possibilities for design and manufacturing efficiencies.
Want more reasons why the world's leading haircare, skincare and beauty brands (among others) have come to depend on us to create luxury packaging solutions that genuinely elevate their products and brands? We're happy to send you samples of our work in this category.
---
Related Posts
---