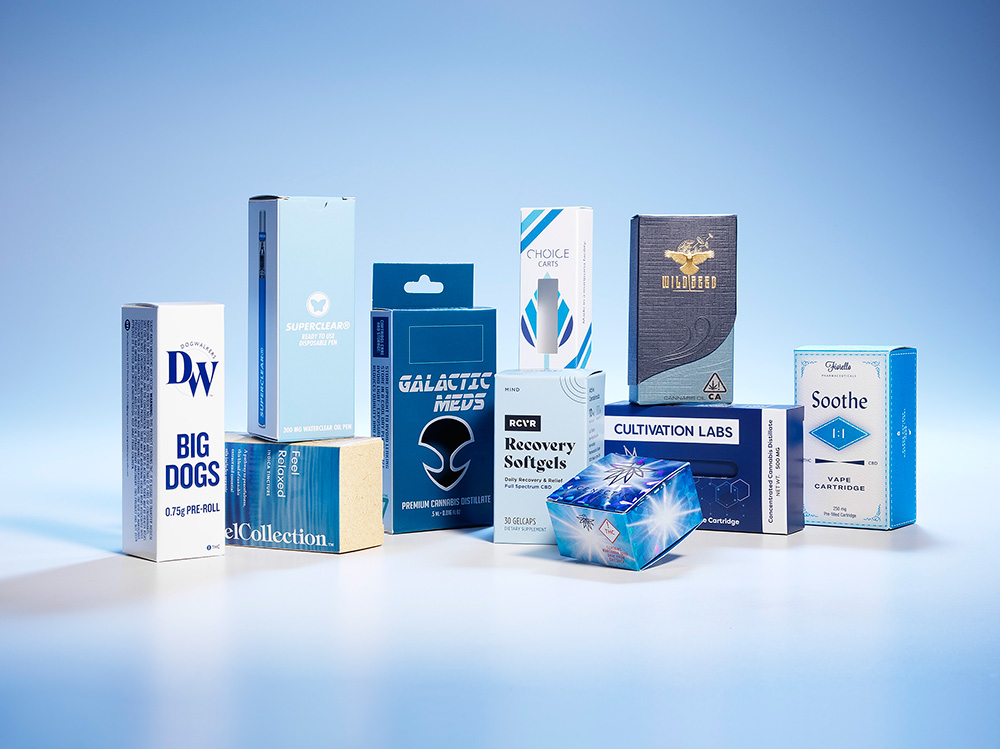 As a growing number of states continue to legalize marijuana for both medical and recreational purposes, more innovations in medical marijuana packaging are coming to the market. Dispensaries, extractors, and growers of these products now have plenty of packaging options to stand out among the competition and appeal to consumers.
Best Practices for Packaging Cannabis Products
If you want to develop high-quality recreational or medical marijuana packaging, there are certain best practices to keep in mind. These include:
Distinguish Your Brand
One of the most important aspects of cannabis packaging is to make sure your brand stands apart from others with value added packaging. You want people to instantly recognize your products without confusing them for others, and create a look that's uniquely yours. This could include everything from a recognizable logo and color scheme to unusual packaging shapes.
Educate Customers
Another consideration for marijuana packaging is educating your customers. Customers should know exactly what they're getting with their product. Educational packaging could feature state-mandated information about the contents, along with other details about your company and what sets your products apart.
Communicate Quality
Quality is another element you want to establish among your consumer base. Top-quality packaging materials, including smell-proof containers that are both secure and user-friendly, will help improve your company's reputation for producing some of the best products on the market. Appealing designs and printed labels will further cement your brand as a source of quality.
Protect Products
Many cannabis products are fragile in nature and ensuring that your cannabis packaging is designed to be sturdy and protective is important to maintain product quality and integrity. Whether it's a vial or an edible product, it's important that packaging serve as a protective barrier to ensure that consumers receive high-quality products.
Custom Cannabis Packaging vs. Standard Packaging
While you may consider standard packaging, particularly when starting out as a new business, there are certain benefits of getting custom cannabis packaging that you won't find with standard packaging. For instance, standard cannabis packaging typically features a nondescript design that limits creativity and will make products look more generic. On the other hand, custom marijuana packaging can give you plenty of options when it comes to colors, logos, sizes, and other specifications based on your company's specific needs.
Ultimately, with the use of custom packaging designs, you'll give your business and products a much better chance at sticking out from the competition and be instantly recognizable to customers.
Child-Resistant Cannabis Packaging
Child safety is another necessary consideration for marijuana packaging. Like other medical and recreational substances, cannabis is dangerous to children, which means you'll need to ensure that your packaging has child-resistant packaging.
There are several general requirements you'll need to meet for packaging to be considered child-resistant, including:
All child-resistant packages must comply with the standards issued by the federal Poison Prevention Packaging Act.
Paperboard folding cartons must be certified to federal testing procedure 16CFR Part1700.
Single-use bags, including those with zippers for re-sealing, must be heat-sealed to be considered child-resistant.
Opaque pop-top tubes are another type of packaging that's considered secure and child-resistant, and are used for pre-rolled products.
Push-and-turn caps are needed in many states for bottles or other containers.
Meeting these or any other state-specific child-resistance requirements will help ensure your products are consistently safe to use.
Best Cannabis Packaging Designs for Different Products
Cannabis products come in all forms, including smokable marijuana strains, edibles, vape pens, and CBD oils. The best packaging for each product will depend on its final retail destination. Paperboard packaging is suitable for almost all secondary packaging designs meant to go on a shelf or retail display. Paperboard packaging can also be customized to the particular requirements of the individual product. Some products, for example, may require child-resistant packaging features that not all products may require. Regardless, cartons remain a popular way to package cannabis products – from the most common to the most unique.
Packaging Cannabis Vape Pens
Vape pens are commonly used to smoke marijuana in lieu of traditional smoking methods, similar to their use for substituting cigarettes. Folding cartons are often used to package cannabis vape pens, providing a sturdy solution for holding one or more vape pens.
Packaging Cannabis Cartridges
Cannabis cartridges are used to hold cannabis oil and are great for smoking on the go. Folding cartons are also used to hold these along with vape pens.
Packaging Cannabis Pre-Rolls
Pre-rolled cannabis joints are a convenient way to smoke marijuana products, as a low-cost, disposable solution. Child-Resistant paperboard packaging is normally used for pre-rolled cannabis.
Packaging Cannabis Oils
Cannabis oils are extracts of the Cannabis sativa plant used in cannabis cartridges, and generally come in two versions: THC (tetrahydrocannabinol) and CBD (cannabidiol). The difference between these two is that THC is the active chemical in marijuana that causes intoxication, while CBD omits the THC component and is often used for medical purposes. Cannabis Oils are typically stored in a glass dropper, and packaged in a folding carton for retail display.
Packaging Cannabis Concentrates
Cannabis concentrates include a variety of cannabis extracts, including cannabis oils, wax, dabs, hash, and tinctures. They either contain THC or CBD-rich extracts. Your cannabis packaging will vary depending on the type of concentrate, but they're generally stored in screw-top containers such as jars that are either opaque or transparent, which are contained in small easy-to-open boxes.
Packaging Cannabis Distillates
Cannabis distillates are highly viscous extracts made of pure THC sap, and are a type of highly valuable concentrate. These distillate oils are typically stored in dab containers like other concentrates.
Packaging Cannabis Edibles
Cannabis edibles are among the most popular forms of marijuana today, with many confections available containing THC such as gummies and chocolates. The packaging for these will be similar to traditional candies, with opaque resealable bags and child-resistant folding cartons are commonly used for edible products.
Finding the Best Cannabis Packaging Company for Your Product
Searching for the best cannabis packaging company to provide the perfect solution for your business? There are certain services that a reliable marijuana packaging company will provide for you based on your individual needs.
Speed to Market
Speed to market is vital to your company's success, as you need to release new products as soon as possible. At the same time, you don't want to compromise quality. The right cannabis packaging company will understand that time is money while also knowing that quality is everything, combining efficiency with reliable design and development services.
Turnkey Programs
There are many different components to promotional packaging design, with set boxes, dust covers, vac trays, and inserts, along with fulfillment and more. A good packaging company will serve as a one-stop shop for all of your adult-use or medical marijuana packaging needs.
Certified Processes
You should also work with a company that can provide you with certified processes that guarantee compliance with all industry standards. From child-resistance to ISO certification, dependable packaging companies will clearly disclose their processes as being certified.
Expertise
The packaging company you work with needs to have a good understanding of your products and industry, which is why you should find a company that advertises years of experience. Examples of past work and reviews will help indicate whether a company is worth partnering with for marijuana product packaging.
Qualified Management System for Quality Assurance
A qualified management system is another crucial element of a reliable company's operations. With efficacious quality management in place, packaging companies can blend quality with speed to provide some of the best innovative solutions with fast turnaround. An ISO-certified company will be more likely to give you the quality assurance you want for every product.
Considering all of these aspects, you can get the types of cannabis packaging solutions you need to successfully launch your marijuana products across the expanding market, with unique top-quality packaging that truly speaks to your brand.
---
Related Posts
---