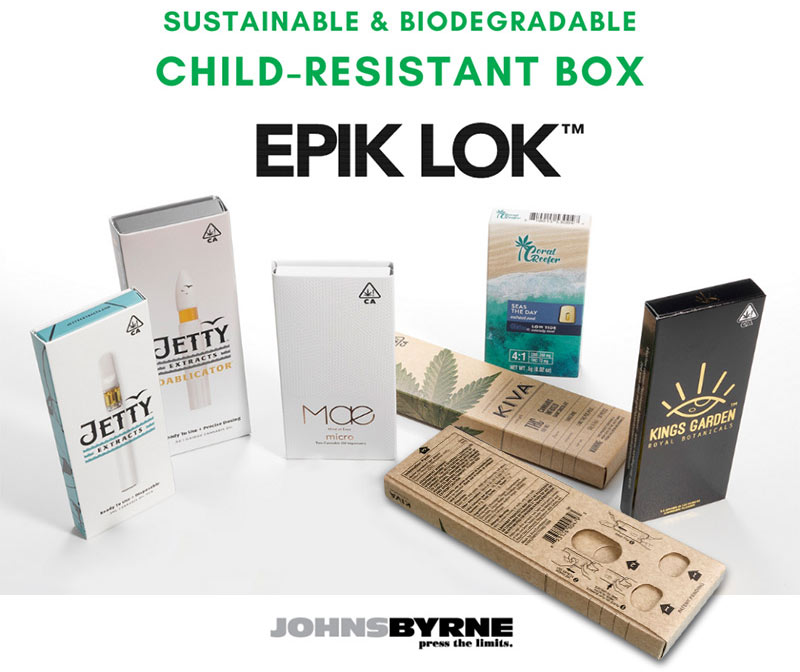 In December 1970, the U.S. Congress passed the Poison Prevention Packaging Act with the goal of reducing the risk of poisoning children via consumption of harmful household substances, pesticides, and prescription medications. It has led to considerable innovation.
Innovation, as any good dictionary will tell you, is the introduction of something new. Or, more specifically, "The creation, development and implementation of a new product, process or service, with the aim of improving efficiency, effectiveness or competitive advantage."
Easy to define. Much, much harder to do consistently. Which brings us to an epic example of innovation in packaging from JohnsByrne: EPIK LOK®. Our pioneering 16C.F.R 1700 tested and certified child-resistant cannabis packaging solution.
The story of EPIK LOK® development – and the resulting design – not only illustrates the definition, but offers terrific insight into how JohnsByrne leverages genuine client partnership and collaboration to create superior brand experiences.
That client, a manufacturer of luxury cannabis edibles, essentially threw down the challenge in a preliminary meeting with JohnsByrne's principals: what he needed and expected in a new child-resistant package, what he liked and disliked in terms of design, and of course price points to hit. Their response? "If anybody can figure this out, we can. Give us 48 hours and we'll be back with the solution."
And that is where having smarter people, and more of them, focused on finding a new solution to a given challenge gives JohnsByrne customers a distinct advantage. And new it certainly was. After evaluating the competitive packaging options, our multi-disciplinary team concluded that the design would have to meet multiple criteria, including:
Sleek, contemporary form factor
Maximum area available for brand messaging
Customizable as to size (vs. limited size options)
Cost-efficient to manufacture via automation vs. by hand.
More sustainable, all-paperboard construction vs. plastic inserts
And of course, it had to be fully compliant with 16C.F.R. Part 1700, which meant:
Locking mechanism MUST NOT be operational for children
Locking mechanism MUST be operational for seniors
Packaging must be one assembly. The tray and outer slipcase cannot separate to ensure reusable child-resistant functionality
Resistance to biting, chewing, and saliva
Avoiding glue flaps, unfinished edges, sharp corners and exposed trays via thumb-notches which create easy entry points for children
In other words, a completely new product requiring multiple trips "back to the drawing board" as each design iteration revealed another problem to solve. The resultant original EPIK LOK® design addressed all the above, not only conforming to, but surpassing 16C.F.R. Part 1700 requirements to create the ultimate protection for children.
It consisted of two parts; a slider and a sleeve. The slider featured two tabs on one end that, when simultaneously pressed, disengaged from a locking element in the sleeve, allowing it to be pulled out. A secondary locking flap kept the slider and sleeve together. The slider construction could be modified to secure whatever product was intended. Together, the slider and sleeve constituted:
An opaque package, with no windows to view product or provide access
Unique dual-button locking mechanism easy enough for seniors to open while remaining difficult enough to prevent a child from accessing the contents
An interior tray that did not fully separate from the outer packaging, to ensure easy return to the locked position and effective re-use
No exposed thumb notches… rather, a finger slide useable for seniors but not for children
Glue flaps strategically concealed under larger secondary flaps to enhance durability and resistance to tearing
Double sided lamination to prevent failure if a child was to bite or chew on the package
Turned-in edges to reduce tear points
Make no mistake, the 16C.F.R. Packing Testing criteria are rigorous… one reason why many so-called "child resistant" package designs are not fully compliant and certified.
The tests include both a child panel and a senior panel. Of 50 children (50/50 boys and girls), 30% must be 42-44 months of age; 40% must be 45-48 months of age; and 30% must be 49-51 months of age. Testing takes a full 10 minutes. For five minutes, the children are encouraged to open the box. After that time, they are shown how to open the box and given another five minutes to continue trying to open it themselves.
The senior panel includes 100 individuals… 30% aged 50-54; 40% aged 55-59 and 30% aged 60-70, with women making up 70% of each group. They are given two identical packages and have five minutes to open the first package, empty the contents and close the package properly. They are then given just one minute to open and close the second package successfully.
When introduced in 2017, the original EPIK LOK® design demonstrated 94% child effectiveness and 96% senior effectiveness in independent testing by an accredited laboratory. In 2018, we were recognized for leading innovation in the print and packaging industry with EPIK LOK® at the North American Paperboard Packaging Competition. A second generation EPIK LOK® design was introduced in 2017.
More importantly, with over 4 million EPIK LOK® packages introduced into the marketplace, there have been ZERO failures reported.
In late 2020, JohnsByrne released the third generation design of this revolutionary packaging innovation, incorporating key design changes that provide even better sustainability, greater cost-efficiencies in production and reduced materials lead-times:
All-paper design eliminates film lamination, is biodegradable and can be recycled
Open edge on only one side, providing better child resistance
Sleeve design eliminates additional manufacturing steps, without sacrificing functionality or resistance to tearing
If entry is gained on rear of package, locking tab on slider locks in both directions for an extra layer of security
And of course, the newest EPIK LOK® design – a completely paperboard solution –continues to meet and exceed CR packaging regulations, while providing a smooth unboxing experience and an outstanding brand experience for the adults for whom it is intended.
That's the thing about JohnsByrne innovation: it never stops. Continuous improvement, driven by ISO Quality Management, rules everything we do. In our packaging, and for our clients.
And it all starts with a problem. A challenge. Bring us yours.
---
Related Posts
---