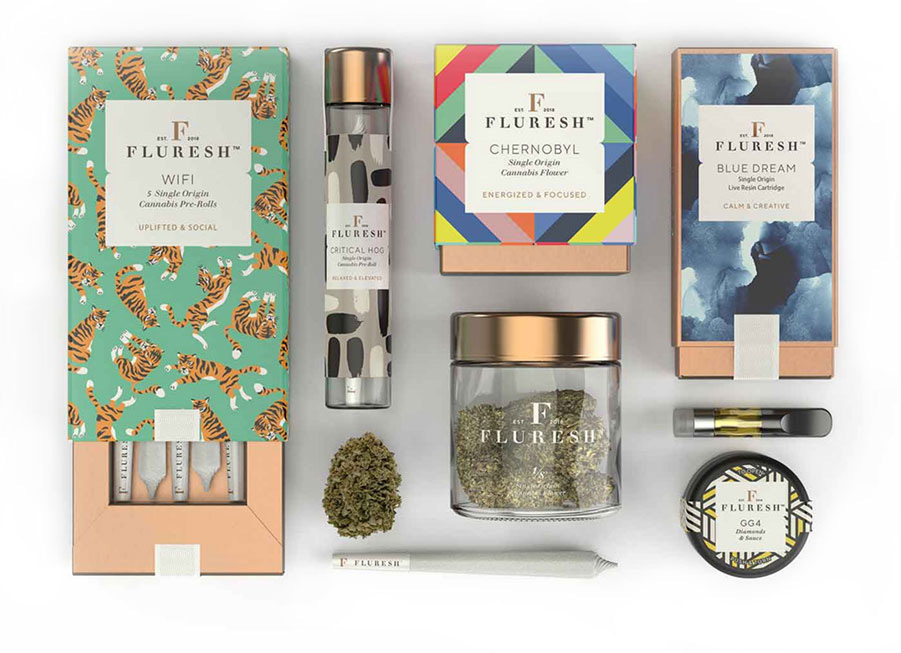 Photo Credits: Fluresh
Cannabis is a $6 billion, fast growing, highly competitive industry. In order to address the needs of the increasing demand for medical and recreational cannabis, new products are being developed and launched constantly. In this post, we'll cover how brands can customize their packaging to fit their products while also creating a packaging that reflects their brand. We will cover ideas on what type of packaging is ideal for various products and how it can be decorated for brand and customer appeal.
1. Edibles
With edibles, one important element to include in your packaging is a child resistant lock and release. While child resistant packaging is important to incorporate in any cannabis packaging, it is especially important with items that look like food, as children can easily mistake edibles for a food item and potentially attempt to ingest it. Our EPIK LOK™ expands your design options and allows you to create a protective and visually appealing design for a variety of packaging sizes and structures. It also features:
A CR release mechanism that is easy to use and located on the backside of the paperboard packaging, which leaves the front of the package a canvas for branding and messaging.
A strong and reclosable design compliant with federal packaging regulations
Furthermore, since edibles can be confused for real candy, it is best to be discreet with the packaging design and avoid photos of food or things associated with food. Instead, brands manufacturing edibles should opt to use unique print techniques and designs. Including minimalistic design with the brand name and logo is also a great packaging design for edibles as it looks modern and sleek, which fits well with growing industry.
2. Vape Pens & Cartridge Packaging
When it comes to marketing vape pens and cartridges, these products are usually positioned as sleek and luxurious items. Therefore, your packaging should convey your brand and your prouct as high-end. However, it's important for brands to find the balance between creating a luxurious looking packaging while also staying true to their brand. This balance can be found by incorporating:
Utilizing imagery and colors that are in line with your brand values
Modular inserts inside the packaging to neatly organize the vape, pod, and battery
3. Pre-Rolls
Pre-rolls offer the opportunity for fun packaging designs that take inspiration from old fashion styles. Classic cigarette-style paperboard boxes with a match-strike area on the carton is one example of a pre-roll packaging that captures consumer attention. Pre-roll Tubes fit nicely in folding cartons, and 2-piece sliding cartons for additional branding.
Cannabis companies can design the pre-roll packaging to fit their brand by:
Including brand logos, imagery and colors
Using packaging materials that are inline with their brand. For example, brands that focus on being natural may want to use paper packaging material, in a natural brown.
4. Oils, Concentrates, Distillates and Dabs
Oils, concentrates, distillates and dabs are four closely related cannabis products, but all have the opportunity for unique paperboard packaging. There are many types of structural paperboard packaging that can help these products stand out on the shelf, including: folding cartons, trays with a sleeve, triangular boxes, child-resistant packaging, and more. The opportunity to brand the packaging is endless and can be elevated by applying unique print techniques like foil stamping, embossing, debossing, or by using specialty paperboard textures. The possibilities are endless, and all are effective ways to catch the eye of a consumer and create brand differentiation.
5. CBD Direct-to-Consumer and Ecommerce Promotional Packaging
Selling promotional items, such as CBD products, offer a great opportunity to create kits for consumers. These kits can be branded with your colors, logos, and imagery and use packaging materials that are in sync with your brand. For example, using a matte finish on a custom mailer or two-piece box with paperboard can convey your brand is high-end.
Creating customizable kits composed of CBD products generates value for the customer and is great for consumers who wish to purchase more than one product. A custom mailer box with modular inserts can create a well put together and elegant look for cannabis oil purchasers. Furthermore, kits allow brands to provide a memorable unboxing experience for consumers. When done effectively, these kits can show more about what your brand is about and what your brand values.
Start Your Next Cannabis Packaging Project Today
Our team of experts have years of experience creating packaging that is protective, unique, appealing and consistent with your branding. To schedule a consultation and get started on your next project today, contact us at JohnsByrne.
---
Related Posts
---