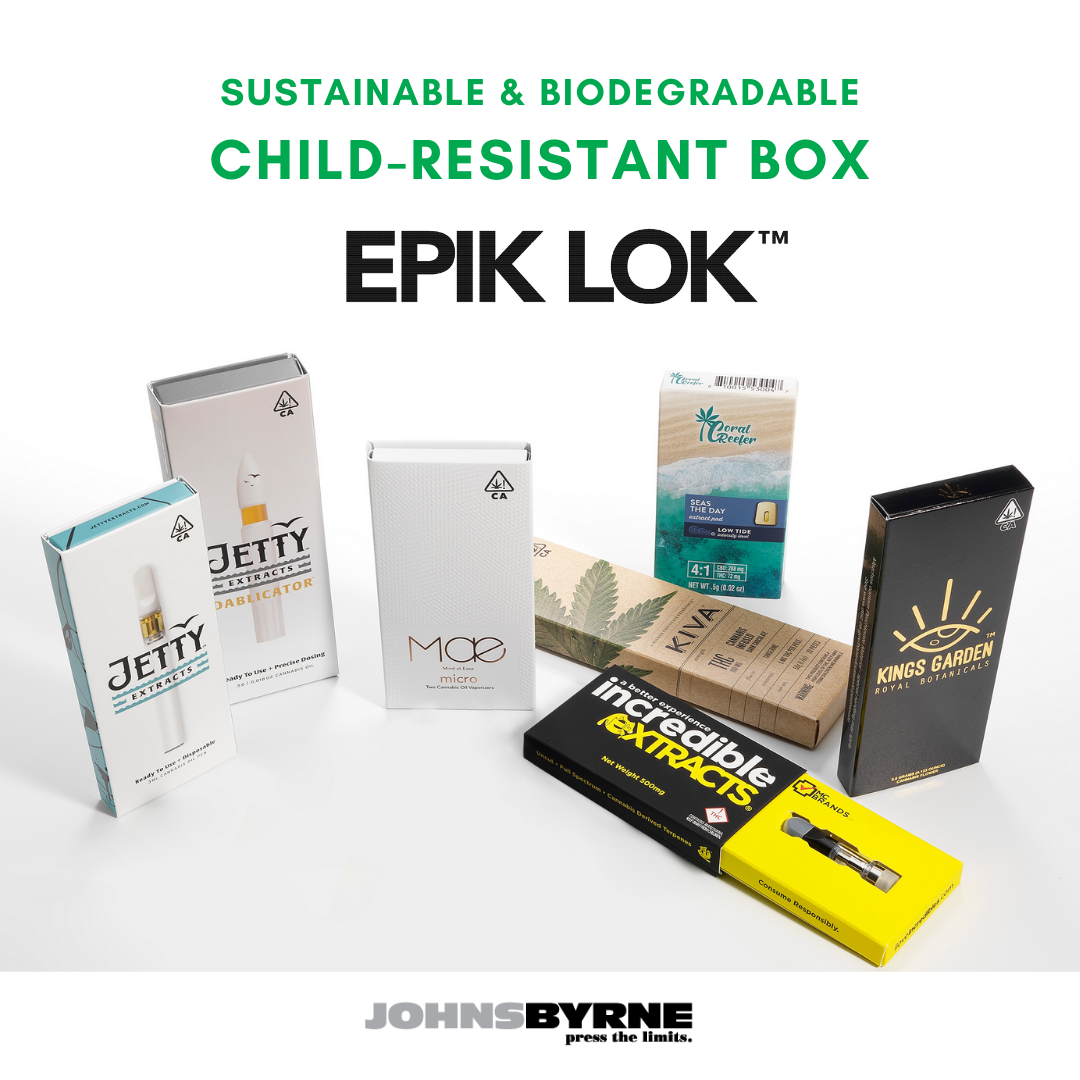 In 2018, we were recognized for leading innovation in the print and packaging industry at the North American Paperboard Packaging Competition with EPIK LOK™, our child-resistant packaging solution.
The EPIK LOK™ was designed to help protect children from consuming harmful substances. This child resistant box provided durability and safety, while providing a seamless user experience for age-appropriate users. The EPIK LOK™ design also helps recreational and medical cannabis brands to boost their brand.
In late 2020, the JohnsByrne released the newest version of the revolutionary EPIK LOK™. The latest upgrades include a more sustainable solution than its predecessors and comes with a few key design changes.
More Cost-Effective
One thing that the previous and new design have in common: both EPIK LOK™ versions are certified child resistant solutions that meet CR packaging regulations, while providing a smooth unboxing experience for adults and also being an aesthetically pleasing addition to your packaging design.
The EPIK LOK™ offers the same durable design with an improved manufacturing process, reducing the cost of goods.
Increased Sustainability
The EPIK LOK™'s paperboard material is recyclable and biodegradable. The EPIK LOK™ is nonlaminated and 100% paperboard, decreasing overall material lead time.
Learn More About the EPIK LOK™ Today
Interested in starting your next CR packaging project? Learn more about JohnsByrne's EPIK LOK™ child-resistant packaging solution and their other packaging capabilities by contacting our packaging experts today!
---
Related Posts
---