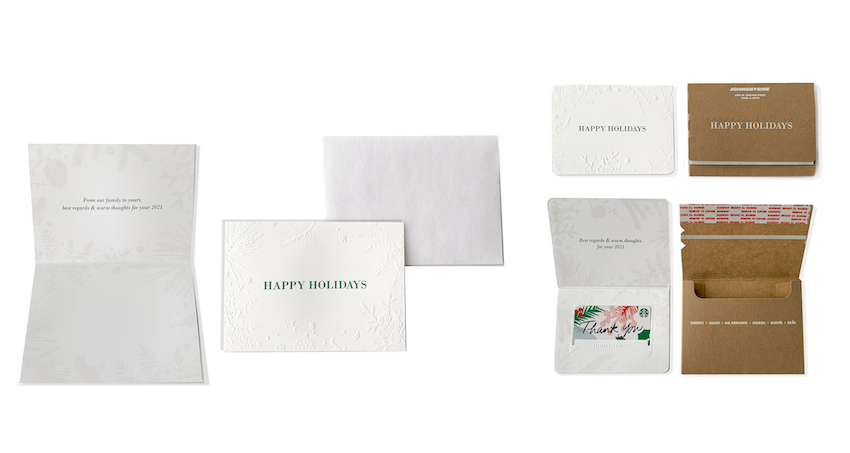 As we enter the new year, there are several print and packaging trends that will continue to gain traction well into 2021, as well as other trends that we see emerging. Regardless of your industry, it will be important to continue to exemplify your brand messaging among a sea of emerging brands. JohnsByrne breaks down the top innovative packaging trends to help you enhance your packaging designs for the new year.
Minimalistic Packaging
Just as in 2020, minimalistic packaging is here to stay – and continues to grow in popularity. Using neutral colors, such as whites, as a full-bleed design is one way to create a minimalistic look that is still elegant. Simple imagery and putting the focus on one aspect of the packaging, such as the logo or an image, is another way to create a minimalist design.
The JohnsByrne 2020 Holiday Greeting card is an excellent example of powerful yet minimalistic packaging. The greeting card outer panel showcases intricate blind sculpted embossing, soft touch, and gloss UV in place of traditional ink. The package design is a subtle yet elegant presentation of a winter foliage scene.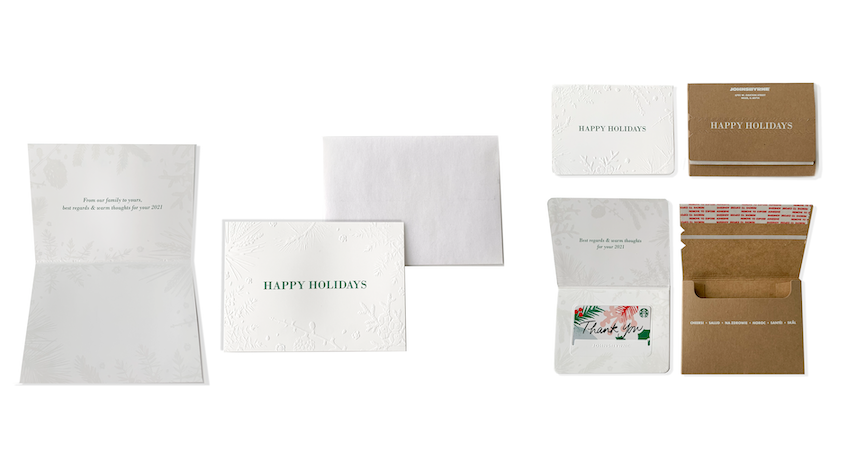 Simulation Effects on Press
Another innovative packaging trend for 2021 is simulation effects on press. Simulating textures and print techniques can elevate your packaging as a luxe brand, while also driving consumer curiosity and saving on costs.
An example of packaging that effectively simulates textures to enhance the packaging is Jim Beam Black 2020. The packaging consists of a design with grooves that simulate cracks in well-worn leather. This gives the packaging a high-end, sophisticated, rustic look – a look that gives consumers an idea of what the Jim Beam brand is all about.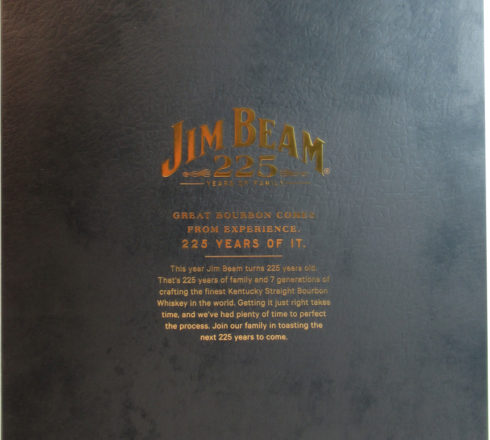 Be Sustainable
Today, consumers are striving more and more to be eco-friendly. These efforts include choosing packaging products that are sustainable. Therefore, in 2021, it is increasingly important to ensure your packaging is environmentally friendly. This can be done in several ways, including:
Using sustainable packaging materials such as post-consumer-waste paper
Using FSC® (Forest Stewardship Council®) or PEFC (Programme for the Endorsement of Forest Certification) certified materials
Lowering energy and water consumption by using state-of-the-art printing technologies
For example, in order to keep up with consumer demand, our newest EPIK LOK™ child-resistant box has recently been redesigned to be more sustainable. Offering the same durability and capabilities, the newest release of the EPIK LOK™ is made from 100% paperboard material and is not laminated.
Ecommerce Packaging with a Memorable Unboxing Experience
Ecommerce continues to grow in popularity. With more people ordering products online, brands miss out on the opportunity to make an impression on the shelves. Therefore, to still impact customers, it is important that brands create a memorable unboxing experience.
A memorable unboxing experience will have:
Consistent branding
A suspenseful product reveal
An intuitive and easy-to-open package
A neat and secure display
Bold and Modern Packaging Designs
With minimalism being one continuing trend of 2021, another trend on the opposite side of the spectrum is bold and modern packaging designs. These designs tend to have bright blocks of color and attention-grabbing flat graphics. These fun and playful designs help differentiate brands from competitors, both on the shelves and in the e-commerce realm. They also tell a story that captures the customer's attention.
Take Discover's Fulfillment kit program, for example. The welcome kit comes in bold colors, such as orange and deep blue. The one-color look and the minimalistic design with the logo front and center create a modern look. The modern design is enhanced through a shiny, metalized texture. This unique design differs greatly from other product packaging, making it more enticing to the person receiving it.
Start the New Year Strong with Your Next Packaging Project
Ready to get started on your next packaging project? Contact our experts at JohnsByrne. We'll work with you to create an innovative packaging design that grabs the attention of consumers and enhances your brand.
---
Related Posts
---